Save images to your device and choose ones to display in prominent positions.
Beginning with BlackBerry 4.0, the handheld software ships with an application called Pictures. This program comes with a few stock photos to get you started. You can also add your own images to your device, although it is not at all obvious at first what steps you need to take to get them there. Use this hack to add your own pictures to your device and add them to your background.
1.16.1. Use the Picture Application
To use the Pictures program, from your Home screen, click on the Pictures icon to bring up the program, as shown in Figure 1-39. The application displays a list of the images that you have on your device. From this screen, you can choose a picture and do several things with it via the menu.
Figure 1-39. The Pictures application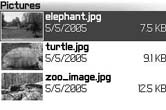 Use the trackwheel to bring up the menu. Here are the options available on the menu and their functions:



Set As Home Screen Image

Use this option to have the current picture display as a background on your Home screen.




Reset Home Screen Image

Reverts your Home screen background image to the factory default.




Set As Standby Screen

Display the selected picture as the image on your standby screen. This is the screen that displays your owner information when your device is locked. The 7100 series devices don't have this option.




Reset Standby Screen

Reverts the standby image back to the factory defaults. The 7100 series devices don't have this option.




Open

Open the selected image in a full-screen view.




Delete

Delete the selected image from the device, freeing up valuable storage space.
See Figures 1-40 and 1-41 for examples of using an image for a Home screen background and standby screen background. Note that when using a background image for the Home screen, the BlackBerry will fade the image slightly to accentuate the icons which, of course, is the main reason why you use the Home screen anyway.
Figure 1-40. A custom Home screen background image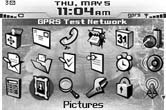 Figure 1-41. A custom standby screen image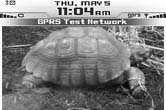 1.16.2. Put Your Own Images on Your Device
So how do you get your own images on your device and use them for your backgrounds? It's not as easy as it probably should be. You can't attach a picture to an email and send it to yourself; you'll have to use Berry Pix [Hack #69] to do that. The only way to add custom images to the device is through the BlackBerry Browser. You have to actually browse to a web site that has the photo that you'd like to save on your device.
Once you find a picture on a web site that has an image you'd like to store on your device, you need to select the image. Use the trackwheel to scroll to the image until it is selected. You'll know it is selected when a dotted line surrounds the image. Click the trackwheel once to open the menu and choose Save Image as shown in Figure 1-42.
Figure 1-42. When an image is selected, a Save Image option appears on the menu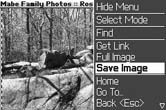 But how do you get your own images on the Web? There are several ways: use your web space (if you have one), your weblog, or a photo-sharing service.
Many Internet service providers include web space in their packages. Upload your pictures to your space, and visit the site from your BlackBerry. You could even start a blog and upload pictures as you post blog entries.
There is also a popular, innovative service called Flickr (http://www.flickr.com) that is perfect for this purpose. Flickr allows you to upload images to the Web and then tag them with keywords that describe the photo. For example, I could upload the turtle picture and tag it with "zoo" and "turtle." You can then search for or subscribe to photos that anyone has tagged with certain keywords. Because Flickr promotes an online community, it has quickly become quite successful.
1.16.3. See Also
Gallery (http://gallery.menalto.com) provides open source software for displaying photos on a PHP-enabled web site.

GIMP (http://www.gimp.org) is cross-platform, open source software for editing images.