With a little work, you can create your own polyphonic ringtones for your 7100 series device.
Who would have thought that ringtones would have become the industry that it is today? Ringtones are a $270 million industry, and that number is expected to balloon to $724 million by 2009 according to Jupitermedia. Everywhere you go you hear another mobile phone user's silly ringtone.
Audio has had mostly primitive support on the BlackBerry that is, until the introduction of the 7100 series that is targeted toward the consumer as opposed to the business user. The 7100 series devices have support for polyphonic ringtones, and the 7290 device has support for monophonic ringtones. This hack will show you how to get your own custom polyphonic ringtone on your 7100.
There are five steps you'll need to take to get an audio clip in the right format and onto your device.
Get your audio into WAV format, either by recording your own sound using your computer and a microphone, ripping a track from a CD, or converting an MP3 file to WAV format.

Use a tool such as Audacity (http://audacity.sourceforge.net/) to crop your audio clip to a reasonable time for a ringtone, probably about 10 seconds.

Convert your audio clip to the Oki ADPCM audio format.

Put the converted audio clip on a web server that contains the appropriate file type for ADP files.

Use your BlackBerry Browser to access the URL of the file you placed on the web server.
If this sounds like too much work for you (not everyone has access to a properly configured web server), there is a service that you can pay for that will convert your audio clips and host them on a web server for you to download to your device. The Vodaberry service (http://www.blackberrytunes.com) costs just $18 a year for an unlimited number of MP3 conversions.
1.15.1. Format Your Audio
You'll need to somehow get your audio in WAV format. There is a variety of ways to do this and, in some cases, no formatting will be needed. This format is fairly standard it is the default format of the Windows Sound Recorder program, and most any audio program will support it. Just to get your feet wet, create a short audio clip with the microphone on your computer.
You can use Audacity to select about 10 to 15 seconds of audio and save that clip to a file. Figure 1-34 shows how I selected 15 seconds of audio from my perfectly legal copy of "Free Bird" by Lynyrd Skynyrd and used the Trim feature of Audacity to shorten the clip.
1.15.2. Encode into Oki ADPCM Format
Once you've shortened your audio to a length suitable for a ringtone, you're ready to convert the clip to a format that your BlackBerry can use. While this seems like it should be a reasonable task, there is only one software
Figure 1-34. Trimming audio in Audacity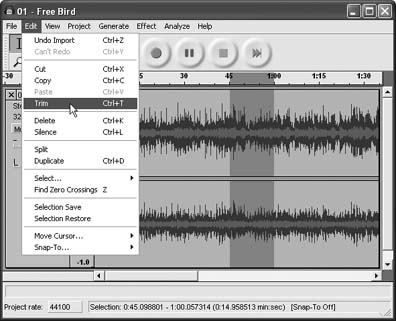 package that is able to convert audio into the Oki ADPCM format that the 7100 series devices use for polyphonic ringtones. It is called Mobile Phone-Tools and is currently available for $39.90 at http://www.bvrp.com/eng/products/mobilephonetools/. This software package is intended for use with specific mobile phones, communicating with them over a USB cable. You will need to specify a mobile phone that is supported by the software to purchase it. At the time of this writing, BlackBerry phones were unsupported, so pick something at random (or another phone that you own). For example, selecting a Phillips 530 will get you to the purchase page just fine.
After downloading and installing Mobile PhoneTools on your Windows-based computer, run the program from the Start menu. Since it is made to synchronize data between your computer and non-BlackBerry mobile phones, it will ask you to configure a connection to your phone. Click Cancel to skip this step and go straight into the program. Click on the Menu button and select Tools
Multimedia Center as shown in Figure 1-35.
Click on the Melody Studio tab on the left side of the program. In the center section of the screen, browse your local filesystem to find your audio clip and double-click it. Click the Save As button and choose the Oki ADPCM file type in the Save As Type drop-down, as shown in Figure 1-36.
1.15.3. Get the Ringtone on Your Device
So you've got the ringtone in the right format, but how do you get it onto the BlackBerry? The only way to get a ringtone on your device is by using the BlackBerry Browser, so you'll have to get the file onto a web server and access it through a URL. The BlackBerry Browser expects to see a MIME type of audio/adpcm for polyphonic ringtones; otherwise, your ringtone will be treated as plain text, which won't work.
Figure 1-35. Go to the Multimedia Center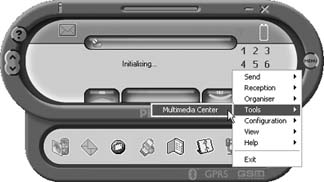 Figure 1-36. Converting to Oki ADPCM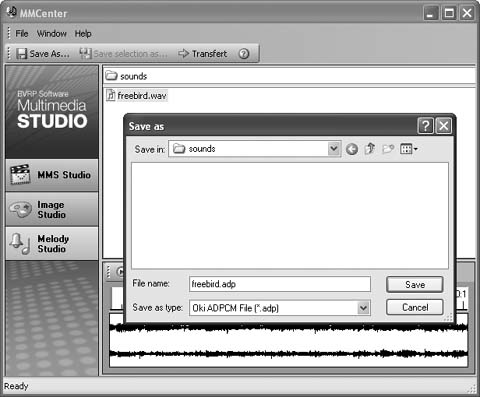 | | |
| --- | --- |
| | This is not a default MIME type on either Microsoft's IIS server or Apache, so you will probably need to add the MIME type and restart the web server. Just add the audio/adpcm MIME type for files with a .ADP extension. |
When you access the URL for your ringtone, the BlackBerry Browser will download the entire ringtone and automatically play it. There is a 128 KB limit for ringtones if you try to download one bigger than that, you'll get an error message.
| | |
| --- | --- |
| | Depending on your wireless connection, this can take several seconds to download. Just when you least suspect it, your device will start playing the ringtone, so don't do this in a library or other place where you'll cause a scene (unless that is your goal). |
You'll need to save the ringtone to be able to choose it for your ring in your Profiles. Click the trackwheel and choose Save from the menu. Choose a descriptive name for the ringtone or just choose the default filename and select OK, as shown in Figure 1-37.
Figure 1-37. Saving your ringtone

After saving it, you will be able to choose your newly crafted ringtone from the Tune option in your Profiles (see Figure 1-38).
Figure 1-38. Choosing your ringtone from the Tune menu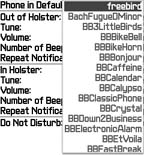 You can even choose to play "Free Bird" whenever you receive an email message on your device! (Oh, the irony.) I've provided a sample ring tone of a rooster crowing at the following URL: http://dave.runningland.com/rooster.adp.