Well, that's about it for budget-priced options I'd recommend. But if you have the dough, Apple makes some of the coolest high-end video editing and DVD mastering programs on the market today Final Cut Pro and DVD Studio Pro. Priced at $1,000 each, they're definitely not for the faint of heart or wallet. But if you find yourself "hitting the wall" with iMovie or iDVD, they're the first things I'd consider. Let's take a quick look at each.
Final Cut Pro
Final Cut Pro 3 (FCP) is Apple's professional-grade nonlinear video editing system. And when they say "pro," they mean it Final Cut Pro has been used to edit major motion pictures, television shows and commercials, music videos, and more. It can edit almost every video format and resolution, from plain old DV like your camcorder spits out to film resolution good enough for 35 mm projection.
But what's remarkable is that you can perform almost the whole editing and post-production process in this one program. In addition to being a great editing application, FCP also excels at capturing video, managing massive numbers of files, adding motion effects, color correction, animated titles, and compositing unlimited layers.
It's more complicated than iMovie (duh), but it's not horribly hard to use, and the results can be spectacular. Figure A.2 shows a typical FCP editing session in progress.
Figure A.2. Final Cut Pro is like an entire editing bay on a single monitor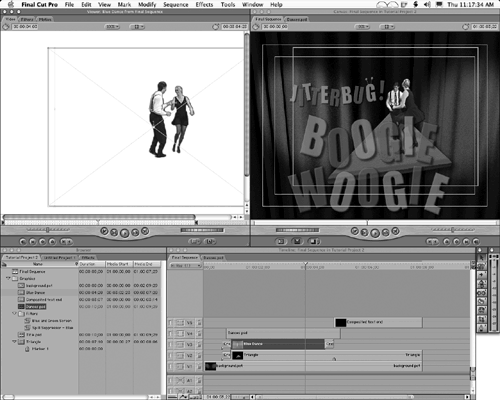 Or, as Apple likes to put it, "With G4 real-time effects, OfflineRT, and top-notch color correction capabilities, it's like getting $50,000 worth of editing tools for under $1,000."
| | |
| --- | --- |
| | But not much FCP sells for $999. |
The two breakthrough features in version 3 are OfflineRT, which packs five times more footage on your hard drive without any loss of quality, and G4 real-time effects, so you can see wipes, fades, and other transitions and effects without having to wait for them to render. The coolest thing is it all works on a PowerBook G4 Titanium, so you could, at least in theory, edit and post-produce your next masterpiece almost anywhere in the universe.
| | |
| --- | --- |
| | As I said in the introduction, all those pages ago, I used to be in the advertising business, and edited a ton of video with the meter ticking away at $300 an hour. Today I can do better work, and do it faster and a whole lot cheaper, all without leaving the comfort of my office. That's just too cool. |
And while this section is about Apple's Pro products, in early 2003 they introduced a semi-pro version of Final Cut that sells for just $299. Final Cut Express looks like Figure A.2, but lacks some of the high-end features of Pro including real-time color correction, time-based filters and effects, third-party filter support, and OfflineRT to name a few. Still, it's a very capable program and it features the exact same interface as Final Cut Pro.
If you've pushed iMovie to its creative limits, Final Cut Express may be just the ticket.
DVD Studio Pro
DVD Studio Pro is Apple's professional DVD authoring tool. I'm not as familiar with it as I am with Final Cut Pro, which I use pretty regularly. But I haven't hit the wall yet with iDVD. I'm still satisfied with what it can do.
Someday, I'll probably want to do some things I can't do using iDVD, such as:
Interactive buttons and links

Up to 99 video and/or audio tracks

Up to 8 audio streams per track

Multilanguage support, with up to 32 subtitle streams per track

Dolby Digital AC-3 format audio

Web links

16:9 format

DVD-5 and DVD-9

Output finished projects to DVD-R, DVD-RAM, or DLT. Unlike iDVD, DVD Studio Pro will happily burn to an external SuperDrive.
Figure A.3 shows DVD Studio Pro in all its glory.
Figure A.3. DVD Studio Pro: It's not simple, but it's probably the easiest way.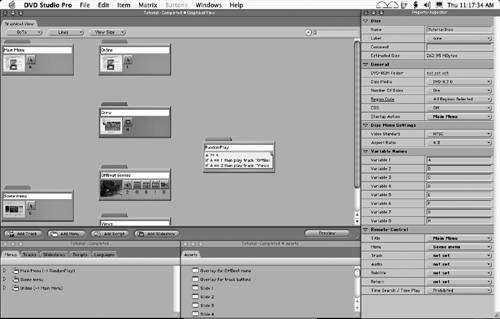 When you rent or buy a big Hollywood movie on DVD, the kind with so-called bonus features, you can bet the disc was created with DVD Studio Pro or something similar but harder to use.
While $999 might sound like a lot of money, you get more than just the DVD Studio Pro application. You also get:
QuickTime Pro Converts QuickTime files to MPEG 2 for DVD Studio Pro.

A.Pack Quickly batch-encodes audio into Dolby Digital.

Subtitle Editor Makes it easy to add subtitles.

Peak DV A decent enough audio-editing program.

Corel Photo-Paint 10 It's not Photoshop, but I actually like a lot of things about this program. It's included to allow you to build layered menus and other graphics for use in DVD Studio Pro.

FreePlay Music Library More than a gigabyte of music, absolutely free to use any way you like.
As I told you, I haven't spent much time with DVD Studio Pro.
| | |
| --- | --- |
| | OK. I admit it. I've only spent the few minutes necessary to install it or take its picture. I've found iDVD does everything I need and does it a whole lot easier and cheaper than DVD Studio Pro. |
Lacking anything more of any substance to say about DVD Studio Pro, I'm going to move along now.
Other software you might consider
Gosh. That's a tough one. I'd have to recommend Adobe Photoshop, which can be used for masking, retouching, titles, animation, and more, and is the industry standard for serious graphics work. I use it every day and version 7, the first one made specifically to run under Mac OS X, is just great. In Figure A.4 you see me creating a mock screenshot for this book using Photoshop.
Figure A.4. This is it: Photoshop, the industry standard for working with graphics.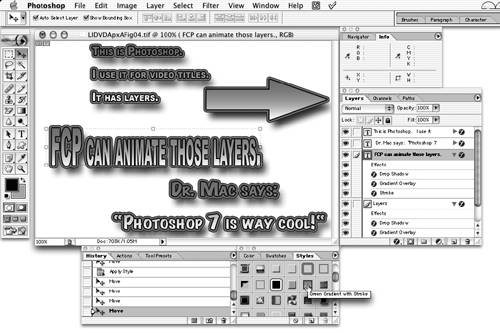 Photoshop sells for around $600. For a few dollars more (well, more like double that), you can get the whole Adobe Digital Video Collection, a suite of excellent programs that includes Photoshop, Premiere, After Effects, and Illustrator. If you're considering Final Cut Pro, this bundle is certainly a formidable and credible alternative. All four programs are best-of-breed and the package saves you around $1,000 compared to buying the individual applications.
| | |
| --- | --- |
| | You'll find all the Adobe software at www.adobe.com or any decent retailer of Mac goodies. |
Finally, and even I admit this one's pretty geeky, there's the Cleaner family of compression products. If you're a pro, you'll need something like this to squeeze every last drop of performance and image quality out of your video files.
In Figure A.5 I'm encoding a 2-minute movie.
Figure A.5. Cleaner encodes faster and offers more control over the process, resulting in smaller, better-looking video files.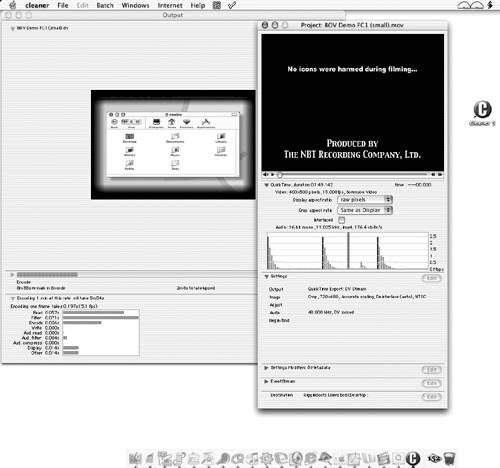 Find out more about Cleaner at www.discreet.com/products/cleaner.