But before we get to the bank-busting stuff, here are a pair of consumer-priced software goodies that give you a whole new arsenal in the editing studio. And, as of this writing, both had free samples available!
Two companies I know of offer inexpensive packages of transitions and effects for iMovie at really reasonable prices. And both of them have at least a few you can download and sample for free, and use forever without obligation.
Virtix Special Effects
A little company called Virtix (www.virtix.com) offers six free special effects, with no time limits, watermarks, or other restrictions involved in using them.
One is the Flame effect: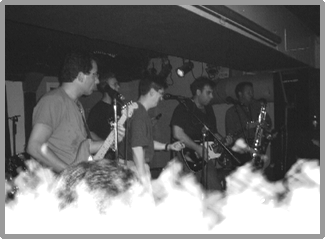 It adds the flames you see in the foreground, with full control over height and intensity.
| | |
| --- | --- |
| | Bad pun alert: This gives new meaning to the term "burn a disc." |
Moving right along, another is the Extreme Black and White effect: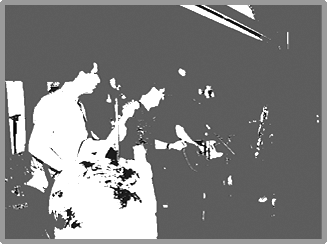 It converts the colors of your images into full-on black or white, with no shades of gray, for stark, high-contrast, abstract images.
There's an adjustable Letterbox effect for giving your movies that Hollywood look: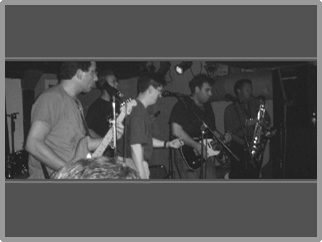 Plus three other freebies Dream Border, Glint, and Soft Focus.
Virtix also sells more than 50 special effects and transitions in several different combinations and packages, none of which costs more than $40.
Here's a by-no-means complete list of Virtix's offerings: Blur Edges, Edge Detector, Emboss, Extreme Color, Funhouse, Heat, Laser, Lightning, Median, One Color, Pixel Fixer, Rain, Smoke, Sparkle, Sparkle By Color, Spins, Stained Glass, Topograph, Tunnel, Zoom, Burn Through, Clock Wipe, Crystal Fade, Dream, Flying Blocks, Fog, Materialize, Materialize Flicker, Page Peel, Pan, Shatter, Shrinking Tiles, Sparkle Aperture, Swirl, Vertical Bars, Wipe, Normal Zoom-In & Zoom-Out, High Quality Zoom-In & Zoom-Out, Snap Zoom-In & Zoom-Out, Static Zoom, Spotlight, and Witness Protection.
Although you probably wouldn't use most of them every day, they can make your movie stand out from the rest of the pack.
Slick Transitions & Effects and Slick's Spice Collection
These four sets of effects are aptly named they are slicker (pun intended) than a Texas roadway after a spot of rain. Made by a little company run by an old buddy of mine, Bruce Gee (www.geethree.com), the Slick packages are the best value in iMovie-making today.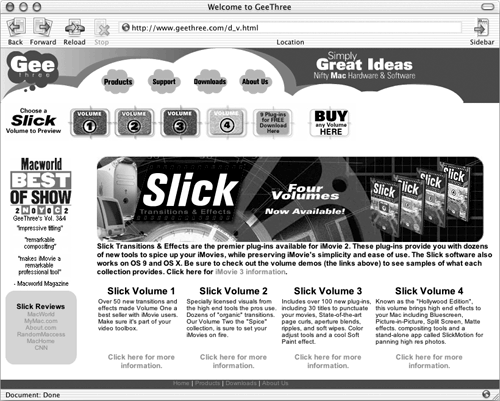 Bruce, like many of my old friends, is a former Apple employee.
| | |
| --- | --- |
| | We used to call him "Squee." Get it? Squee Gee. Squeegee. |
Anyway, he worked on the PowerBook, Newton, and other cool stuff you've used or heard of.
GeeThree is his proof that there is life after Apple. So far, all of his products (the two I've tried Slick Transitions & Effects Volumes 1 4, and his Stealth Serial Port), have been stellar inexpensive, useful, and updated regularly. And, of course, Mac first and Mac only.
These simple but elegant add-ons can spice up your iMovies, and they're as easy to use as iMovie itself. Bruce gives you nine of them, absolutely free.
The freebees include Heart Open and Heart Close: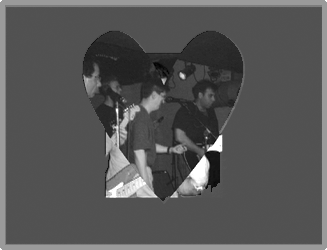 Burst: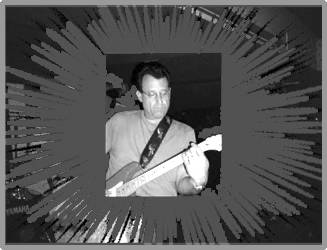 And seven more, including one I've never found a way to work into anything I've edited. I do love the ultra-cool X-ray effect, maybe I can work it into some rock-video parody: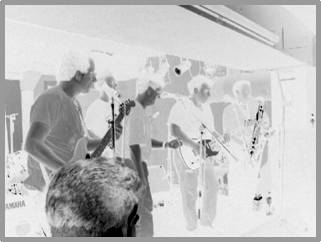 The Slick Sampler, a collection of nine fully functional plug-ins, is available as a free download from www.geethree.com.
The inexpensive collections are also worth looking into. I've had them both for a long time and I get lots of use out of them. They're worth every penny.
Volume 1 is called Slick Transitions & Effects. For $30 you get 50 new transitions and effects for iMovie 2 and iMovie 3. This collection of plug-ins gives you a boat-load of digital effects similar to those that used to be available only in expensive editing programs. The transitions include Page Peels and Curls, Barn Doors, Doors, Blinds, Rotate, Spin and Tumbles, Zoom, Heart, and Star. There are also more than a dozen special effects, which alter the appearance of your video footage. They include the following:
Film Noise, for that film-noir aged look, complete with scratches, dust, and color fade

Mosaic, to give your footage that pixelated look used by shows like America's Most Disgustingly Vicious Criminals to disguise the identity of the "perp"

There's Diffusion, for that slightly out of focus, psychedelic-cum-Impressionistic effect

I'm not sure I'll ever get to use Emboss, but its 3D metallic look is pretty neat

And one I've gotten a lot of use out of already, though it's becoming somewhat the video cliché, Camcorder
There are now three sequels, known as Slick Transitions & Effects Volumes 2 4. Between them there are over 100 additional transitions and effects suited for documentaries and independent films, as well as video projects for home or school.
But I'm running out of space, so you'll have to visit the GeeThree Web site (www.geethree.com) and visit the Gallery to see samples of the effects in each collection.
Volumes 1 and 2 cost $29.95, Volumes 3 and 4 cost $49.95; all four cost $134.95 if you download them or $149.45 on CD and other discounts apply if you buy two or more volumes.
I don't know the people at Virtix, but I've known Bruce forever and he's, as we say in the old country, a real mensch. You can do business with him with confidence. And do tell him I sent you. He probably won't cut you a better deal, but you never know. You're welcome to give it a try.