When you open Flash 8 for the first time, regardless of which version you are using, the first thing you will see is the Start menu, which is actually a SWF file split into several categories: Open Recent Item > Create New > Templates at the top; a section displays at the bottom that contains links to various tutorials, and a section displays that either shows updates to Flash or displays a link to Macromedia if there are no updates available.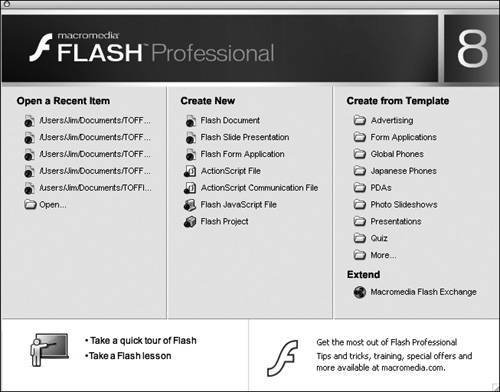 Tip
The Start page does need an active Internet connection to check for updates to Flash 8. If you have no Internet connection, things might slow down a bit; press the Do Not Show Again button at the lower left of the start screen to disable it. You can also disable it in Edit > Preferences for Windows or Flash 8 > Preferences on the Mac, in the General tab.
The Flash workspace, also known as the authoring environment, has a series of panels situated around a Stage. Flash files are based on Timelines, which is where all your visual assets and ActionScripts are organized into layers. A playhead moves along these Timelines when a file with more than one frame plays in Flash Player. Frames represent positions in time and serve much the same purpose as frames in a cinema film, which is to produce the appearance of motion. Following are screen shots for Flash 8 on both the Mac and Windows platforms. You will learn more about how each part of the workspace functions later in this lesson and throughout the book. Many options will be dimmed or not visible until you create a new document of some sort.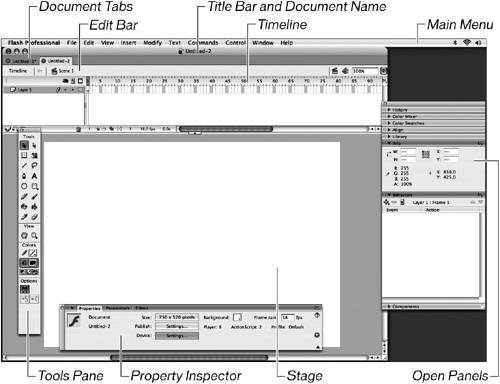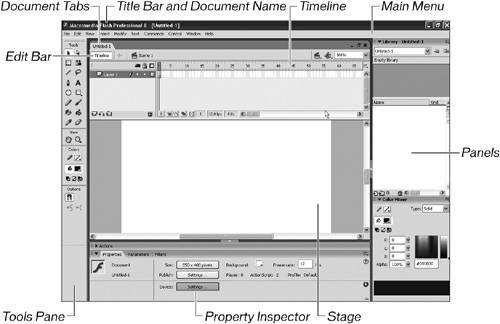 The authoring environment can be divided into several large sections, based on their functionality. Each section also contains many different controls that you will learn about later on in the book.
Menus: Menus in Flash are much like the menus in most other software packages you use. Flash menus contain common commandssuch as Save, Copy, Paste, and Helpalongside commands specific to the software.
Timeline: SWF files can have multiple frames on a Timeline, revealing Flash's history as an animation-based program. A Timeline is made of a series of frames and keyframes in a row. In addition, Timelines can be made up of several layers, used to organize content spatially or to create special effects, such as masking for animated transitions. A playhead moves along the Timeline to produce the appearance of animation.
Panels: Panels in Flash contain options used to control nearly every aspect of any application you produce in Flash. They contain options to add ActionScript behaviors and colors, create your own colors, align objects, or store assets. All the panels in Flash can be opened from the Window drop-down list.
Stage: The Stage is critical to your Flash work because it contains all the visual objects you intend to display. Items such as buttons, text, form elements, and animations are all placed on the Stage.
Document tabs and the edit bar: For every open document in Flash, a document tab is produced that gives a designer or developer a quick way to move between open files. The edit bar, located directly below the document tabs, lets you know what things you're actively editing, such as scenes, screens, symbols, or grouped items. The edit bar also has a drop-down list with a number of fixed zoom options to quickly alter the magnification of the Stage.
Tip
Document tabs are not visible unless the Stage is maximized. When minimized, all the documents float around in the workspace. Pressing the Maximize button on the Stage title bar snaps everything back into a nice neat tab menu.
Property inspector: The Property inspector is a context-sensitive panel that displays information about whatever object is currently selected, be it the Stage, text, button, or what-have-you. What's more, it allows you to actually alter many of those properties, such as the x and y location in the Stage, width and height, and, in the case of symbols and components, the names of the instances arranged in your document.