The SharePoint Server 2007 Web Part infrastructure allows Web Parts to exchange information with each other at run time. The basic functionality of Web Part connections is that when an action is executed in one Web Part, it changes the displayed information in another Web Part.
Figure 29-5 shows two connected Web Parts. The Contacts Web Part shows a list of vendors. The Issue Tracking Web Part contains a list of assigned issues, with a column showing the vendor that each issue is associated with. To configure the Company field to connect the two Web Parts, that field must be displayed in the view of each Web Part. Once the connection has been established, when a user selects a contact in the list, the Issues list is filtered to display only issues associated with that company.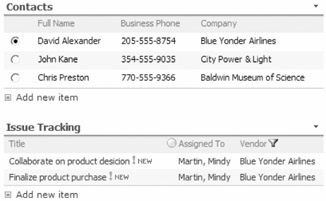 Figure 29-5: Web Part connections
Web Parts can be connected only if they are compatible with each other. If the Web Parts are found to be incompatible, the Connection menu item in the browser will be dimmed and have a ToolTip explanation. Connections are not supported at all in some Web Parts, and a Web Part cannot be connected to itself, either directly or through a chain of connections. Some types of data, such as hyperlinks and multiple lines of text, are not supported.