PLEASE NOTE: The set of tools mentioned below may be incomplete. The information provided merely reflects the (potentially limited) knowledge of the authors. Moreover, the authors' classification of the functionality of the discussed tools is based on their own assessment. It should be noted that others might classify the functionality differently. Furthermore, due to the evolution of the tools, their capabilities may undergo additional changes not reflected in the information given below. The reader should form his/her own opinions. If interested in a particular class of tools, the reader is strongly advised to perform his/her own research, and may contact the providers of the various tools directly for further information. The reader may find the list of URLs at the end of the chapter helpful in this respect.
Figure 25-1. Systems management disciplines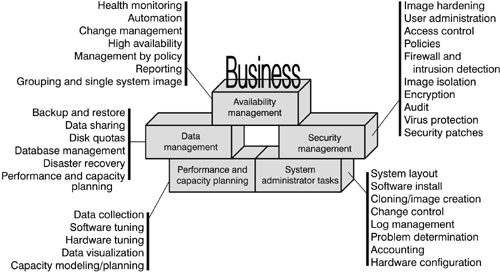 This section contains tables of systems management tools and products. The tables are based on a survey of the systems management products offered by three major vendors and of three well-known Web sites with numerous Open Source projects or links to projects. The tables do not include tools or products that at the time of the survey had a release level below 1.0.
All but the final table are dedicated to one of the systems management disciplines as introduced in 12.2, "Systems management disciplines."
The table columns correspond to subdisciplines. Each table row represents a particular tool. For convenience, we are using the term tool in a very broad sense. The spectrum of tools ranges from single commands, to Open Source projects, vendor products, suites of products, and technologies, up to the entire hypervisor z/VM and its associated tooling. The tools are listed in alphabetical order. A check mark (

) indicates that the tool addresses some aspects of the subdiscipline.
The tables reflect our view of systems management as outlined in Chapter 12, "Systems Management," the scope of our survey, and our judgment at the time of the survey. We do not claim to have presented the only possible view of systems management, nor do we claim that our list of tools and products is complete. Because the number and scope of the available tools is constantly changing, the tables cannot possibly be complete.
To avoid overloading the tables, the final table summarizes all tools and provides the URL of a site with more information for each tool or, where applicable, to the corresponding vendor site.
We are presenting these tables to you because we want to share our effort with you and to give you a head start for developing your own tables. Your own research can focus on those aspects of systems management that are of the most concern to you and that reflect your own judgment on which concerns are addressed by each tool or product.