3 4
If you plan to use shapes as a Web graphic, or if you want to distribute a diagram to someone who doesn't have Visio, you can export the contents of a drawing file as a graphic file. Visio can save files in many different formats, including JPEG, GIF, PNG, TIFF, EPS, WMF, EMF, and several less common formats. You can also save your Visio diagram as an HTML file.
Which format should you use? It depends, of course, on how you plan to use the diagram. If you want to include shapes as Web graphics, save them as GIF, JPEG, or PNG files. If the shapes are to be used in a document that will be professionally printed, save them as TIFF or EPS files. For use in other Windows applications, save them as WMF or EMF files. A general guideline is to consider whether you'll need to edit the shapes after exporting them. If you export shapes as a graphic in bit map format (which includes BMP, TIFF, and JPEG files), the graphic cannot be edited easily in other applications. If you export shapes in a vector graphic format, such as EPS, WMF, and EMF, you probably can edit them in other applications.
When you export in a graphic format, Visio converts objects on the drawing page into the graphic format. The resulting image might not look exactly the same when you import it into another application, because the importing application probably also goes through a conversion process to bring the image in.
---
Troubleshooting
You need to share a Visio diagram with someone who doesn't have Visio.
You can share your diagram with others if you take a few extra steps:
---
Exporting a Shape as a Graphic
You can export a single shape, or multiple shapes, as a graphic that can be inserted or imported into another application. The Save As Type option of the Save As dialog box, shown in Figure 7-8, lists all the formats that Visio can export as.
To export a shape or multiple shapes as a graphic, follow these steps:
Select the shapes you want to export. Or, to export an entire page, display the page you want.
Select File, Save As.
In the File Name box, type a name for the file.
Click the Save As Type drop-down list arrow to display a list of file formats, and then select the format you want.
Click Save.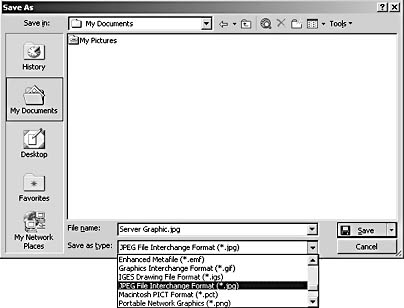 Figure 7-8. Visio can save a shape or diagram in many different formats.
For many file formats, one of the following format-specific dialog boxes appears with additional options:
When you save your diagram as a JPEG image, you can choose format (monochrome or color), background color, quality, transformation, resolution, and size for the image. You can also specify whether it will be a baseline JPEG or a progressive image.

The GIF Output Options dialog box provides options for color reduction, background color, transparency, transformation, resolution, and size. You can also specify whether you want the GIF image to be interlaced.

The options for exporting a PNG file are the same as they are for a GIF file, but you can also choose a color format.
When you export a TIFF image, you can choose data compression method, TIFF color format, background color, transformation, resolution, and size.

The AI/EPS Output Filter Setup dialog box appears when you save the diagram as an Adobe Illustrator (AI) file, an Encapsulated PostScript (EPS) file, or a PostScript (PS) file. It's a more complicated dialog box, in that you choose options for the AI or EPS file itself and for the TIFF preview that may accompany the file.

Note

---

EPS files, including AI files, contain printer code that can be interpreted only by PostScript devices. If you don't include a TIFF preview with an EPS file, it appears on the screen as a gray box (if at all).
For the EPS file, you can specify color translation method, line cap mode, whether to include a TIFF preview, whether to include a background rectangle, whether to optimize the image for a color printer, and whether to create a file that is compatible with Adobe Illustrator. If you choose to create a compatible file, you can specify the version of Illustrator. If you include a TIFF preview, you can specify its data compression method and resolution.
---
Troubleshooting
Some shapes don't appear when exported to other formats.
If the Visio shape that you're trying to export is actually a metafile, as is the case with Visio Network Equipment shapes, the shape might not appear in the exported file. One way to tell whether a shape is a metafile is to select the shape and then choose Format, Special. You'll see "Type: Metafile" if the shape is a metafile. Then, you can ungroup the metafile, which converts it to separate Visio shapes. You might need to use the Ungroup command (Shape, Grouping, Ungroup) more than once until all parts are ungrouped and converted. You can then export the resulting shapes.
---
Exporting a Diagram in PDF Format
If you need to distribute a Visio drawing to people who don't have Visio, consider saving your diagram in PostScript Description File (PDF) format. That way, you can hand someone a Visio file they can look at right away in Adobe Acrobat Reader, a free and widely available viewer. (You can download it from the Adobe Web site.)
A PDF file is a great way to save your diagram in a format others can read without compromising the integrity of the image. There's no option for saving in PDF directly from Visio, because you need Adobe Acrobat Distiller to create a high-quality PDF file. But if you have the full version of Adobe Acrobat, or an Adobe product that includes Acrobat Distiller (such as Adobe PageMaker), you can create a PDF file that can be viewed and printed by anyone who has the free Adobe Acrobat Reader, whether they're using a Windows, Macintosh, or UNIX operating system.
To create a PDF file from a Visio diagram, you must have a PostScript printer driver installed. You can install one through the Windows Add Printer utility, and you can install the driver without actually owning the device. When you've installed what you need, follow these steps:
Open the diagram you want to save, and then choose File, Save As.
Click the Save As Type drop-down list arrow to display options, and select PS.
Type a file name, specify a location, and then click Save.

The AI/EPS Export Setup dialog box appears.

Cancel the TIFF Preview selection (because you won't need it), and click OK. (The file doesn't need to be compatible with Adobe Illustrator.)

A file with the extension .ps is created.

Start Acrobat Distiller

Choose File, Open. Locate the PostScript file you just saved, and then click OK.
When prompted, type a name and location for the PDF file.
Distiller does the rest so that anyone with Acrobat Reader can view the resulting PDF file and see exactly what you intended when you created your diagram.
Tip
---
Another option for distributing your Visio drawings is to save them as Web pages. For details, see "Exporting Visio Diagrams For Use on the Web."