Objects have their own storage containers, called variables . A variable acts as a temporary storage container, which can be accessed from other objects or affect the current object (see figure 08:06). For example, you might want to store a user 's name in a variable called bestfriend.
Figure 08:06.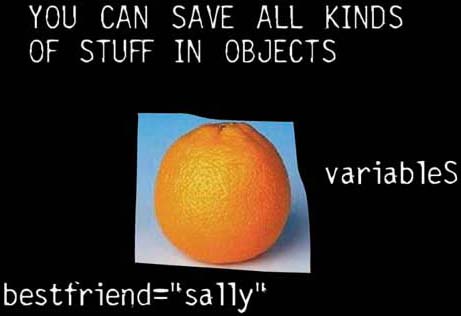 Set Variable "bestfriend" = "Sally" 

 
Now you've stored the name and you can use it throughout the movie without checking the name every time the screen changes.
Anything can be put in a variable. In Flash, a variable can hold any type of data " numbers or text (also known as integers and strings ); you can even simulate arrays in Flash. Unlike as in other languages, in Flash you don't have to declare a variable to be an integer or a string before using it.
Variables can be named anything you want. The easiest way to get the most out of object- oriented programming is to name your variables usefully. It's difficult to keep track of what var01, var02, and var03 do "however, it's hard to miss what thePosition, isOffScreen and isHit intend.
Objects address one another through these hierarchies (see figure 08:09). Objects use a URL-type path name to address one another. For example, if one object wanted to tell another object to go to a different frame, you might see Flash action code like this:
Figure 08:09.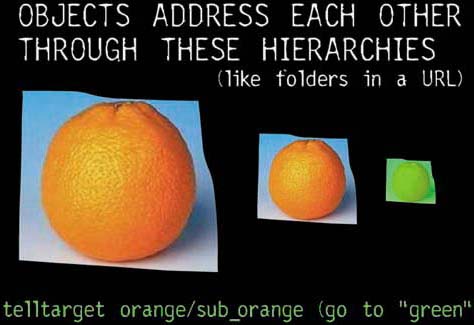 Tell Target ("meta_orange") 

 
However, if you wanted to address another object contained within the meta_orange object, you would call it this way:
 

 Tell Target ("meta_orange/orange") 

 
The forward slash tells ActionScript that you are addressing the object orange, which is an object inside the object meta_orange.
You can even address an object that contains the current object by going up a level, like this:
 

 Tell Target ("../orange") 

 
The two dots and forward slash tell ActionScript that you are addressing the object above the sub_orange object. In this case, the object above sub_orange is the orange object.
To address an object on the uppermost level, on the main Timeline, use a leading forward slash:
 

 Tell Target ("/meta_orange") 

 
In this case the meta_orange object is on the top level, and we call the top level using the forward slash (/).
In fact, you can address the main Timeline alone:
 

 Tell Target ("/") 

 
The main Timeline doesn't have a name really so this is the best way to address it.
Just as we use the hierarchy to address a Tell Target command, we can use the hierarchy to address variables and set properties in each other's objects.
Use the following to set an object's property:
 

 Set Property ("meta_orange/orange/ sub_orange", rotation) = "179" 

 
In this case, the sub_orange object would turn 179 degrees (about a half of a turn ) on the screen when you set its rotation property.
Use the following to set a variable in an object (note the colon before the variable name):
 

 Set Variable "meta_orange/orange:myColor" = "green" 

 
Setting the variable to green doesn't change anything on the screen. I simply set the storage container "myColor" to contain the word green.
Later I might use that word in another part of my code:
 

 If (myColor eq "green") 

 

 Go to and Stop ("green") 

 

 End If