87. Install AntiSpyware

BEFORE YOU BEGIN

About Malware

About Spyware
If you surf the Web a lot (including the downloading of files), and you also use the Web for online purchases, I suggest that you install antispyware software on your computer. Spyware, which can be installed on your computer without your knowledge, can slow your computer's performance and, in extreme situations, lead to identity theft, particularly if information you enter for online purchases such as a credit card number is "recorded" by the spyware.
A number of antispyware products are available. Most of these products run like an antivirus program and will examine the Windows Registry (a database of Windows settings and installed software) for any spyware additions to your installed software. Some of these antispyware products also provide real-time protection and block the installation of spyware on your system. As with antivirus programs, you need to keep your antispyware software up to date so that it can remove (or block) the most recent forms of spyware. Some antispyware products that work well are listed here:
Spybot (Search and Destroy)

http://www.safer-networking.org

Spybot is a free antispyware product (although you should provide a donation to the authors if you use it). Spybot provides real-time antispyware capabilities, and the creators provide timely updates. You might think that a "free" product can't possibility get the job done, but Spybot does work quite well.

Ad-Aware

http://www.lavasoftusa.com/software/adaware

Ad-Aware comes in different varieties, including the free Personal edition and the $26.95 Plus edition. The free version does a good job removing spyware (and adware) already on your system. You need the Plus edition, however, to get real-time protection that stops spyware from being installed on your system as you browse the Web.

Microsoft Windows AntiSpyware

http://www.microsoft.com/downloads/

As of the writing of this book, Windows AntiSpyware is currently in Beta, meaning that a final version of the product is due sometime in the coming months. Windows AntiSpyware does a good job even in its Beta version and provides real-time protection from spyware; it also allows you to remove spyware already on your system.
In this task, we will download, install, and use the Windows AntiSpyware software because it is currently available to all Windows XP users without charge.
Install AntiSpyware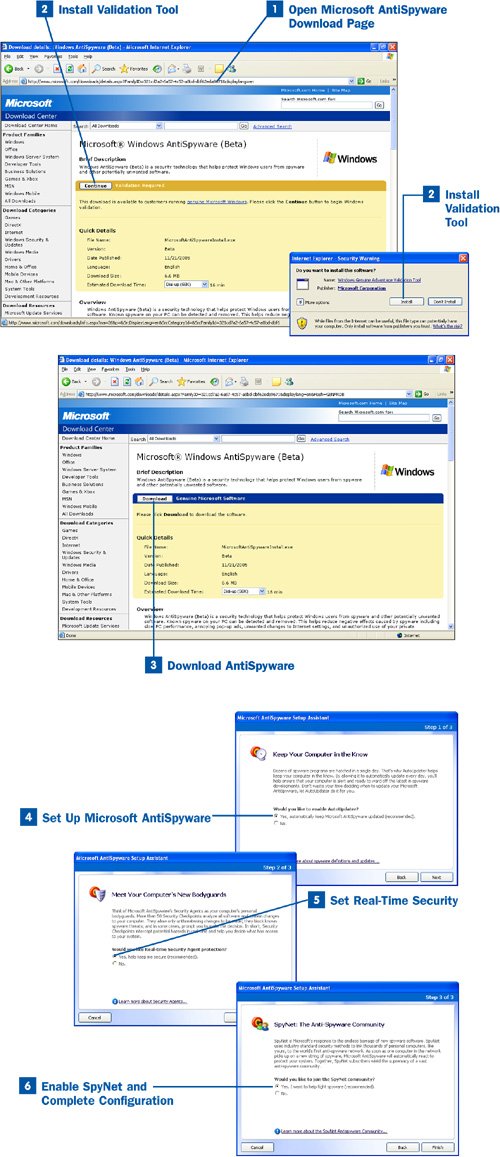 Open Microsoft AntiSpyware Download Page

Open your web browser and go to the Microsoft AntiSpyware download site at http://www.microsoft.com/downloads/details.aspx?FamilyID=321cd7a2-6a57-4c57-a8bd-dbf62eda9671&displaylang=en. Because the actual download pages for Microsoft add-ons can change over time, you can also go to http://www.microsoft.com and search for the AntiSpyware download page.

Before you can download the AntiSpyware software, you must update your system with a validation tool that checks whether your system is running an "official" (meaning registered) version of Windows XP. Click the Continue button. A Security Warning dialog box opens.

Install Validation Tool

In the Security Warning dialog box, click the Install button. The validation tool will be installed, and the download page for the Microsoft AntiSpyware software opens.

Download AntiSpyware

Click the Download button. A File Download dialog box opens. Click Run to install the software after it is downloaded to your system. In the second security dialog box that opens, click Run again. The Microsoft AntiSpyware Wizard opens. Follow the steps to complete the software's installation.

Set Up Microsoft AntiSpyware

After the installation, a wizard opens that helps you set up Microsoft AntiSpyware. Click the Next button to bypass the initial screen. On the next screen, make sure that the Yes, automatically keep Microsoft Antispyware updated option button is selected and then click Next to continue.

Set Real-Time Security

On the next screen, make sure that the Yes, help keep me secure option button is selected. This option enables the software's ability to block the installation of spyware as you surf the Web. Click Next to continue.

Enable SpyNet and Complete Configuration

The next screen provides the option of being part of Microsoft's SpyNet, which is a peer-to-peer network that shares information related to spyware. In theory, when one member of the SpyNet is threatened by new spyware, all member computers of the SpyNet can react to this threat by blocking it. If you want to be part of the SpyNet, make sure that the Yes, I want to help fight spyware option button is selected. Then click Finish. A screen appears that provides a link you can click to start scanning your system with the installed AntiSpyware software.
Note
Whether or not Microsoft's SpyNet will prove to be a major blow to spyware is up in the air. Peer computingwhere computers can share information and other things such as filesisn't new to the Internet (just think about all those file-sharing applications out there, such as the first incarnation of Napster). Whether or not SpyNet could be hijacked by hackers and used to infect computers rather than protect them is unknown at this point, so it is up to you if you want to jump onto the SpyNet bandwagon or not.