The best way to search a database is to search from a view. Open a database view and click the Search icon to display the Search bar. Enter the text you want to search for in the Search For text box (commonly called the "search box") and then click Search.
The results of the search display in the View pane (see Figure 7.4). The documents are listed in order of relevance (the gray bar in the left margin is darker at the top to indicate greater relevance).
Figure 7.4. The most relevant document (the one that exactly matches your search, or the document that contains the most occurrences of your search words) is at the top of the list.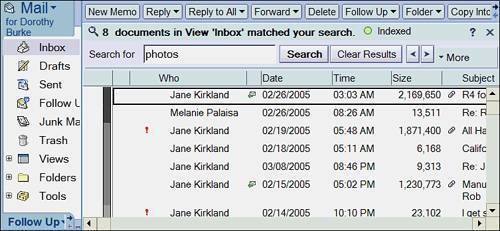 | | |
| --- | --- |
| | The Search icon has a drop-down menu, which allows you to search a database, do a Domain search, find people (search an address book), find a database, or open Internet search engines, such as Excite, Lycos, or Yahoo!. |
The Search icon is context sensitive. You can search from a view or from a document while in read or edit mode. When you click the search icon with a document in read or edit mode, a dialog box appears to help you search for text within that document.
When you open one of the documents listed in the search results, every instance of the searched-for text is highlighted in the document (see Figure 7.5).
Figure 7.5. Searching from a view, the search text was "photos," so every occurrence of "photos" is highlighted in the resulting documents when opened from that view.

To close the Search bar and your search results, click the Close button (x) on the Search bar or click the Search icon. To clear your search and return to your original view, or to keep the Search bar open, click the Clear Results button on the Search bar.
| | |
| --- | --- |
| | You might not even have to engage the Search bar if the view you're searching is categorized or the first column is set in alphabetical order. You can use Quick Search instead. Just type a letter or word, and click OK. Notes searches the first column in the view and stops at the first instance of that letter or word. Using Quick Search, Notes does not search fields in the documents other than those that show in the first column of the view. |