When you open a database, Notes displays the contents of the database in a list, called a view. Each line in the database represents one document. Databases often contain more than one view or more than one way of listing information. Some views can be sorted.
Figure 6.4 shows a list of views and folders that are available in the Notes Mail database. From the Mail database, you can send, receive, forward, delete, read, and answer messages. To move from view to view, click the view name in the navigation pane on the left of the mail database workspace.
Figure 6.4. A view lists the documents of a database; many databases contain more than one view.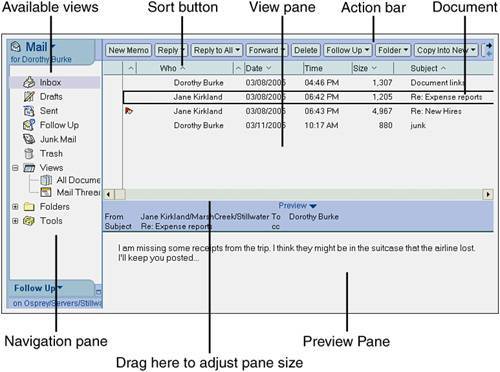 Often, you can expand or collapse views. A small caret next to the view name (called a twistie) or a "+" or "" sign indicates that you can expand or collapse the view.
A triangle (that's what the Notes Help database calls it, but it actually looks like a caret) next to a column title indicates that you can sort on that column. In Figure 6.4, you can sort the Who column in ascending order and the Date column in descending order.
To open a document, double-click the document in the View pane. To preview a document without opening it, open the Preview pane by dragging up toward the view (see Figure 6.4). Adjust the size of the Preview pane by dragging its top border up or down.
To close a document and return to the database list of views, choose File, Close or press the Esc key. Repeat these steps to close the database.