Benchmarking tools can show you how content encoding can benefit your web site. These tools quickly show how much you will save by adding compression to your web server.
PipeBoost Analyzer
PipeBoost Analyzer is the most convenient and easy-to-use content compression benchmarking tool (see Figure 18.7). It adds a toolbar to Internet Explorer and displays complete compression statistics. Unlike other tools, it takes into account not only HTML files, but also all the images that appear on the page. Table 18.2 was prepared with this tool.
Figure 18.7. PipeBoost Analyzercompression benchmarking tool.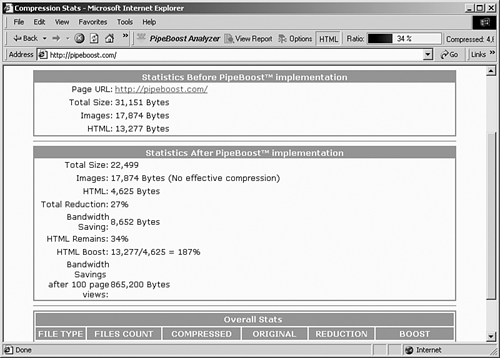 ApacheBench
ApacheBench, enhanced by Remote Communications, Inc. is a good tool for Unix and Windows, available at http://www.remotecommunications.com/apache/ab/.
This tool provides information about request and response, a hexadecimal image of the response, compression rate, transfer rate, performance increase, and connection time.
VIGOS Website Analyzer
VIGOS offers a free compression benchmarking tool for Windows. It can spider your entire site and estimate the total potential speed improvement. All objects like images, HTML, and Flash files are analyzed . The Analyzer includes a ROI calculator and a loadtime monitor. This tool is available at http://www.vigos.com.
Web-Based Benchmarking Tools
Some web-based compression benchmarking tools are also available:
HyperSpace Communications' connection speed test: http://ehyperspace.com/solutions/performance.html# (Tests your browser for content compression capabilities.)

XCompress online analyzer: http://www.xcache.com/home/default.asp