IBM also provides the manuals online through the Internet. It is the most effective way to find the information you need. Use the following Web site to view the online manuals for the eServer i5.
http://publib.boulder.ibm.com/pubs/html/as400/infocenter.html
You will see a screen similar to one that shown in Figure 17.1.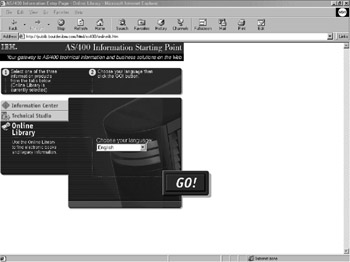 Figure 17.1: The iSeries Infocenter.
The iSeries Infocenter firsts asks you to select the part of the world in which you are located. Oncelocated. Once you have selected a location, the Infocenter asks you to choose a language and release. Figure 17.2 shows the selections for North America.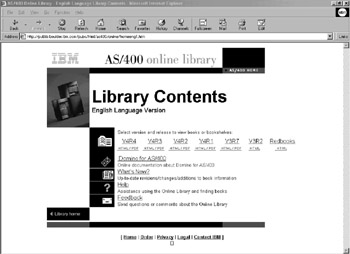 Figure 17.2: The iSeries Infocenter prompts for applicable language and release.
After you select the desired language and press the GO! button, you will see a screen similar to to that in the one shown in Figure 17.3.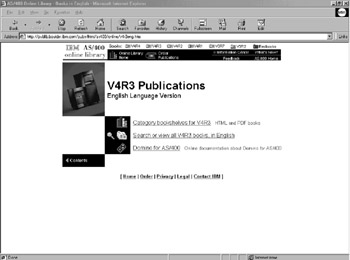 Figure 17.3: The Infocenter main page provides several ways to navigate the online information for a release.
From the main page, you have several ways to access the manuals. The panel on the left side of the screen is a navigation pane that is built with Java. By clicking on the plus (+) and minus (−) signs before each line, you can expand and contract the list of available resources. A second method for locating manuals is to use the links in the contents pane. The site map is especially helpful and serves as a good alternative to the list of manuals in the navigation pane.
Directly above the contents pane is a search bar. Typeing a term into the box and pressing Enter to brings up a small window of links to related material. The Advanced search option can help reduce the number of returned links by allowing you to limit the scope of the search. The search tips link will provide you with more help in using this powerful feature of the site.
On the right side of the contents pane is, you will find a box with the title "Did you know?". The bottom portion of the box contains two links, the first of which is randomly generated. The second link, "See all the tips,", provides a very quick way to zero in on just the information you need.
When you click on the "See all the tips" link, you will see a display like that the one shown in Figure 17.4.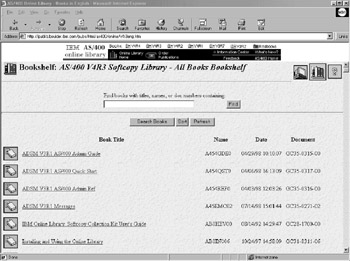 Figure 17.4: The iSeries Infocenter prompts for applicable language and release.
Here you will find quick access to a broad array of topics. For instance example, if you are looking for a suitable API, the API finder lets you locate it by category, by part of the name, or by group. The SRC finder gives you immediate information about the system reference codes. All of these links are optimized to allow you to find information quickly.