Color Safe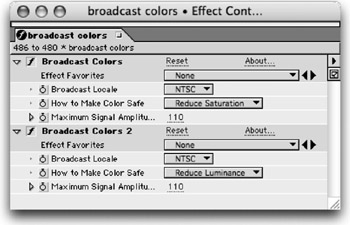 If you're animating for output directly onto DVD, you don't necessarily have to worry about using true broadcast safe colors. Some TVs are oversaturated, however, so it's not a bad idea to apply the Broadcast Colors Effect.
In a 720x480 composition, press the Home key to go back to the beginning the composition.

Choose Layer>New>Adjustment Layer.

Choose Effect>Video>Broadcast Colors.

Choose NTSC or PAL and choose Reduce Saturation. The default maximum signal level of 110 is good.

Render your Movie.
You can also apply a second Broadcast Colors Effect to reduce Luminance as well as Saturation. Under no case should you use Photoshop's NTSC Colors filter because it is inferior.