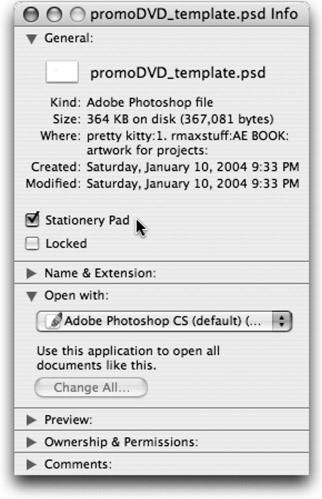 Do you find that you're modifying the presets in Photoshop? Maybe all the menus in the DVD you're building are a certain color background, or you have the same heading on numerous slideshow files? If so, consider using a template. The best way to do this on a Mac is as a Stationery Pad:
Create a file with the specifications you need.

Save it to your project file.

Navigate to the file in the finder.

Go to File>Get Info or select the file and press Cmd+I.

Click the Stationery Pad box.

Close the Get Info window.
When you open a stationery file, an untitled copy of the original is opened. To make any changes to this file, uncheck the Stationery box, modify then save the file again. Remember to check the stationery box again.
The process is not quite as elegant on a Windows machine. You can make the file read only by right-clicking on a file's icon and choosing properties. This will force you to choose Save As, hence preserving the original document.