Button
Button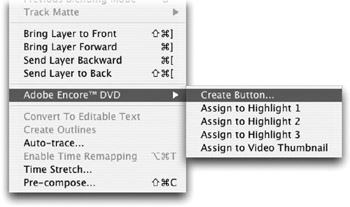 If you're using AE 6.5 and Adobe Encore you are in luck. After Effects can automate the button and overlay creating process for you.
In the Timeline select all the layers that make up the button

Choose Layer>Adobe Encore DVD>Create Button and name the button

Use the pop-up boxes to assign highlight layers and a video thumbnail, After Effects will create new compositions and name them properly for Encore.

You then need to open the button composition up.

Make sure all quality switches are set to maximum quality and view the comp at 100% to check for ˜weirdness.

Choose Composition>Save Frame As>Photoshop Layers. Be sure to retain the (+) prefix so Encore will read the file as a button.