If the alpha channel on a layer isn't looking right, select the layer in the project window and Context Click or hit Cmd+F (Ctrl+F) to see the footage's interpretation.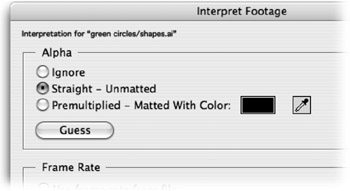 If After Effects guessed that your alpha was premultiplied , trying using a different color matte. If that doesn't help, change the interpretation to straight. Do you still have a questionable alpha channel? Get creative. Try using the paint effects set to alpha, then use auto trace, or draw a mask.

If you don't want an alpha select None. This will make it easier to apply a track matte or to draw a mask to the layer.