Proxies are lower-resolution or still versions of existing footage. You must have a footage item available to use a proxy.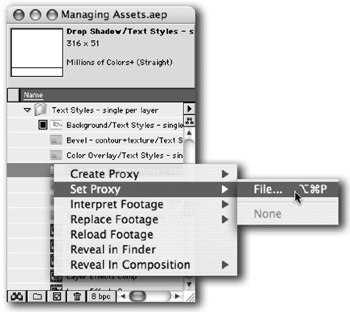 For best results, set a proxy so it has the same aspect ratio as the actual footage item. For example, if the actual footage item is a 720x540-pixel movie, create and use a file with 3:4 pixel aspect ratio (320x240 or 180x135).
To locate and use a proxy, in the Project window, select a footage item.
Choose File Set Proxy>File or select a file in the project window and hit Cmd+Option+P (Ctrl+Alt+P). You can also Context Click (Right Click) on the selected footage.

In the Set Proxy File dialog box, locate and select the file you want to use as the proxy, and click Import (Mac OS) or Open (Windows).

To toggle between using the original footage and its proxy, in the Project window, click the proxy indicator to the left of the footage name .
To stop using a proxy, in the Project window, select the original footage item and Choose File>Set Proxy>None.