Many of the Google tools or services that are websites, such as Gmail, require that you sign up for a Google account. After you have set up an account, you won't have to set it up again. You can use your single Google account as the centerpiece for all of Google's services.
To sign up, head to www.google.com and click Sign In. On the right side of the page that appears, click the Create an account now link. The page shown in the nearby figure appears.
Fill in an email address, enter a password and retype it, choose your location, type what you see as the weird-looking text in the Word Verification area, read the Terms of Service, and then click I accept. Create my account. That's all it takes; you're signed up and ready to go. When you need to use a Google service from now on, type your email address and password when prompted.
After you have an account, click the My Account link if you want to change your personal information, such as your password and name. From your account page, you also see a list of services for which you've signed up, and you can look for other services that you might want to try.
Fill out this page and click I accept. Create my account. Then you are ready to use all of Google's services.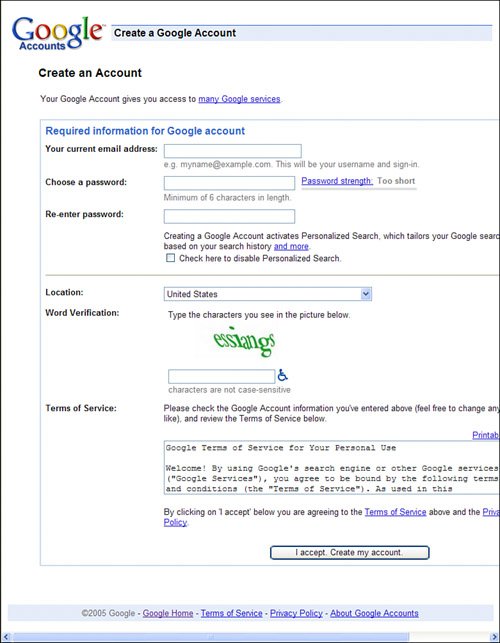 Note
Even if you don't sign up for a Google account, many of Google's services and tools are still available to you. For example, you can still use Froogle, the Google Toolbar, Picasa, and several other services and tools. And if you only want to search the Web, you don't need to sign up for an account, either.