Financial Manager is designed primarily as an information integration tool, which lets you combine third-party accounting data, Microsoft Outlook contacts, cash flow statements, and other information into a central database for financial analysis. Financial Manager accomplishes this by building a comprehensive Microsoft Access database with all your financial material, and then it allows you to create reports and charts based on your company's collective information resources.
Although Financial Manager behaves like a stand-alone program, it is actually an innovative collection of Microsoft Visual Basic macros that run collectively in Microsoft Excel workbooks. Although Financial Manager handles most of the computation and formatting details behind the scenes, it still helps to have some familiarity with Excel before you start using Financial Manager. (Now and then you'll want to move around the information in workbooks, or customize a report or chart.) However, you'll quickly be amazed at how effective the wizards and tools in Financial Manager can be. With just a few keystrokes and clicks, you'll be generating important and valuable information about your small business.
Before you get started with Financial Manager, verify that you have the proper software on your computer by clicking the Windows Start menu, pointing to Programs, and clicking the program named Microsoft Small Business Financial Manager. If this program doesn't appear on your Start Programs menu, add it to your system now (along with the other small business tools) by running the Setup program for the Office 2000 Small Business Tools. (You'll find this Setup program and the necessary program files on one of the supplemental Office 2000 CDs.) Note that you'll also need a copy of Excel 2000 on your system to run Financial Manager, because Financial Manager relies so heavily on Excel to do its work.
When you start the Financial Manager program, Excel starts automatically and displays a customized worksheet containing task buttons and a new Financial Manager menu on the menu bar, as shown in Figure 33-1. To run the commands in Financial Manager, you have two options: you can either click the buttons on the Financial Manager worksheet, or you can click the commands on the Financial Manager menu. (Both options start the same wizards.)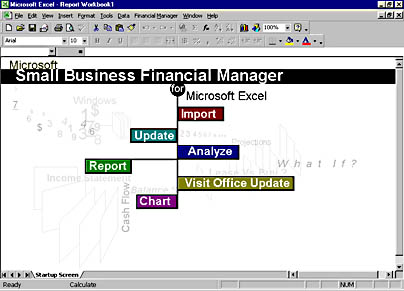 Figure 33-1. Financial Manager runs in Excel 2000 and creates a new menu called Financial Manager.
TIP

---

If Excel displays a warning message about the macros stored in Financial Manager when you first run the program, click the Enable Macros button to accept the Financial Manager macros and allow them to run. These macros are from a trusted source, and are essential to the proper operation of the Financial Manager program.