Getting music from GarageBand into iTunes is a necessary first step to being able to use the music in your other iLife applications (iPhoto, iMovie, iWeb, and iDVD), and it's incredibly easy.
When you're done making a piece of music (or even before thenyou can make interim versions to your heart's content), you can export the music directly into iTunes.
Before exporting for the first time, you may want to verify the settings for precisely where GarageBand will place this music in iTunes and how it will label it. (Remember, you can change the labels in iTunes if you're so inclined, but it might be better to make sure it's set up properly here first.)
1.

Choose GarageBand > Preferences.



2.

Click the General tab, which lets you confirm (or set up) how the music will go into iTunes.



If these settings are good, close the window (using the red button). Now you are ready to export, and you know where the music will end up when you do.



3.

Choose Share > Send Song to iTunes.


This will mix your entire sequence of music (not just the part indicated by the yellow loop bar) down to a single track. This is referred to as a mixdown. Your video will be compressed (or not) depending on your settings in the Export tab of the Preferences window.

Note
A mixdown is the musical equivalent of the rendering of special effects that's done in iMovie. The program takes a bunch of discrete elements andthrough some computer processingcombines them into a single element. If you make a change to some part of the original parts, the computer has to do the mixdown again to keep the combination current. Faster computerswith a higher-megahertz CPUperform these kinds of tasks more quickly.
Next comes the movie, if you've been working with video.

The process takes a few moments, but when it's done, the song is in the Petro Playlist, and the video is available in the Videos section of the Source list in iTunes. After exporting, your Mac will automatically open iTunes (presumably so you can play it there).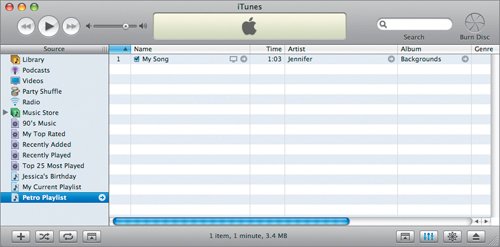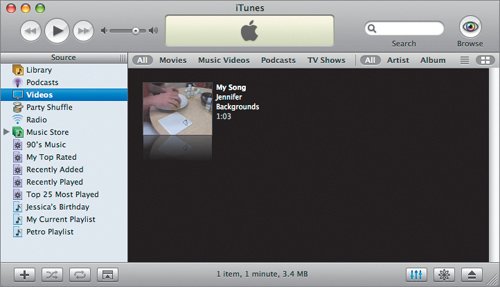 And, of course, the song itself and the video are now accessible from the other iLife applications for use in your slideshows, DVDs, or movies.
Note
You can export to iTunes at any time while you are working, to create interim versions of tracks. But remember that if you change the music in GarageBand, it's not automatically reflected in the song in iTunes. You need to export again to get the current version.
GarageBand lets you export directly into most of the other iLife applications, but putting your songs (and video) into iTunes is one way of storing your media for later use.