Browse the web, check your email, and chat with your friends with Knoppix's Internet applications .
While Knoppix contains plenty of useful tools that don't require a network connection, with connectivity you can use Knoppix to browse the Web, check your email, send instant messages to friends, chat, and even set up a video conference. This hack covers many of the utilities located under the K Menu

Internet menu.
2.11.1 Web Browsers
Chances are the one thing you want to do most on the Internet is browse the web. Knoppix includes two web browsers, Konqueror and Mozilla, which should be adequate for all your web-browsing needs.
Konqueror is KDE's default web browser and is actually the web browser that greets you as you start the Knoppix desktop. If you want to immediately browse the Web, simply type the URL into the location bar at the top of the Konqueror window. Konqueror supports tabbed browsing. To open a new tab, hit Ctrl-Shift-N or middle-click on a link in the browser window. Konqueror is configured to support Java and JavaScript, but Flash support requires using Knoppix's live installer to install the Flash plug-in [Hack #27] .
If you hate web pop-up ads, you're in luck; Konqueror supports blocking pop-up windows . To enable blocking, click Settings

Configure Konqueror . . . , select Java/JavaScript in the settings window that appears, select the JavaScript tab, and next to "Open new windows," check "Deny to block all pop-up windows" or "Smart" to intelligently block unrequested pop-up windows. If you really want to be annoyed, check "Ask," and your Internet browsing will be constantly interrupted by a dialog asking you if you want to allow a new pop-up. That's almost as annoying as using Internet Explorer.
Knoppix also comes with the complete Mozilla suite comprised of a web browser, mail and news clients , an HTML composer, and an address book. As a browser, Mozilla touts excellent standards compliance and supports tabbed browsing if you press Ctrl-T or middle-click a link. Mozilla also supports pop-up blocking. To configure this, click Edit

Preferences, select Privacy and Security

Popup Windows, then check "Block unrequested popup windows."
2.11.2 Email and News Readers
You can also use Mozilla as an email client. Run Mozilla Mail from the Internet menu or click the envelope icon on the bottom lefthand corner of the Mozilla browser window. Mozilla Mail fully supports POP and IMAP mail servers. The first time you start Mozilla Mail, you are presented with a wizard to configure your primary email account. First enter your name and the email address you wish to use in the wizard's window and click Next. The next window asks you whether you use a POP or IMAP server followed by your email account username. Your ISP or network administrator should have the information to fill out these fields. Mozilla Mail loads and checks for new email.
Mozilla Mail's interface is similar to most other basic email clients, with icons along the top to compose new mail, check for new messages, and delete messages. Mozilla Mail also comes with its own Bayesian spam filter. The Bayesian algorithm Mozilla uses learns from the spam you alert it to and gets better at identifying new spam as you continue to use it (Figure 2-15). To teach the filter, select any spam you receive and click the Junk icon along the top of the window.
Figure 2-15. Mozilla Mail's junk mail filter in action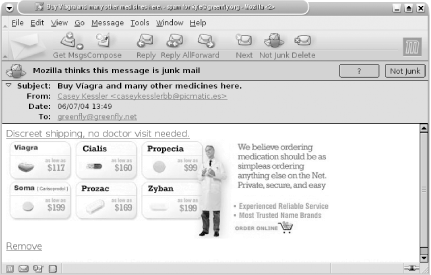 Mozilla Mail and Mozilla News run from the same client and are configured much the same way. To add a news service, click Edit

Mail & Newsgroup Account Settings and click "Add Account . . . " to start the same account wizard you saw the first time you ran Mozilla Mail. Enter the news settings that your ISP has provided you, and a news account will show up on the left sidebar, allowing you to subscribe to and read newsgroups.
2.11.3 Instant Messaging and IRC
For all your instant-messaging needs, Knoppix has included Gaim. Gaim started as a Linux client for the AOL Instant Messaging service; extra plug-ins have now given it support for other instant-messaging networks, including ICQ, Jabber, MSN, Yahoo!, and even IRC. Through Gaim's simple interface, you can connect to different messaging networks and manage multiple instant-messaging accounts and buddy lists.
While Gaim's IRC support is excellent, Knoppix also includes a complete, standalone IRC client called XChat. To visit the official Knoppix IRC channel, for instance, click K Menu

Internet

XChat, fill out your choices for nicknames to use (chances are there will already be another knoppix user on this network), then select the FreeNode network and click Connect. After you connect to the Freenode server, join #knoppix by choosing it in the channel list you see when you click Window

Channel List, entering knoppix into the Regex Match: field and hit Apply, or simply typing in /join #knoppix in the text entry box next to your nickname in the main window.
2.11.4 Video Conferencing
If you want to chat in a more face-to-face fashion, Knoppix includes GnomeMeeting for your video-conferencing needs. GnomeMeeting requires a sound card with a working microphone and a video camera if you want to do complete video conferencing. GnomeMeeting has full H.323 compliance, so it works with any other H.323-compliant hardware or software, including Microsoft NetMeeting. As with a lot of the programs I've covered, when you first launch GnomeMeeting it runs a configuration wizard to set up and test your hardware. After the wizard has finished, simply type in the H.323-compliant number you wish to talk to and hit Enter to connect.
With Knoppix you have a complete set of tools to browse the Web, check your email, and chat with your friends that you can take with you to any computer with a working Internet connection (although you might want to check first with the friendly folks at your local Internet caf before using it on their machines).