There's time to learn one more FrontPage skill, and then you'll need to take a short break and start the next Web chapter to finish your FrontPage introduction.
FrontPage makes it easy to add a background to any Web page. Backgrounds can be a solid color or perhaps a pattern or picture, not unlike the background wallpaper that you can set for Windows.
Before adding a background to any Web page, keep in mind these two considerations:
Backgrounds can add considerable time for a Web page to load. Keep an eye on the time gauge in FrontPage's lower-right corner. If a page takes too long to load, your Web audience will likely just move to a different Web site without waiting for yours to load.

Backgrounds can make your Web page look far too busy. Always balance content and form so your page looks inviting and doesn't look too cluttered.
To add a background pattern, right-click anywhere on your Web page and select Page Properties from the pop-up menu. Click the Formatting tab and then click the Background picture option. You now can locate a picture on your computer or on your network server to place as a background on the page. You'll find some possibilities in your c:\Windows folder because that's where Window stores the desktop wallpaper samples. When you select a picture and close the dialog boxes, your Web page's formerly plain background now takes on a more finished look, as Figure Web 1.9 shows.
Figure Web 1.9. The simple Web page is getting more complex with its background.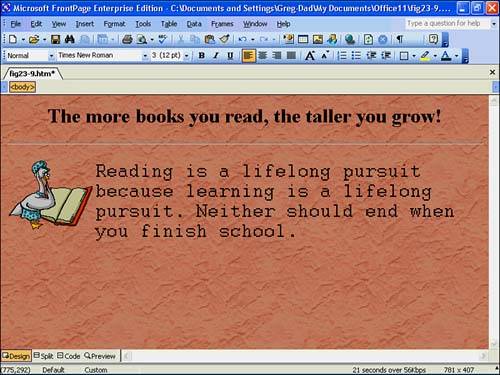 | | |
| --- | --- |
| | Please keep in mind that this chapter is flying through FrontPage options, and not only is there much more to learn, but there are a lot of features you don't have time to learn in one book. Nevertheless, the goal here is to give you an idea of how FrontPage works. |
| | |
| --- | --- |
| | You must place any art that you end up using for a Web page on the same server computer as the rest of the Web page. If you've included a graphic file from your computer (as done here), other computers will probably be unable to view those figures over the Internet. Most Web developers create a folder named images to store all their Web picture files. As you learn more about Web-page creation, you'll learn more about the proper storage locations of items on your Web pages. |