As you read through this appendix, keep in mind that it's only an overview, or a guide, so that you can more accurately decide whether you need these additional programs. Each of these programs could have its own 24- hour tutorial, but because they are new, just learning what these products can do for you will benefit your decision-making.
Microsoft Office InfoPath 2003
| | |
| --- | --- |
| | Microsoft Office InfoPath 2003 was known for many months before its final release as XDocs . (Perhaps Microsoft got tired of people confusing XDocs with Microsoft's Xbox game console!) InfoPath is for members of teams and organizations to help them gather and share information within their organization. InfoPath supports dynamic, Extensible Markup Language (XML) forms. (A later section entitled "What Is XML?" introduces you to the XML technology.) |
InfoPath helps business users collect, access, and reuse information so that fewer actual paper documents are handled, fewer copies get out when security is a concern, and all team members can more easily keep track of what the others are doing. InfoPath is often a forms-based system so that you can get to organizational data inside forms when working inside a team. These XML-based forms can interact and update just about any corporate information (as long as that data is stored in a compatible XML format). The forms allow for optional fields (such as notes and comments that some forms might need when another might not need a place for notes and comments).
These InfoPath forms support the standard Office AutoComplete feature so when entering data common to the form, the InfoPath form can fill in the rest of a field for you when you type the first few letters . In addition to AutoComplete, InfoPath checks forms against databases and ensures that the data users in the organization enter follows predesigned rules such as those that must fall within a certain price ranges if the checked field holds such data.
Figure B.1 shows an InfoPath form. The form supports background spell-checking just as the other Office products do. Although InfoPath is more than just a form generator and data-entry program, thinking in those terms does give you a general introduction to what InfoPath can do.
Figure B.1. Your employees can enter information into dynamic forms with InfoPath.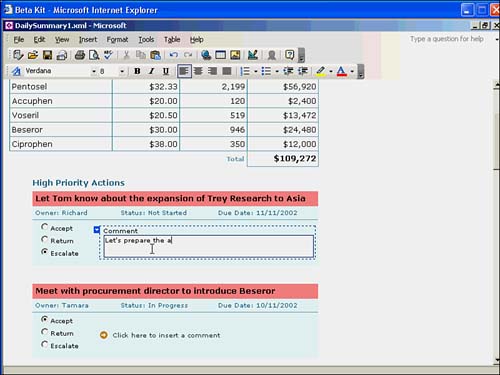 Microsoft Office OneNote 2003
| | |
| --- | --- |
| | OneNote is a program that captures and organizes information in a variety of formats, including handwriting. The capture of handwriting is becoming increasingly more important due to the proliferation of tablet PCs. With a tablet PC, the notes you write on the screen turn into text that you can edit with Word. In addition to handwriting, OneNote captures audio and even enables you to sequence handwriting with the audio so you can replay the audio and see the handwriting appear at the exact point you wrote the notes. This dual-capture feature comes in handy during meetings, for example. You can record the meetings and your notes at the same time and play back the combination later. |
Of course, OneNote also captures text you type at the keyboard as well as handwriting, audio, and other forms of data input. The notes you make are freeform, meaning you can write just about anywhere and mix drawing, handwriting, and typing. OneNote tracks the timing of each of those input elements for later playback. Figure B.2 shows you one such session.
Figure B.2. OneNote keeps track of typing, handwriting, and even audio.
| | |
| --- | --- |
| | The fact that your notes are freeform doesn't mean that OneNote is disorganized. You can search through all your notes (no matter what the format is) and perform keyword searches. You can, in effect, instantly locate information by letting OneNote search through all your meeting notes, files, and other activities. |
Microsoft SharePoint Portal Server
| | |
| --- | --- |
| | One of the more confusing Office products is the SharePoint Portal Server. Meant to be used by layers of groups within a larger organization, the SharePoint Portal Server enables an organization to create and serve up a major Web site, with departments inside the company sharing resources from that larger site to manage their own sites. Even teams and individual employees can have their own Web sites (either Internet-based or intranet -based, meaning limited to the network inside the company and not accessible to the outside world). |
Each layer is a portal managed by the SharePoint Portal Server software. Security is integral at every layer, as are the reporting and statistical analysis of all the portal layers' usage. SharePoint Portal Server provides a universal answer for an organization that needs consistency among its internal and external Web sites.
Microsoft Office Outlook 2003 with Business Contact Manager
| | |
| --- | --- |
| | Microsoft Outlook has developed into an important email client, contact manager, appointment reminder, scheduler, journal, and note-taker as you saw in Hours 15, "Communicating with Outlook 2003," and 16, "Planning and Scheduling with Outlook 2003." If you have Outlook with the Business Contact Manager, you have a tool that helps small businesses keep better track of their clients and sales contacts. |
All businesses depend on their income, and sales drive income. Tracking potential customers, former customers, and current customers is vital so that sales information can get to the right people at the right time. A salesperson must be able to locate sales contacts quickly and look up information about those contacts, such as previous purchases, and even personal history, such as family information, to get better rapport for the sale.
One of the best things about Business Contact Manager is that it's really just Microsoft Outlook with a few extra bells and whistles that manage business contacts more effectively than Outlook does alone. Therefore, Business Contact Manager is simple to learn because, unlike a comprehensive program such as InfoPath or the SharePoint Portal Server software, you already know how to use Outlook.
As an overview, here are a few things Business Contact Manager does well:
Tracks business accounts, contacts, and sales opportunities (such as every time in the past a customer was called upon).

Reports on prioritized comprehensive sales activities and contacts.

Stores business contacts separately from regular Outlook contacts so you can track business-specific data, such as leads, income, sales history, sales calls, and returns.

Scans all activities available for any one specific business contact or business account.

Links documents to your accounts and sales contacts to you can view, edit, and manage them easily.

Manages follow-up appointments that you set so your sales staff can return to the customer at a given time.

Allows your company to purchase target sales leads and import those leads directly into your Outlook Business Contact Manager files.
Figure B.3 shows a business contact. The contact is for a business account and not for an individual person. As you can see, the format is similar to any other Outlook contact except you'll notice fields for the account's financial information, multiple contact entries available at this account's location, and a history of the account's activities sorted by most recent date.
Figure B.3. Outlook lets you keep multiple items about your business contacts.