The Outlook Journal keeps track of all your interactions with contacts, Outlook items, and activities. Although you can make manual entries, the real power of the Journal appears when you automate Outlook to record the following types of Journal entries:
Track and record all items (such as email) that you send to and receive from contacts. Depending on the option you selected when you set up a contact, the Journal can automatically record all interactions with that contact, or you can record interactions selectively.

Keep track of all Office documents that you create or edit. Browse the Journal to find a summary of the documents you created and the order in which you created (and edited) them.

Track all meetings automatically.

Track all appointments and tasks manually. (Outlook does not track appointments and tasks automatically; you must enter them yourself every time you add an appointment or task.)

Manually record any activity in your Outlook Journal, including conversations around the water cooler .
Setting Automatic Journal Entry
Have you ever wished that you had recorded a complaint call you made when you got a bad product or service? Let Outlook track all your calls automatically. The Journal records times, dates, and people you called. As you use Outlook to make calls, record notes about the calls and track those notes in your Outlook Journal. You open the Journal by clicking the Journal button if you've added it to your Outlook Bar.
You should review your Journal options by selecting Tools, Options and clicking the Journal Options button. You'll see the Journal Options dialog box shown in Figure 16.10 where you can inform Outlook exactly what to track. Request that Outlook record activities in selected Outlook activities, Office programs that you use, or contacts with whom you send or receive email.
Figure 16.10. Select what you want Outlook to track.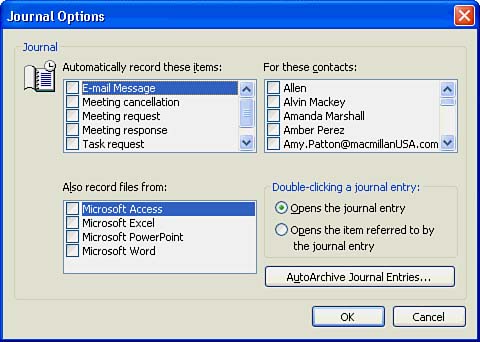 Adding Journal Entries Manually
The Journal cannot automatically record all activity in your life; however, you can add manual entries for any activities you want recorded. If you want to record an appointment, open that appointment (from within the Calendar). If you want to record an item not related to Outlook, such as a conversation, create a note for that item and transport the information from the note to the Journal folder.
To Do: Record a Manual Journal Entry
To record a manual Journal entry from an existing item (such as a new contact you just entered), perform these steps:
Double-click the item you want to record to display the Edit dialog box for the item.

Select the item's Actions, New Journal Entry option. The Journal now contains an icon that represents the item, such as a phone call to the contact. Double-click the Journal's icon to display the item's details.
Suppose that you wrote a letter to your phone company, for example, and you want to record the complete document in your Journal. If you have set up your Journal to track all Word documents automatically, the document appears in your Journal. If you have not set up the Journal to track Word documents automatically, however, just display the document's icon in the My Computer window on the Outlook Bar and drag the document to the Journal icon on the Outlook Bar.
| | |
| --- | --- |
| | Periodically, delete older entries from your Journal that you no longer need. The Journal entries add up quickly. When you delete a Journal entry, the files the Journal entry describes are not deleted; only their entries in the Journal are. |
| | |
| --- | --- |
| | The Journal consumes resources quickly. With the Journal recording activities, your use of Office can slow down because your computer will constantly be checking and updating your requested journal entries. Many advanced Office users simply don't use the Journal. They uncheck all activities from the Journal Options window and just use appointments to keep track of activities. |