Word and Outlook have the most levels of interaction. Using both programs, you can send email messages, create mail merge documents, and generate tasks .
Using Word As Your Email Editor
When you send email messages from Outlook's Inbox, Outlook provides tools you can use to format your message. You can apply bold, underline, or italic formatting, change the text's font and size, and create bulleted lists. These basic formatting options usually are all you'll need for your email.
Sometimes, though, you might prefer additional word and document processing tools, such as AutoCorrect, AutoText, Drawing tools (such as Word's Drawing toolbar), and automatic spelling and grammar checking as you type. Or perhaps you need extensive formatting with tables, automatic numbering, or other features you find easier to use in Word. When the need arises, Outlook gives you this option. (Outlook XP and later supports AutoCorrect, AutoText, and Drawing tools.)
If you send formatted email from Word directly, and not as an attachment, Word sends the email in HTML format. You also get the same result in Outlook when you select HTML as the default format and opt to use Word as the email editor. An Outlook user receiving such an email might see a prompt similar to that shown in Figure 21.1. In this instance, Outlook needs to run an HTML script in order to interpret WordArt formatting embedded in that HTML message. Scripts are one vehicle for spreading email viruses so many users never run them, or their antivirus software disables the scripts. Therefore, formatting with WordArt may not be seen by all your recipients so don't overuse the ability to format email. Plain text is always safe to send and is always allowed through antivirus programs.
Figure 21.1. Outlook warns you about HTML scripts when you open certain HTML-formatted email messages.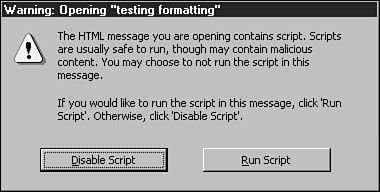 If you do decide to use Word as your regular email editorwith the advantages of AutoCorrect, automatic spell checking as you type, and other featuresyou need to inform Outlook. Click Tools, Options. In the Options dialog box, click the Mail Format tab, as shown in Figure 21.2. Click Use Microsoft Word to edit email messages, and then click OK.
Figure 21.2. Choosing Word as your email editor provides a wider variety of formatting options.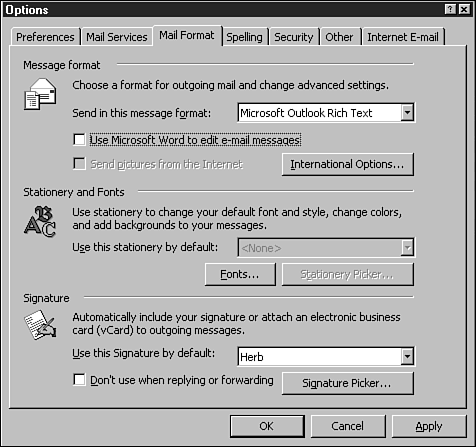 The next time you create a new mail message, you might see a little message box that says Starting Word as your e-mail editor , followed by a brand new message window that looks similar to Outlook's message window, but that is Word instead (see Figure 21.3). Word defaults to Outlook's default format set using Tools, Options, Mail Format.
Figure 21.3. The super-deluxe WordMail Message tool.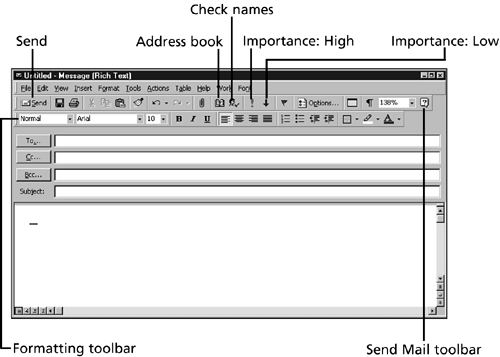 Look at the toolbars in Figure 21.3 again. There are a lot more tools on them than on the Outlook toolbars . To see the difference, compare Figure 21.3 with Figure 21.4, which shows a standard Outlook message window.
Figure 21.4. The mild-mannered Outlook Message tool.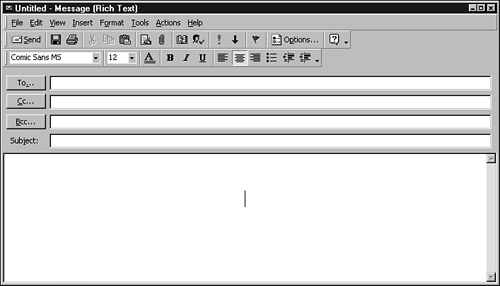 Tools of the Trade
You can see that the toolbars and menus of the WordMail Message tool have more in common with Word than with Outlook. The Formatting toolbar has been expanded to match the one in Word, and the Standard toolbar has been replaced with the Outlook Send Mail toolbar.
Different Strokes for Different Buttons
By using Word as your email editor, you gain several functions that aren't available in the standard Outlook message editor. You can do the following:
Use AutoCorrect and AutoText

Use your keyboard customizations

Have full use of table features

View the document map (which enables you to quickly navigate a long document containing heading styles)

Show/hide hidden marks (such as spaces and paragraph marks)

Zoom in and out (make the contents appear larger or smaller without changing the size of the window)

Use character and paragraph formatting styles

Add borders to paragraphs

Add highlighting to words or phrases
As you can see, there are many advantages to using Word as your email editor (provided that your correspondents can decipher Word's version of the message, of course). You can also click the Options button to open the Message Options dialog box, shown in Figure 21.5. Here you can set several features of your email message. Note that these options are also available without using Word.
Figure 21.5. The Message Options dialog box enables you to customize your message (shown in Corporate/Workgroup mode).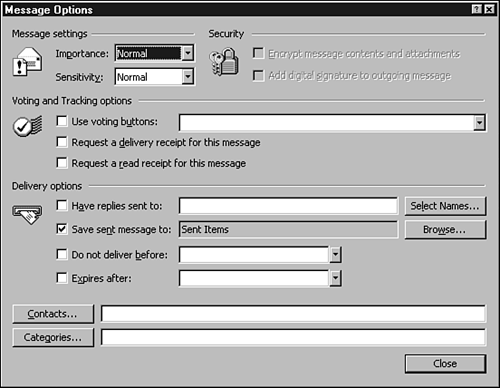 As for the rest of the buttons and fields, you'll find that they function like Word's Standard and Formatting toolbars. In addition, the To:, Cc:, and Subject: fields work exactly like those in Outlook's Message window.
| | |
| --- | --- |
| | When you use Word as your default email editor, it defaults to the format you choose from Outlook's menu under Tools, Options, Mail Format. Word's formatting tools work fine no matter which format you choose. However, if plain text is set as Outlook's default, any formatting you apply from within Word will be lost when the message is sent. |
Creating Tasks
In addition to using both Word and Outlook to create your email, you can use other Outlook options from other Office modules.
Back when you were learning how to create tasks in Chapter 19, "Managing Tasks," you might have thought, "Sure, tasks are useful, but it doesn't seem very productive to stop what I'm working on, switch to Outlook, and create a task." Unfortunately, this is true. No one likes to have his train of thought interrupted .
So why do it? Fortunately, with Word, you can create a task from any Microsoft Office document in which you're working. The new task will even have the open document linked to it for more convenience as these steps demonstrate :
In a previously saved document, right-click any toolbar in Word.

Select the Reviewing toolbar from the menu.

On the Reviewing toolbar, click the Create Microsoft Outlook Task button, as shown in Figure 21.6.

Figure 21.6. Creating a task in Word is as simple as pointing and clicking.

A Task window appears with the open filename in the subject field, a shortcut to the document, and the current paragraph from the Word document in the note box. Finish filling in the rest of the task information, and then click Save and Close.
If you create a lot of these document- related tasks, you can copy the Reviewing toolbar's Task button into either the Standard or Formatting toolbar. Then you'll have the tool present all the time. To copy the button, you must have the Reviewing toolbar displayed, as well as the destination toolbar. With the Alt and Ctrl keys depressed, use the left mouse button to drag a copy of the Task tool to the desired location on the target toolbar.

When you close Word, you might be asked to save changes to the current template. Say Yes to save the change you just made.