It all goes back to the goals you laid out in Chapter 5, "Identify Your Web Site's Goals." Depending on what your goal is, you measure success in different ways. You might hear sales sites discussing how to monetize searchto convert your search results into its business impact in dollars. We look at each of the goals discussed in Chapter 5 and determine what visitor outcome you should measure for your business. We call these successful visitor outcomes conversions. After we take a close look at what conversions are, we explore which conversions make sense for each kind of business.
Conversion is a sales term that refers to converting prospects into customers, and you might often hear about a business raising its conversion rate, the ratio of "lookers" to "buyers." For a Web sales business, you can think of the conversion rate as the number of visitors divided by the number of orders. Raising the sales conversion rate means that you book more sales with the same number of folks coming into the "store" (your Web site). Table 6-1 shows how to calculate your Web site's conversion rate.
Table 6-1. Calculating the Sales Conversion Rate. Dividing the number of orders (buyers) by the number of visits (lookers) yields the conversion rate.

| | September 2004 |
| --- | --- |
| Number of orders | 4,000 |
| Divided by: Number of Web visits | 100,000 |
| Conversion rate | 4% |
We can use the concept of conversion more broadly than just for sales. There is no reason you cannot apply the same kind of conversion rate calculation to any goal for your Web site. Instead of discussing only sales conversions, you can track Web conversions, any Web activity that can be counted as reaching your site's goal.
In Chapter 5, we showed that every Web site has a goal for its visitors to achieve, which we are now calling a Web conversion. In this chapter, we measure the effectiveness of each site by counting its Web conversions. For example, your Web site's goal might be creating as many leads to an offline channel as possible. Perhaps you have placed a form on your Web site that enables visitors to provide their contact information, which gets routed to your offline sales force. You can treat each completed contact form as a Web conversion, and you can calculate your Web conversion rate as shown in Table 6-2.
Table 6-2. Calculating the Web Conversion Rate. Dividing the number of leads (completed forms) by the number of visits yields the conversion rate.

| | December 2004 |
| --- | --- |
| Number of leads | 7,500 |
| Divided by: Number of Web visits | 100,000 |
| Conversion rate | 7.5% |
Now that you understand the concept of Web conversions, we can examine the same list of Web site goals that we covered in Chapter 5 and see how you can measure Web conversions for each one.
Web Sales
If the goal you chose for your site in Chapter 5 is Web sales, the conversion metric you should count is the number of Web orders taken by your site. To analyze what a visitor is doing on his way to becoming one of your "conversions," we again turn to the Web Conversion Cycle methodology introduced in Chapter 4, "How Searchers Work."
We first looked at a visitor behavior model for a Web sales site in Chapter 4, and we show it again here as Figure 6-1. The Web Conversion Cycle models how visitors use your site, as each activity leads to the next one. Visitors might set out to Learn more about a need or problem they have and what solutions there are. Once informed, they can narrow their choices to a particular kind of solution to Shop for a specific product, comparing prices and features, perhaps. After they identify the best product, they are ready to Buy the product, and then wait to Get it before they can Use it.
Figure 6-1. A behavior model for personal computer sales. Visitors satisfy their information needs before buying, and then return for technical support.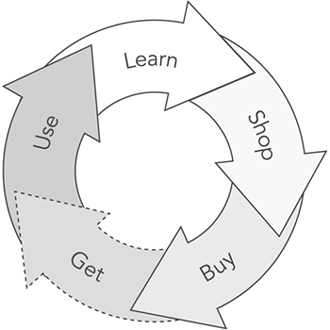 There is nothing terribly hard to understand about any of these steps, and it might exactly fit the kinds of products you sell. For example, a personal computer fits this model quite well. Customers start out not really knowing what to buythere are laptops and desktops, and there are even different kinds of desktops that actually sit on your desk or "towers" that go under your desk. Most people need to Learn more about what is out there before they even know what category of computer is right for them, and they can do that right on your Web site, if you have this kind of information available for them.
After the customer has chosen a particular category, such as a laptop, she needs to decide which one. She must analyze Dell versus ThinkPad versus Apple, and she must also make decisions about operating systems, weight, battery life, screen resolution, memory, disk space, and lots of other features. These are all the tasks that shoppers go through while they Shop for a computer, and they are increasingly done on the Web. If you are a retailer, you can provide objective information for all the brands you carry, and manufacturers can differentiate their wares against their competitor's.
After she has narrowed down her choices to just a few, she begins thinking about whether to Buy. She starts to think about where she can get the lowest price and the fastest shipping for one of the models that she wants. The Web is also a great place to do this, if you have designed your site to make it easy to compare prices (including shipping) for different models and if you explain shipping options and any special offers that are available.
After purchasing, she wants an e-mail confirmation. While waiting to Get her computer, she can check the status of the order at any time right on the Web site. If she has chosen express delivery, you can help her track the package through UPS or any other shipper, also right on the Web. Because most of the Get interaction occurs off-Web, we show that step using dotted lines in Figure 6-1.
The moment she receives her computer, she can begin to Use it. She can install it and get right to work. As she does, she can get answers to her problems on the manufacturer's Web site. She might sometimes have trouble throughout the life of the computer and come back to get technical support. If the manufacturer has done a good job in support, she might at some point want to upgrade her computer by adding more memory, or she might want to replace her computer with a new model, in which case she begins to Learn all over again as she considers a new purchase.
This example shows why Web sites must be designed with customers in mindcustomers might use the Web every step of the way. But your business might be different than PCs. You might need different steps in your version of the Web Conversion Cycle. Read on to design your own Web Conversion Cycle that is just right for your business.
What if you have a pure online business, where you download the software that you sell? Your model might look like Figure 6-2, which is similar to the personal computer model, where customers need to Learn, Shop, and Buy (and get support when they Use it), but there is no truly distinct Get stepthe software is downloaded to their computer as part of the Buy step. So, no order status is needed because no package is being physically shipped.
Figure 6-2. A behavior model for a software download store. For pure online businesses, there really is no distinct Get step.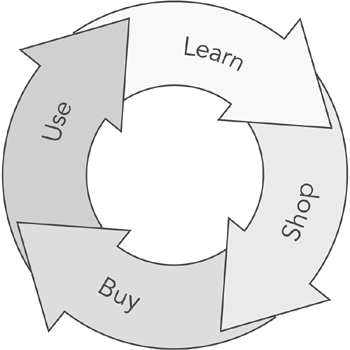 It is also possible that your model might not require any substantial post-sales support, such as an e-book store. In that case, your model might resemble the one in Figure 6-3, where (after the Buy step) your customers do not return to your Web site until they need to consider their next purchase.
Figure 6-3. A behavior model for an e-book store. Products that require no post-sales support might not require an explicit Use step.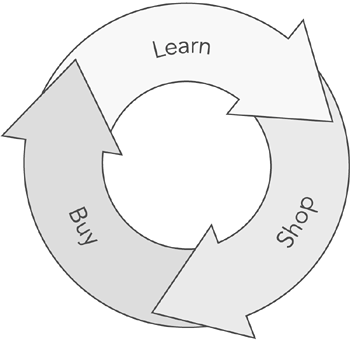 In Figure 6-4, we show how a Web bookstore might operate, where you physically ship your product (requiring a Get step) but usually have no post-purchase customer interactions until the next buying opportunity.
Figure 6-4. A behavior model for a book store. A Get step is required, but no Use step because no post-sales support is required.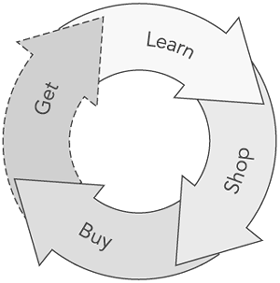 Regardless of which version of the Web Conversion Cycle is right for your Web sales business, it is simple for you to calculate your success. The same e-Commerce system that takes your customer's order can count the number of sales that you make from your site, and your Web traffic metrics system can count the number of visitors to your site. You use these two numbers to calculate your conversion rate, as was shown in Table 6-1 earlier. Later in this chapter, we show you how your conversion rate helps measure the impact of your search marketing campaign in dollars.
Offline Sales
If your business focuses on offline sales, you need to take special care in deciding what to count as Web conversions. Offline sales businesses have visitor behavior models that closely resemble those of their Web sales competitors, except that some steps occurs offlineoften through face-to-face interaction or by phone. In Figure 6-5, we use the example of an automobile manufacturer, and we depict offline interactions with the customer with dotted lines.
Figure 6-5. A behavior model for an automobile manufacturer. In some models, visitors move offline after the early research stages.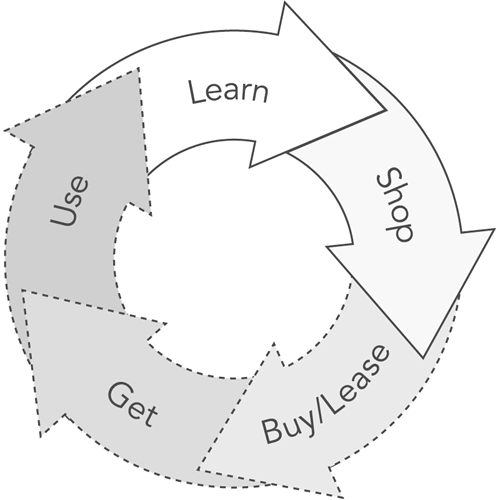 For offline sales, just as for Web sales, the customer needs to Learn about what kinds of cars are available, because so many choices exist (and they increase each year). People do not buy cars every year, and they typically do a lot of research on the Web before making a decision.
Increasingly, people are starting to Shop for a new car on the Web. If your customers typically walk into a dealer showroom with a Web printout of exactly what they want, they have actually completed the Shop step on the Web. Figure 6-6 shows how Cadillac does it, but most auto manufacturers have similar facilities. If your Web site does not offer this capability, your Web Conversion Cycle would show the Shop step with dotted lines because your goal is to shift your customers to offline channels following the Learn step.
Figure 6-6. Shop for a Cadillac on the Web. Cadillac's site lets you "build" your Cadillac and present the result to a dealer for purchase.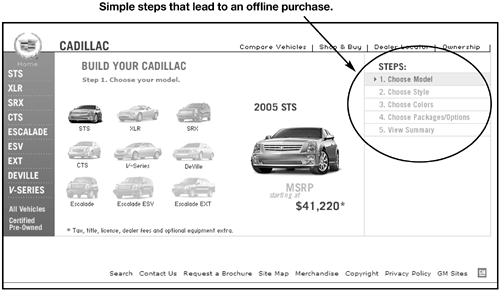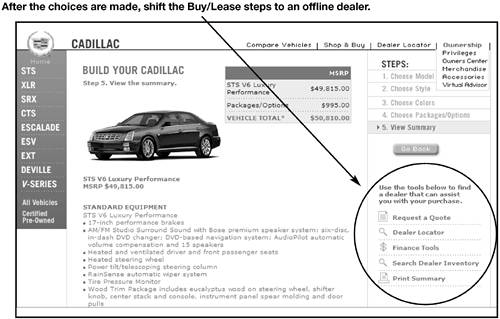 Relatively few cars are actually purchased on the Web, so the model in Figure 6-5 shows the Buy/Lease step in dotted lines, emphasizing that it happens offline. It is possible that this step might shift to the Web at some point in the future, with customers dropping by the dealer to Get their new car, but most customers still haggle and purchase in person today.
Customers still Get their cars at the dealer and return to the dealer (or elsewhere) for maintenance while they Use their cars, with relatively little interaction with your Web site, so these steps are shown as offline, too.
Although Web sales and offline sales share significant similarities, one crucial difference exists: It is easy to know how many visitors to your Web site also bought your product on your Web site, but it is a lot harder to accurately measure offline sales driven by the Web. No matter what you do, you will never have perfect measurements, but there are some basic ways to tie offline sales to the Web:
Provide a special phone number. If your goal is to shift Web visitors to your call center to take the order by phone, you can use some simple tricks to tie the call to your Web site, such as displaying a phone number that appears only on your Web site and is not used in TV or print ads or any other materials. That way, anyone who uses that number must have come from your site. A variant on this is to call your regular number but advise them to "Ask for Operator 123" or "Ask for Alice." (Not all of your visitors will do this, however, so you might have them "Ask for Alice to receive a free mouse pad with your computer.")

Call them. You can provide a form on your Web site that lets Web visitors complete their contact information so you can call them. IBM has had success with a Call Me Now button. When the button is clicked, the customer is prompted to supply a phone number, and an IBM telephone salesperson calls the customer within a few minutes.

Bring this printout. As you saw in Figure 6-6, Cadillac encourages customers to select the color and options for their car before coming to the dealer. The dealer can note any customer who brought in that printout for tracking purposes. If your product does not require extensive customization, you could provide an online coupon for a freebie or a discounted price the customer can print and bring to the store.

Request for quote. Cadillac's Web site also demonstrates an RFQ capability, where the car the customer "built" can be shown to a local dealer who prices it. The customer needs to fill out contact information to receive the quote, so any sales made to this customer can then be accurately tracked as assisted by the Web site.
If, as you read this list, you are thinking that these techniques are excellent goals for your Web conversion rate, you are catching on! Your Web traffic metrics system can count the number of visitors who come to the site, and you can also count how many visitors reach each of these goals. Your Web traffic metrics system can count how many folks click a Call Me Now button, or print out a form, or request a quote, but you need to take steps in your call center procedures to ensure that your Web callers are accurately logged. No matter what the right technique is for your business, you can calculate your Web conversion rate as shown in Table 6-3.
Table 6-3. Web Conversion for Offline Sales Sites (You can track different Web conversion rates for each goal you have for your site.)

| December 2004 Out of 100,000 Visitors, How Many . . . | Number of Web Visitors Converted | Web Conversion Rate |
| --- | --- | --- |
| Called a special phone number? | 10,000 | 10% |
| Brought discount coupon to a dealer? | 3,000 | 3% |
| Requested an online quote? | 1,000 | 1% |
However, your Web conversion rate still needs to be expressed in terms of dollars. That's why it is critical to choose Web conversions that can be linked to offline sales, as we have in these examples. Your offline procedures must ensure that call center operators log each call accurately or that dealers report the printouts brought in, for example. By doing so, you ensure accurate sales reporting, because if you track these events in your sales reporting system, you will learn how much of your sales derive from the Web, as shown in Table 6-4.
Table 6-4. Web Conversions for Offline Sales (You can track different Web conversion rates for each goal you have for your site.)

| December 2004 Average Order: $2,000 | Web Conversions | Sales Conversion Rate | Offline Orders | Sales Revenue |
| --- | --- | --- | --- | --- |
| Special phone number | 10,000 | 1% | 100 | $200,000 |
| Discount coupon | 3,000 | 10% | 300 | $600,000 |
| Online quote | 1,000 | 10% | 100 | $200,000 |
| Totals | 14,000 | 3.6% | 500 | $1,000,000 |
If you examine Table 6-3 and 6-4 together, you can begin to see how to measure the impact of your Web site in terms of sales, even though your site makes no direct sales. By creating a way to tie the offline sales back to the Web site, you can see that your site was the catalyst for $1 million in sales in December. You can also calculate your sales conversion rate (not your Web conversion rate) for your Web visitors as shown in Table 6-5.
Table 6-5. Sales Conversion Rate for Offline Sales (You can track your offline sales conversion by dividing offline orders by total Web visitors.)

| | |
| --- | --- |
| | December 2004 |
| Number of offline orders | 500 |
| Divided by: Number of Web visits | 100,000 |
| Sales conversion rate | 0.5% |
When you can measure the conversions of your Web site, you can do a little math to express your goals in purely monetary terms. Table 6-6 shows how to monetize each Web conversion so that you know the value to your business.
Table 6-6. Web Conversions in Terms of Revenue (You can calculate, on average, how much each and every Web conversion is worth.)

| December 2004 Average Order: $2,000 | Web Conversions | Sales Revenue | Sales Revenue per Conversion |
| --- | --- | --- | --- |
| Special phone number | 10,000 | $200,000 | $20 |
| Discount coupon | 3,000 | $600,000 | $200 |
| Online quote | 1,000 | $200,000 | $200 |
This table tells you that every time your Web site persuades someone to call on the phone, it is worth about $20 in revenue, whereas printing discount coupons or requesting quotes are worth about $200 each. When you understand this, you can see how improving your Web site so that more visitors take these actions can directly affect your sales.
These examples show how, even for an offline sales site, you can tie your Web conversions to your true sales. Later in this chapter, we show how to build on these calculations to measure the dollar impact of your search marketing efforts.
WHAT IF I CAN'T TRACK MY OFFLINE SALES BACK TO MY WEB SITE?
Don't worry. If you have no systems in place that enable you to track your offline sales back to your Web site, all is not lost. After all, it is not that hard to set up special phone numbers or print discount coupons. But maybe you cannot get your organization to take even those minimal steps. If you truly cannot track actual sales instigated by the Web, the next-best thing is to estimate them. How to go about that estimating depends on your business (as always), but there are a few possibilities.
Ask customers when they buy. If you close most of your sales on the phone, add a question to the call center script to ask customers whether they used your Web site before calling.

Update your warranty cards. If your product already requires the return of a warranty card, change your questions to ask about use of your Web site.

Add a question to a survey. Your business might regularly survey your customers. Add one question to the survey to see whether customers used the Web site before their last purchase.
None of these methods are as scientific as tracking actual sales, but they are better than nothing. After you choose your estimation method, the number that you calculate can be used in the rest of our formulas to estimate sales conversion rates and any other statistic. You can also use estimates to perform trend analysis, checking the ups and downs month to month. If possible, however, you should try to eventually implement systems that accurately track sales.
Leads
Web sites designed to generate leads can measure their conversions in much the same way as sites that generate offline sales. Let's first examine a typical behavior model for a leads site, in this case a swimming pool dealer, in Figure 6-7.
Figure 6-7. A behavior model for a swimming pool dealer. Some models shift offline quickly in the sales process.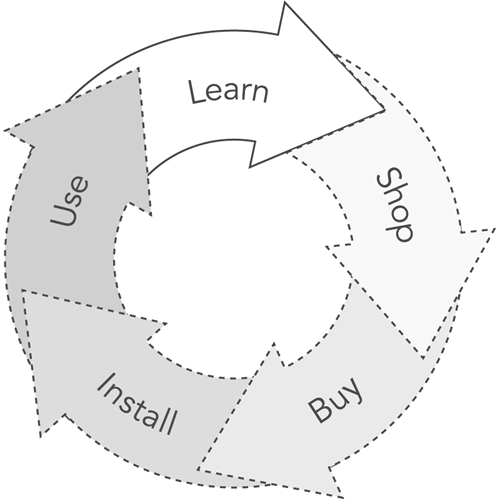 The first thing that you notice is all those dotted lines! For the typical lead-oriented site, visitors Learn on the Web site, but tend to do everything else offline. For customers looking for a swimming pool, they want to get information about whether to choose above-ground or in-ground pools on the Web. When a customer begins to Shop for a specific pool, however, he needs a dealer to come to his house and tell him what it costs to be installed in his backyard. Similarly, the Buy, Install, and Use steps all occur offline, for the most part, although some dealers might have some helpful do-it-yourself pool-maintenance tips on the Web.
If your business is not based on product sales, you might need a different model. Consider how a consulting firm might model visitor activities, as shown in Figure 6-8. This model is different from product-oriented businesses. In product-oriented businesses, the products are largely offered as is (or can be somewhat customized), whereas a customer requiring consulting services is focused on explaining the problem to suppliers so they can solve it.
Figure 6-8. A behavior model for a consulting firm. Highly customized services require a model focused on agreeing on the service being provided.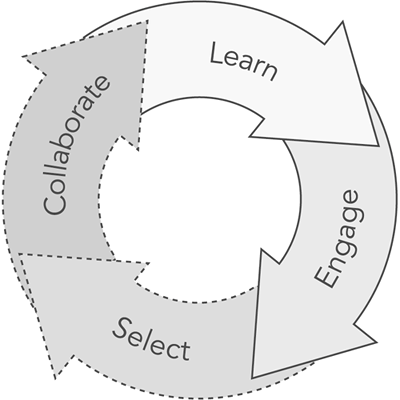 Consulting customers need to Learn about their problem so they can understand what kinds of solutions can be provided, but they quickly move to Engage with a few possible consultants. The Engage step typically includes a Request for Proposal (RFP), in which customers describe their specific situations. The Engage step is more frequently being executed online, as customers describe their problems and provide contact information in Web forms. The Select step, in which the customer receives written responses to the RFP and selects a consultant to work with, is almost always done offline, as is the engagement itself, during which the consultant and the customer Collaborate to solve the problem. Successful consulting firms make it a point to use engagements to teach their customers about other problems they can solve, starting the Learn step all over again.
After you develop the right version of the Web Conversion Cycle for your lead-oriented Web site, you are faced with the question of how to measure its success. Although methods can vary from business to business, it is usually easier to measure leads than offline sales. Lead management systems help your business store contact information for each visitor who fills in his contact information, and they help track the progress of that lead all the way through to a sale. So, the easiest way to measure your site is to ensure that your Web contact form (the one that all leads fill out) is connected to your lead management system. When it is, your lead management system will track the number of leads submitted from the Web, and will show you exactly which sales resulted. You can use this information to calculate the value of each lead, as shown in Table 6-7.
Table 6-7. The Value of Leads (You can calculate the average worth of each lead as well as the Web conversion and sales conversion rates.)

| December 2004 Average Order: $2,000 | Total | Conversion Rate | Sales Revenue per Event |
| --- | --- | --- | --- |
| Web visitors | 100,000 | 100% | $20 |
| Web leads | 2,000 | 2% | $1,000 |
| Orders from Web leads | 1,000 | 1% | $2,000 |
You can divide total sales (in this case, $2 million) by the number of orders to determine that the average order size is $2,000. Using the same logic, you can divide sales by the number of leads to learn that each lead is worth an average of $1,000. This calculation shows you the value of improving your Web site to drive more and more leads. Similarly, if you take the same calculation back one more step, you can divide total sales by the number of Web visitors to see that each visitor to your Web site is worth about $20. Later in the chapter, we show how to use these calculations to put together your business case for search engine marketing.
Market Awareness
Because their goal of "raising awareness" for a product is so nebulous, it is critical that market awareness sites carefully choose exactly what to count as their Web conversion metric. If you take care in designing your Web site to drive to specific Web conversions, you can calculate measurements that can show the value of your market awareness Web site.
Figure 6-9 shows a specific example of a market awareness site for a children's cereal. The Web site is promoted on the cereal box itself and in TV ads for the cereal, leading kids to Discover the Web site. Once there, they Engage by reading stories and playing games that reinforce the brand as fun for kids. The goal of the site is to get kids to Enroll in a club by providing their mailing address. Club members are mailed a monthly newsletter with fun games for the kids, action figures to buy, and cereal discount coupons for their parents. Because most cereal companies sell multiple cereals, the Enroll step might also trigger mail solicitations for other kids' cereal clubs, starting the cycle again.
Figure 6-9. A behavior model for a children's cereal. The Web site is used to form deeper relationships with children who influence parents to buy.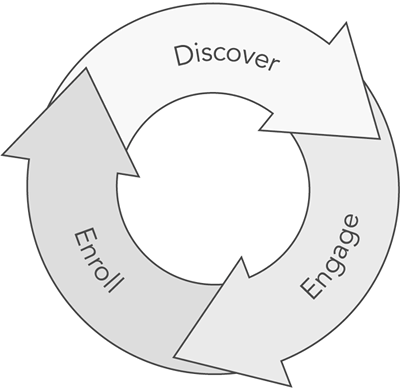 You are probably getting the idea by now. You can track club enrollments as your Web conversion and coupon redemption as your sales conversion. After tracking for a while, you might find that club members buy two more boxes of cereal a month than nonmembers, demonstrating the value of the Web site.
Information and Entertainment
Information and entertainment sites frequently derive most of their revenue from advertising, but they often sell premium services, too. For premium service sales, the number of orders is the proper Web conversion metric. You can use the Web Conversion Cycle methodology to model premium services sales, as shown in Figure 6-10.
Figure 6-10. A behavior model for a subscription information site. Premium services are constantly marketed with free trial periods leading to purchase.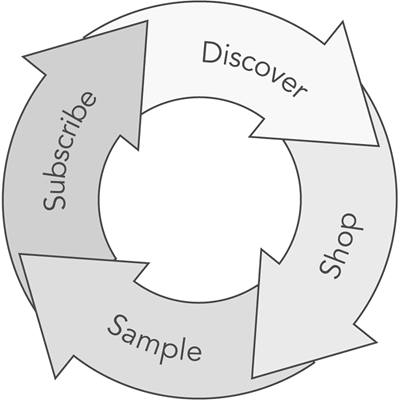 The first step for these sites is taken when visitors Discover the site, often from a search query, and continues as each visitor returns to the site for free content and discovers that premium services are available. On espn.com, for example, "Insiders" can view exclusive content not available to others. These premium stories are shown alongside the free stories and a sales pitch for Insiders is shown each time a nonmember clicks on them, as shown in Figure 6-11.
Figure 6-11. Premium services on an information site. ESPN shows Insider premium content alongside free content.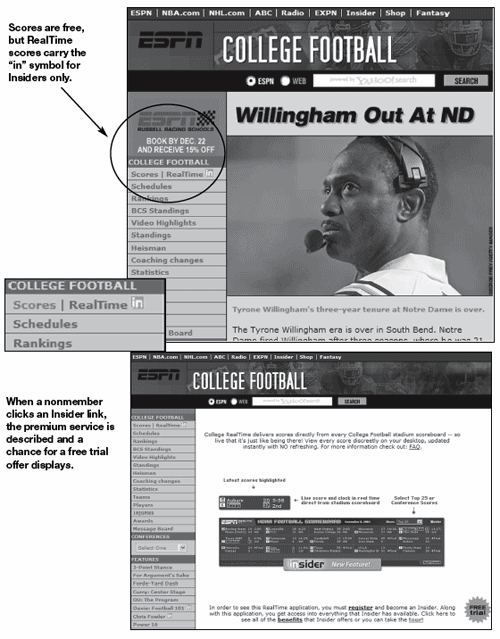 The enticement for ESPN Insider places the visitor in the Shop phase, as he is continually exposed to the value of premium membership each time he sees a link that is exclusive to Insiders. The next step is to entice the visitor to Sample the premium service, typically with a 30-day free trial; visitors Subscribe at the end of that period if they have not explicitly cancelled. Most premium services capture e-mail addresses for the trial period, which they use to periodically contact prospective customers whenever new services become available, beginning the Discover step over again.
In this case, the model is similar to online sales in that the Web conversion and the sales conversion is exactly the same event, so calculating the revenue value of visitors is relatively simple.
Persuasion
So far we have looked only at businesses, but any Web site can benefit from behavior modeling. Figure 6-12 shows a possible model for a political campaign that you can use to both choose and measure your Web conversions. Just as with buyers making a purchase, each voter might go through several steps in response to the candidate.
Figure 6-12. A behavior model for a political campaign. Each voter's activity can be modeled throughout the campaign right up until election day.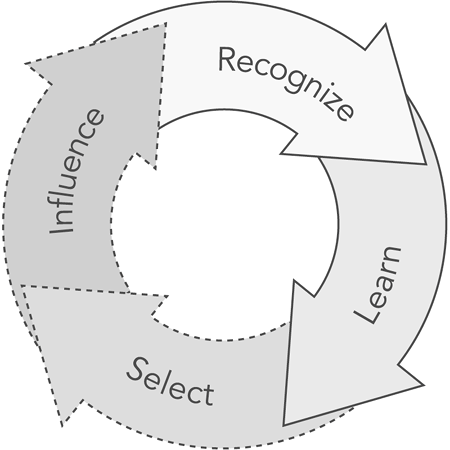 The first step is for a voter to Recognize the candidate's name, which might happen online (searching for a candidate's name) or offline (seeing the name of the candidate's Web site in a TV ad). At some point, the voter decides to Learn more about the candidate's background and positions on the issues, and comes to the Web site. Voters eventually Select the candidate they will vote for, but this is an offline conversion that cannot be accurately measured before election day. The trick for the Web site is to set up a Web conversion that can be measured. That is why the Influence step is so important.
If your Web site can attract people who are willing to influence other people, you can be fairly certain you have their votes locked up. What's more, they might start attracting more supporters. So the best Web conversions for your site might be influencer goals:
E-mail a friend. Provide a function that sends a position paper to someone else with a personal note from your visitor. This goal has the added value of placing the friend's e-mail address in your solicitation database.

Volunteer to work for the campaign. There is never any shortage of work to do, and free labor conserves funding for TV ads and other expenses.

Donate to the campaign. The Web is becoming a powerful force in raising political contributions in the United States, as Howard Dean's 2004 campaign for the Democratic U.S. presidential nomination showed. Dean raised $40 million in just a few months, much of it by accepting contributions right on the Web site.
Other Web conversions besides influencing others might also correlate to racking up votes at the polls, such as subscribing to e-mail newsletters or downloading position papers. Use of the Internet in politics is in its infancy, however, so you might find that you need to experiment. But whether your site is persuading a voter or someone else, you must decide what your Web conversions are so that you can measure your information and entertainment site's effectiveness.