#1. Starting with the Welcome Screens
When you first launch any of the main applications in CS2, a Welcome screen appears. These Welcome screens are great launch pads to learn what's new in a particular application or to run through some tutorials. Most Welcome screens also offer quick and easy access for creating new documents or opening existing ones (Figure 1).
Figure 1. The Welcome screen that opens when you first launch a CS2 application includes links to tutorials, cool extras, and buttons for common tasks.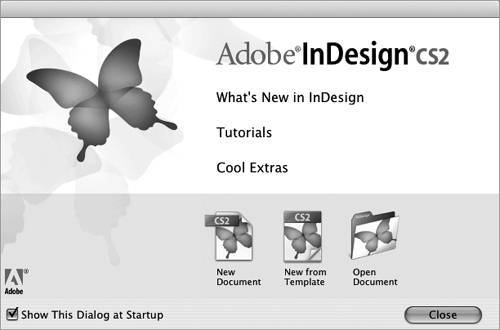 Bringing Back the Welcome Screen
So you decided to turn off the Welcome screen and now you're missing it. Well that's okay, you can call it back at any time by going to the application menu and selecting Help > Welcome Screen.
Although the Welcome screens in Photoshop, Illustrator, InDesign, and GoLive are similar, they do vary slightly in content. Strictly speaking, Acrobat doesn't include a Welcome screen, but it does load a How To window with several links to Acrobat's own help, which explains frequently performed tasks. It's worthwhile exploring each application's Welcome screen to discover what resources and shortcuts to common tasks are available.
As you become more familiar with CS2, the Welcome screens may wear out their welcome. To prevent them from popping up, simply uncheck the Show this dialog at startup check box in the lower-left corner. But don't be too quick to dismiss them. You may be missing out on a good deal of learning resources and shortcuts to common tasks.