#2. Customizing Keyboard Shortcuts
If you find yourself selecting a menu item in a CS2 application several times a day, consider memorizing that menu item's keyboard shortcut. If the menu item doesn't have a shortcut equivalent, you can add your own.
All of the core CS2 applicationsPhotoshop, Illustrator, InDesign, and GoLiveinclude a dialog box for customizing its set of keyboard shortcuts (Figure 2). You can access an application's keyboard shortcuts dialog by selecting Edit > Keyboard Shortcuts.
Figure 2. The Keyboard Shortcuts Editor in Illustrator is typical of the type of interface you can expect in a CS2 application to redefine menu and tool shortcut keys.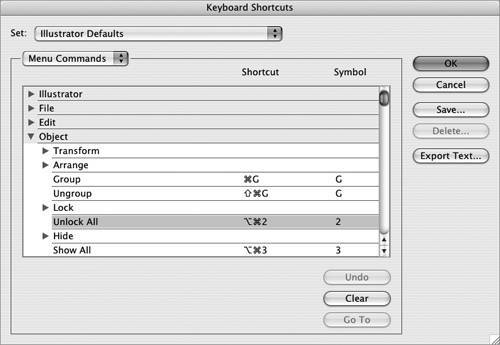 All the applications include a means for managing your collection of shortcuts, known as shortcut sets, which allow you to create sets for different work modes or keyboards (desktop vs. portables). But before you begin editing an application's shortcuts, it's a good idea to duplicate the default set and work from a copy of it. This way, you'll always have the default keyboard shortcut set to return to.
Each application offers a different shortcut editor to customize its shortcuts. Here's a brief overview of each application's level of customization:
Photoshop: Application menus, palette menus, and tools can be customized via the Shortcuts For menu. The editor is made up of an organized list of menus or tools and their corresponding shortcut, if one is defined.

Illustrator: Menu commands or tools can be customized. Choose the type of shortcut you want from the menu below the Shortcut Set menu.

InDesign: Just about everything in InDesign can be customized. In fact, it offers a very different editor than the other applications. The shortcut types are actually broken out by product area and include a context menu for when you're in a text frame, dialog, and so on.

GoLive: Only menu commands can be customized in GoLive. The editor functions like a pared-down version of the editors found in Photoshop and Illustrator.
Viewing the Current Set of Keyboard Shortcuts
If you want to view or print out a handy copy of your current set of keyboard shortcuts, click the appropriate button in each application: In Photoshop, click the Summarize button to output a nicely formatted HTML page. In Illustrator, click the Export Text button, and in InDesign the Show Set button to save to a plain text file. Unfortunately, GoLive doesn't offer an export command in its keyboard shortcut dialog.