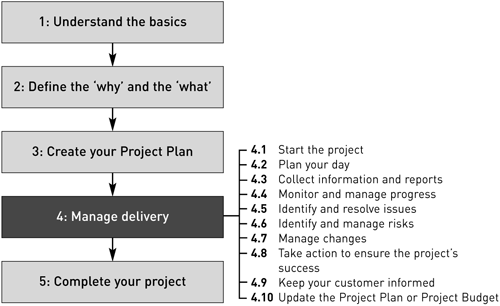 To ensure that all the different considerations in managing a project are covered, the detailed example used in Chapter 3 is continued. When you have completed this chapter you will understand most of the work of the project manager.
Projects need to be actively managed to ensure they are successfully delivered. There is a straightforward set of management tasks a project manager has to undertake throughout the life of a project, to ensure the smooth progress of the project.
Setting the scene
In the rest of this chapter I continue with the example of the office move project started in Chapter 3. To set the scene, and to show different ways the project approach can be used, I am going to briefly use a different example, this time of organising a conference.
Imagine you have been asked to set up a series of conferences. You have developed a full understanding of what is wanted. You must organise four big conferences with several hundred people at each, who all should be looked after throughout the three days of every conference. Speakers and presenters need to be identified and invited. Marketing materials must be developed and distributed. Attendees have to be contacted, invited, and fees collected from them. You want the conferences to be sponsored by some large corporations. The conference centres themselves need to be identified, booked and set up specifically for your requirements. Travel, catering and accommodation need to be arranged for everyone. All in all this is a complex activity, which will require several people to work on for some period of time to achieve the objective; in other words, it is a project.
So, you develop a well-structured Project Plan and identify who will do all the work to arrange the conferences. Can't you now just sit back and let this project happen according to the plan?
Unfortunately, the answer is no. Things do not happen by themselves. When you have a plan describing how to do a project, the work still needs to be explicitly allocated and explained to people. No one will book the conference venues unless they are asked to. Even when you have a project team who understand the plan and their role on it, they may not reliably get it all done. People have lots of things to do apart from your project, and will not automatically keep their attention on it. Your project team members may be working on one or two other projects as well, and unless you keep them focused, they may not do the work to arrange your conferences quickly enough. As they work on your project, problems will arise. These problems, if they are not resolved, will cause progress to be interrupted. For instance, one of the key members of your project team may become ill and not be able to work over a critical period in the project. To make matters worse, customers have a tendency to decide halfway through a project that they want something different from what they originally asked for perhaps your customer decides that rather than four conferences of three days each, it is better to have three conferences of four days each. Such a decision will throw your work into disarray. For these reasons, and many more, projects do not just happen, they need to be led, managed and directed, and this is the role of the project manager.