Professionals know the value of having color-compensated monitors and color-printing profiles (you may remember color profiles from Chapter 8, " Monitors and ColorSync"), which guarantee that what you see on the screen is as close as possible to what you will see on paper. Because the process of mixing colors for a screen is inherently different from the process of mixing colors for print, what seems to be just the right color for an object when you chose it onscreen may appear altogether wrong on paper. Likewise, if you're designing graphics for use on the Web, the proper colors for one brand of monitor or even one resolution may appear completely wrong when seen on another monitor or at another resolution.
Elements solves this problem by giving you the power to invoke a background process called color management . This process translates the color you see when you're creating your image into a color that's as close to the original as possible for the finished product. For color management to work, you first have to turn it on. Doing so is a one-time process that is very simple and applies to all your work in Elements from that point onor at least until you turn color management off. Here's how to turn it on:
Choose Edit, Color Settings.

In the Color Settings dialog box, select a color management option:

Limited Color Management enables Elements to translate the colors you see for Web users with high-class monitors. This option slows down the program somewhat.

Full Color Management is your best choice. This gives Elements the clearance it needs to optimize the colors you use for the printer that will render your image. This option slows down the program even more.

Click OK.
With that done, you can set up any image you edit for optimal printing or display on a wide variety of media, including your own printer. But first, let's talk about some other issues such as choosing the right paper, selecting your page setup options, and previewing an image.
Selecting Page Setup Options
You can make minor changes to your printed output from the Page Setup dialog box. Choose File, Page Setup to display it. Figure 22.23 shows a typical Page Setup dialog box.
Figure 22.23. Your dialog box will look different unless you use the same printer I use.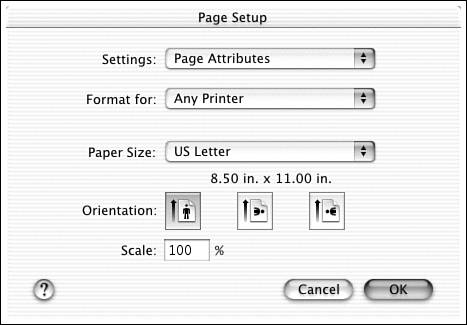 Each printer's Page Setup dialog box looks a little different, but they all provide the same basic functions. Here's a list of some of the more typical options:
Printer The name of the printer may appear at the top of this dialog box. If it's wrong, or if you don't see it listed, select the printer you want from the Printer list, or click the Printer button.

Properties Click this button (located near the Printer list) to access a dialog box that enables you to change things such as paper size, layout, printer resolution, and halftone settings. You can also make these changes here or in the Print dialog box.

Paper Size Choose the size of the paper on which you're printing.

Source If your printer has two paper trays or gives you a choice of tray or single-sheet feed, you can choose the paper source that you want the printer to use.

Orientation Choose how you want the printed image to be placed on the page: portrait (the narrow edge of the page at the top) or landscape (the wide edge at the top).

Reduce or Enlarge If you see these options, use them to adjust the size of the image by a percentage.

Margins Use these settings if they're available to adjust the space between the image and the edge of the page.
| | |
| --- | --- |
| | When you actually print the image (we'll get there soon, I promise), you might run into a problem with files that are especially large. If the image dimensions are larger than the dimensions of the paper you're printing on, Elements will warn you. You can then choose to print anyway, resulting in only part of the image being printed, or you can cancel and adjust the Reduce or Enlarge value so that the whole image fits on the page. |
Previewing an Image
After making page setup adjustments, if any, it's time to preview your image as it might look when printed. Take a look at the Print Preview dialog box in Figure 22.24. To display a similar box on your screen, choose File, Print Preview or click the Print Preview button.
Figure 22.24. Notice the options in my Print Preview dialog box.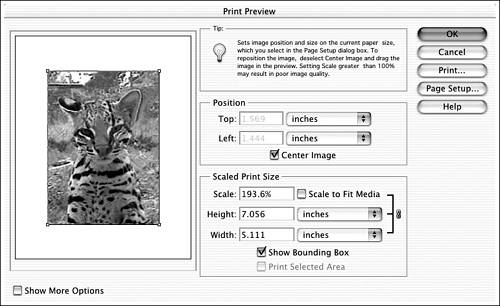 The first option here is Position. If you uncheck Center Image, which is checked by default, the image will print wherever it appears on the page in the preview window. If you then turn on the Show Bounding Box option, you can slide the picture around on the page, placing it wherever you want. If you drag a corner of the image, you can rescale it. The Scaled Print Size values will change accordingly . You can also scale the image by typing a percentage into the Scale field. Scaling is done relative to the original image size. If you have a photo that's 6 inches wide and you want it to print 9 inches wide, scale it to 150%. You might also be able to change this setting through the Page Setup box. To scale the image to fit the size of your page, select the Scale to Media option.
If the Print Selected Area box is checked and you have a rectangular area currently selected in your Photoshop image, you can print just that area. This works only with rectangular selections created with the Marquee tool, and it doesn't work for feathered selections.
When you click Show More Options, you can choose between Output options and Color Management options. In Figure 22.25, I've added crop marks and a caption line to my photo. By default, the caption is the file title. Here's a list of the Output options:
Background If you want to print a background color around your image, click the Background button and you'll be greeted by the standard Color Picker. Whichever color you pick is used only for printing and does not alter your actual image file. Be careful about using this feature. It eats up a lot of ink!

Border Similarly, if you'd like a border around your printed image, click the Border button. In the resulting dialog box, you can set the width of the printed border in inches, millimeters, or points. The border is always black; you can't change the color. (As with Background, using this feature doesn't affect the actual image file.)

Caption Check this box, and on the printed page you'll see the text that appears in the Caption area of the File Info dialog box for that file. (To get to this dialog box, choose File, File Info and make sure that Caption is selected in the top pull-down menu.) This can be helpful for providing contact info or details next to your image. If there's nothing entered here, the filename will be the default caption.

Corner Crop Marks Corner crop marks appear around each corner of your image, defining where it should be trimmed . They're simply horizontal and vertical lines.
Figure 22.25. A picture ready to print, showing various crop marks, a border, and a caption.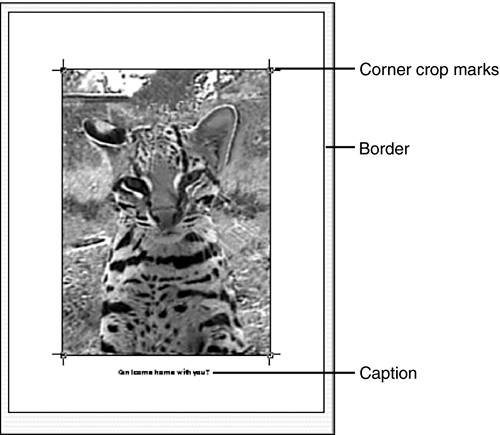 Earlier, I explained how to turn on color management within Elements. But to get it to work with the current image, you must select a profile for your image. The profile instructs Elements with regard to how it should translate colors for output on its intended medium. To display the Color Management options, click Show More Options in the Print Preview dialog box; then choose Color Management from the drop-down list.
The area marked Source Space lists the native color management profile in use by the current image. Generally, there is none, so it will most frequently show something like "Untagged RGB." From the Profile list, choose the profile that best suits your printer, or the device you intend to use to render the image. Toward the bottom of this list, you'll see dozens of printers and monitorssome branded, some generic. You may very well find your printer in this list. In any event, here's generally what you should choose, and why:
Choose your printer model (if available) when you intend to print your image on your own printer.

Choose your monitor model if you intend for your graphics to be used over the Web and seen on your monitor.

Choose a generic monitor for everyday Web graphics, or a high-end monitor (such as a Trinitron) for highest-quality Web graphics.

Choose Printer Color Management (second in the list) to have your own printer driver handle the job of color management. Most major brands of color inkjet printers sold today include their own color management options, which are accessible through their drivers' Print dialog boxes.

Leave this option set to Same As Source if your image is saved using a newer format that includes its own print profiles. You can find out whether your image uses such a format by checking the Source Space area for the name of this profile.
After selecting your options and previewing your image, you're ready to print.