To view an iMovie on television from a tape, the first step is to export the movie to your camcorder. Then you can either connect your camcorder to your television, or make a VHS tape from your digital tape (Mini-DV or Digital-8).
Task: Exporting to Camera
When you've finished your iMovie and are ready to take it to the next level, exporting to a camcorder will allow you to display it on the television. With a few simple steps, you can make the video ready to share in a one-time event, where you play the video only from the camera. Or, after you have exported the video from iMovie to your camcorder, you can then go on to make a tape from there.
Load a blank tape into your camcorder and turn it on. (Make sure that you aren't about to record over something you want. Keep a pen around just for labeling tapesand label those tapes!)

Connect your digital camcorder to your computer with a FireWire cable.

In iMovie, choose File, Export Movie, and choose Export to Camera from the Export pop-up menu (see Figure 17.1).

Figure 17.1. Exporting an iMovie to a camera.

Click Export.
If you want to make VHS copies of the digital tape that you just made, you can connect your camcorder to your VCR using standard RCA cabling, where you connect a series of cables to the Video Out and Audio Out jacks of your camera. The video connector is usually indicated by a yellow color . Two cables carry the audio, where each cable carries half of a stereo signal (the left audio channel is the white connector; the right audio channel is the red connector) (see Figure 17.2).
Figure 17.2. The Video/Audio Out connectors on a typical camcorder.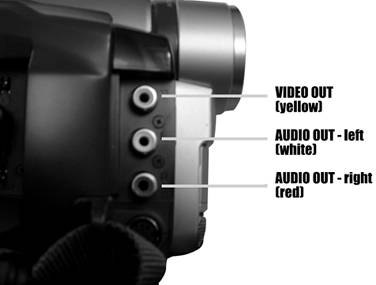 Then you connect the cables to the Video In and Audio In jacks of your VCR (see Figure 7.3).
Figure 17.3. The Video/Audio In connectors on the back of a typical VCR.