Nowadays, virtually every video camera that you can purchase in a store includes a FireWire connection, which you may remember from Chapter 7, "Choosing Peripheral Devices." FireWire is the magic behind being able to make your own digital movie and DVD projects.
Understanding the FireWire Cable
When you want to connect your digital camcorder to your Mac, you must use a FireWire cable. A camcorder often comes with such a cable, but you can also purchase it separately.
The cable that you need to use has two different kinds of connectors: a smaller end that's known as a 4-pin connector and a larger one on the other side that's known as a 6-pin connector. The smaller, 4-pin connector is the kind most often found on camcorders, and the larger 6-pin connector is most often found on computers.
After you connect the FireWire cable to your computer, you can connect the other, smaller end into the camcorder. The location of the FireWire port on a camcorder varies, but it's usually located behind some kind of protective cover. Figure 14.3 shows the smaller 4-pin end of a FireWire cable and the corresponding port on a digital camcorder.
Figure 14.3. Getting ready to plug the smaller end of the FireWire cable into a camcorder.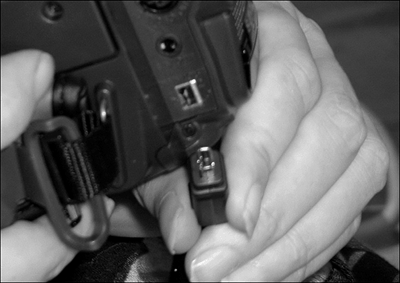 Task: Connecting Your Camcorder
In this section we are going to go through the process of how you set up iMovie and connect a camcorder so that you can capture video.
Turn on the camera, and insert the smaller (4-pin) end into the FireWire connector on the camcorder. (Insert a tape that you've recorded video on into the camcorder if you haven't already.)

Insert the larger (6-pin) end into the FireWire connection on your Mac.

Open iMovie and choose File, New Project to create a new project.

Click the Camera/Edit Mode switch in iMovie to switch to the camera (DV) mode (see Figure 14.4).

Figure 14.4. Switching to Camera (DV) Mode.

| | |
| --- | --- |
| | When you plug in most cameras on your Mac, iMovie will automatically switch to Camera Mode, but you can always use the switch mentioned previously if it doesn't happen. |



After you've connected your camera, iMovie displays a message confirming that your camera is connected, as shown in Figure 14.5.
Figure 14.5. iMovie confirms when a camcorder is turned on and plugged in.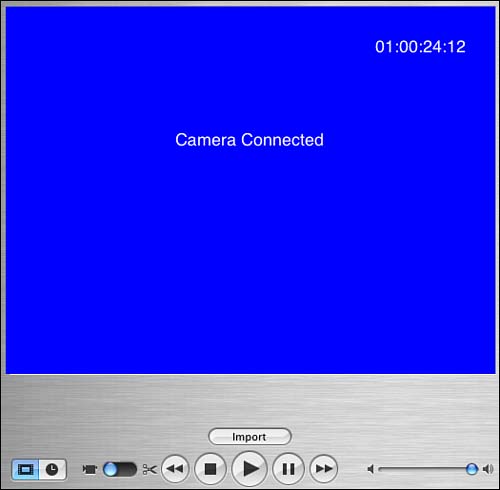 | | |
| --- | --- |
| | It's easy to record video to a tape and then forget to rewind itso you might put the tape in your camcorder and press Play to preview it, but not see anything or see a blank blue screen! The material is still there, earlier on your videotape; you just have to rewind to get to it. The only ways you can actually erase video from a digital videotape are to record over it or subject the tape to strong magnetic fields. For the latter, consult "Task: Subjecting Your Tape to Strong Magnetic Fields." Just kidding. |