There are several alternatives to using Flash to create Flash content quickly; the first is SWiSHmax.
SWiSHmax
Swish has been around for several years starting out as a general text animator that can export in the form of .swf files. It has blossomed into a full-blown Flash content creator while maintaining its roots in text animation with over 200 individual effects. The stage has the same feel as Swish 2.0, as you can see in Figure 28.1, but the effects are now limitless.
Figure 28.1. The SWiSHmax stage where you can create elements to be animated.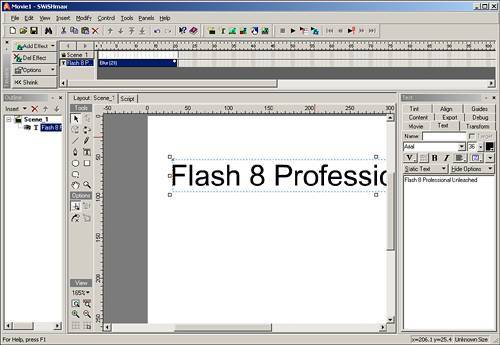 SWiSHmax can be found at http://www.swishzone.com and it costs about $100. You can also find even more applications at swishzone.com that will create Flash content, but SwiSHmax is their premiere product.
Building files in SWiSHmax is fast and easy.
1.

After closing the pop-up dialog box that will appear by default, create a new Swish file.



2.

Select the Text tool and draw a text field on the stage.



3.

Select the Text tab in the options menu on the right of the stage, and in the window, type Flash 8 Professional Unleashed.

Notice that when you create a text field, a layer is created automatically in the timeline.



4.

Now select the first frame in the new layer and click the Add Effect button.



5.

Move down and select Looping Continuously>Flapping Wave.



6.

Now the timeline has 20 frames in it. Click the Play Effect button to see the effect at work.



7.

You can also customize the effect by selecting the effect and choosing Edit, Properties as you can see in Figure 28.2



Figure 28.2. The properties dialog box for Swish effects.



Play with the different effects and customize them to get your own. From the properties dialog box of the effects, you can even save your own effects to distribute to your friends.
Another great application from Swish that will make creating online photo albums a breeze is SWiSHpix.
SWiSHpix
SWiSHpix allows users to quickly create digital photo albums, which you can animate and even put to music. After that, you can either burn to a CD or quickly upload to a Web server via FTP.
The program has five simple steps:
| | |
| --- | --- |
| 1. | Get Pictures. You gather the pictures and make minor edits to their layout and title. |
| 2. | Edit Pictures. You crop and adjust brightness and contrast of the images. |
| 3. | Create Album. You set options for the album such as music, time delays, and theme. |
| 4. | Decorate Pictures. You add text bubbles or clip art to individual images. |
| 5. | Publish Album. You make choices for the form that the album will be published in, such as on a CD or published directly to the Web. |
SWiSHpix is a great tool to quickly create online content for photo albums, screen savers, or CD albums. It is available at swishzone.com.
But SWiSH isn't the only great software for people to quickly and easily create Flash files. PowerCONVERTER from PresentationPro is another one.
PowerCONVERTER
PowerCONVERTER is great for users who like to build presentations in PowerPoint, but want to move to the Web. PowerCONVERTER will take any and all PowerPoint presentations (.ppt) and convert them to either a Swiff file (.swf) for the Web, or a projector file (.exe) for CD content.
You can get a trial version of PowerCONVERTER from PresentationPro at http://www.presentationpro.com/products/PowerCONVERTER.asp.
Some of the features PresentationPro says PowerCONVERTER has are
File size reduction up to 97% from PowerPoint to Swiff (.swf)

Retains all sounds, transactions, and graphics

Secure file conversion free of viruses
And it currently retails for about $400.
If you are interested in converting video to Flash, but do not need the entire Flash suite, there are two very good options available.
Wildform FlixPro
FlixPro is a product that makes turning video into a Swiff file very easy and fast. It also has a great compression ratio and several built-in players.
The software is available at http://www.wildform.com and retails for about $99. It does have a trial version.
With FlixPro, you can import and convert the following formats:
.avi

.dv

.mov/.qt

.mpeg

.mp4

.3gp

.asf/.wmv
With the ability to export as a raw Swiff file, or as a Swiff file with a built-in video player, if all you are interested in is converting video to .swf, FlixPro is definitely an option, but not the only option.
Sorenson Squeeze
Sorenson Squeeze is another good choice for converting video to Flash. It has many settings for controlling quality output and has a great compression package.
Sorenson Squeeze can be found at http://www.sorensonmedia.com/and has a trial version. The retail price on the full suite of Sorenson Squeeze Compression is about $450.
Here are the formats Sorenson Squeeze supports for importing:
.aif/.aiff

.asf

.avi

DV

.mov

.wmv

.wma

.wav
It supports most of the same video formats, but it can export to some of them as well as .swf and .flv (Flash Video).
But if video is not what you are looking for, there are other products that can produce high-end 3D vector graphics and animations that can be exported into .SWF format.
Swift 3D
Swift 3D, from Electric Rain, is the premier product for creating 3D vector animations. It can export in a variety of popular formats including .swf and .svg. Some of its features include
Enhanced vector realism

Full preview system

Sophisticated cameras and lighting

High level of object control

Advanced modeling
You can see in Figures 28.3 and 28.4 some of the interface features of Swift 3D. Swift 3D can be found at http://www.swift3d.com for about $229.
Figure 28.3. The Scene Editor in Swift 3d.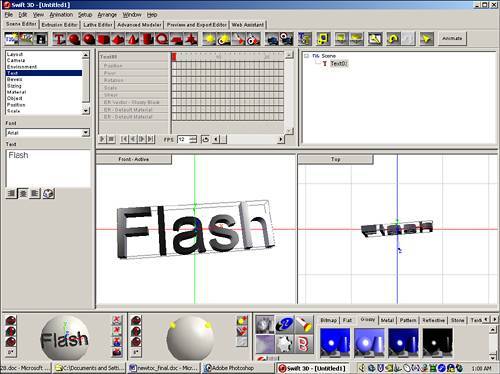 Figure 28.4. The Advanced Modeler, a new feature in Swift 3D 4.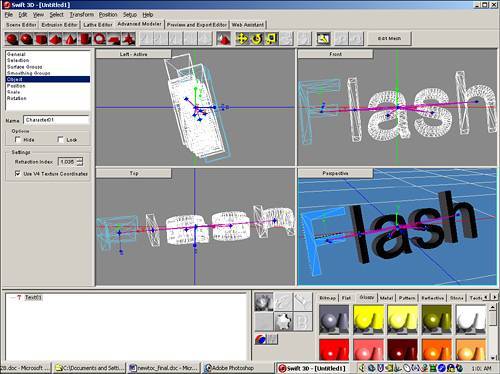 And if screen capture is what you are after, there are several products out there that fit the bill, even one from Macromedia.
Captivate
Captivate, formerly known as RoboDemo, is a screen recording application that allows you to demonstrate software usage or present walkthroughs and have the data be exported into a .swf file. Easily add audio, video, captions, and interactions to your walkthroughs without ever opening anything in Flash.
And because Captivate is both SCORM 1.2 and 2004 compliant, you can deploy your projects, with scoring mechanisms built right in, to most major Learning Management Systems. You can find captivate at http://www.macromedia.com/software/captivate/ and it retails for about $499.
You can see a screen shot of Captivate in Figure 28.5.
Figure 28.5. Captivate will record mouse movement as you work through your demonstration.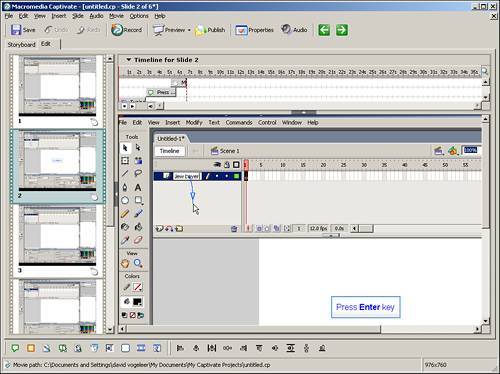 So far, we have talked about the different ways to make Flash content without necessarily using Flash. There are many more examples such as Flex, Macromedia's presentation server, and even PHP can create Flash content with the Ming library: http://us3.php.net/manual/en/ref.ming.php. Next we will go over some third-party applications that will significantly improve certain aspects of what can be accomplished using Flash.