The iPod was released to much surprise and skepticism in November 2001. Revolutionary at the time, the iPod bucked the trends established by most existing digital music players (interchangeably called "MP3 players") in that instead of a small and clumsy LCD screen and tiny confusing buttons, it had a large and detailed display featuring clear listings of music navigated by an innovative rotary thumb-wheel. And instead of a low-capacity Flash memory system that could hold only a few dozen MP3 files at a time, or a large and heavy full-size hard drive, it was built around a physically tiny hard drive that nonetheless packed a huge 5 gigabytes (GB) of storage. This was enough, as Apple's marketing noted with much fanfare, to fit a thousand songs onto a device the size of a deck of cards, and thus into your pocketa benefit that handily offset the iPod's high retail price. A fast FireWire connection meant you could copy the entire contents of your iTunes Library to the iPod in just a few minutes. With a straightforward navigation system that reflected the organizational structure of iTunes itself, the iPod quickly banished all naysayers and claimed the mantle of "iTunes to Go."
In the years since its release, the iPod has undergone many changes, the most obvious of which has been the gradual increase in capacity of its internal hard drive (although the device's physical dimensions, except for its thickness, have not varied): 10GB, then 20GB, and most recently 40GB and even 60GB models have appeared. iTunes libraries comprising 5,000, 10,000, and even 15,000 songs can now fit easily on that same deck-of-cards-sized device. As Apple has refined the navigation system, recent iPods have sported subtly different interfaces, including versions with a touch-sensitive trackpad instead of a physically moving wheel, round buttons above the wheel instead of surrounding it, and (most recently) an integrated "click wheel" that incorporates all the iPod's controls into a single round rocking button. But the basics of the iPod's function have barely changed: You use your thumb to roll the selector up and down the menu on the screen, press the center button to select an option and move to the next screen, and navigate in that way until you find the music you want to listen to. When you've found the artist, album, playlist, or song you want to hear, the Play/Pause button starts playing it.
The most recent version of the iPod features a large color screen and the eye-opening capability of playing videosmusic videos, short films, and whole seasons' worth of TV shows that you can purchase from the iTunes Music Store, or even home movies that you create yourself. The bright and colorful screen also makes the iPod into a device for carrying and viewing your collection of digital photos, with a "slideshow" function that combines your photos with a musical selection and beautiful transitions to create a presentation you can show off on the iPod's screen or on a full-size TV using standard connection cables.
Other iPod models have also joined the lineup. First came the iPod mini, using an even tinier hard drive than the one in the regular iPod (in 4GB or 6GB capacity) and a variety of metallic colors. That was replaced by the iPod nano, featuring a Flash memory system (1GB, 2GB, or 4GB) that allowed it to be made even smaller than the iPod mini, while retaining the bright color screen and photo-viewing features of the full-size iPod. Finally, the Flash-based iPod shuffle leads the iPod family in price by having no screen or direct navigation interface. Instead, its 512MB or 1GB of storage can be "autofilled" by iTunes with a playlist of your choosing, with its contents optionally "shuffled" so that you're never sure what music might come up next.
Note
In October 2004, Apple released a "U2 Special Edition" iPod with a black body and red click wheel, signed on the back by the members of the band U2. Aside from its flashy appearance, the special edition is functionally identical to a standard 20GB fourth-generation (4G) iPod.
In this book, the methods used to synchronize your iPod and navigate its contents are described in a way that's applicable to most if not all iPod models. When the methods described apply only to specific models, the following naming scheme is used:
1G First-generation iPod. FireWire port on the top. 2-inch monochrome screen. Freely rotating mechanical navigation wheel with control buttons surrounding it. Sharp front edge. 5GB or 10GB capacity.

2G Second-generation iPod. FireWire port on the top. Touch-sensitive navigation wheel with control buttons surrounding it. 10GB or 20GB capacity. Visually and functionally the same as the iPod 1G.

3G Third-generation iPod. Dock connector (combination FireWire/USB2.0) on the bottom, compatible with the separately available iPod Dock. Four small round control buttons above the touch-sensitive navigation wheel. Rounded front edge. Capacities ranging from 15GB to 40GB.

4G Fourth-generation iPod. Dock connector on the bottom. Integrated "click wheel" interface with the four control buttons embedded under the directional points of the touch-sensitive navigation wheel. 20GB or 40GB capacity. A version of the iPod 4G with a 60GB hard drive, a color screen, and the ability to display digital photos was sold for several months as the iPod photo.

5G Fifth-generation iPod. Recognized by its large (2.5-inch) color screen and squared-off front edge. Capable of playing videos and displaying photos. Combined headphone and remote jack at the right side of the top edge. Available in black or white. 30GB or 60GB capacity.

iPod mini Smaller, rounded design; body in one of several metallic colors. Integrated "click wheel" interface similar to the 4G iPod. Monochrome display. Dock connector on the bottom. 4GB or 6GB capacity.

iPod nano Replaces the iPod mini; resembles a scaled-down version of the 5G iPod, with a 1.5-inch color screen and the ability to display photos (but not videos). Available in black or white. Based on Flash memory in capacities of 1GB, 2GB, or 4GB.

iPod shuffle No display; small white body the approximate size and weight of a pack of gum. USB connector under a removable cap. Controls limited to Play/Pause, Back/Forward, Volume up/down, and a special "shuffle" switch. 512MB or 1GB capacity (using Flash memory).
Note
Some features described in this book are not available on older iPod models. Additionally, screenshots used in this book to demonstrate iPod functions will generally use a color iPod 5G screen. The color screen on the current iPod is sharper and shows more shades than the monochrome screen on earlier iPod models; it shows more and prettier detailssuch as colorful icons, more engaging games, and additional playback features such as the display of album artwhile you're navigating its interface. The iPod 5G screen is also a little larger than the screens on previous models and can show more lines of information at once. The figures in this book reflect what you'd see on an iPod 5G.
The iPod can carry music in either the standard MP3 format or Apple's semi-proprietary, copyright-protected AAC format. The iPod's use of AAC format means that it's specifically designed to work with iTunes and its system of obtaining legally purchased music from the iTunes Music Store. The iPod will not play music in the Microsoft Windows Media Audio (WMA) format (as found on any of the competing online digital music stores). Because the iPod controls the vast majority of the market for digital music players, and because the iTunes Music Store leads all its competitors by a wide margin, this fundamental incompatibility is unlikely to cause you problemsunless you already own a lot of purchased music in WMA format. In that circumstance, you might have to use a technically advanced procedure similar to the one described in

Create an MP3 CD from Purchased AAC Music to import this music into iTunes in MP3 or AAC format so that you can play it on your iPod. (In such a procedure, you'll have to burn audio CDs from your WMA files using Windows Media Player or a similar application because iTunes also won't play your purchased WMA music.)
The iPod family: 1G/2G, 3G, 4G, 5G, iPod mini, iPod nano, and iPod shuffle.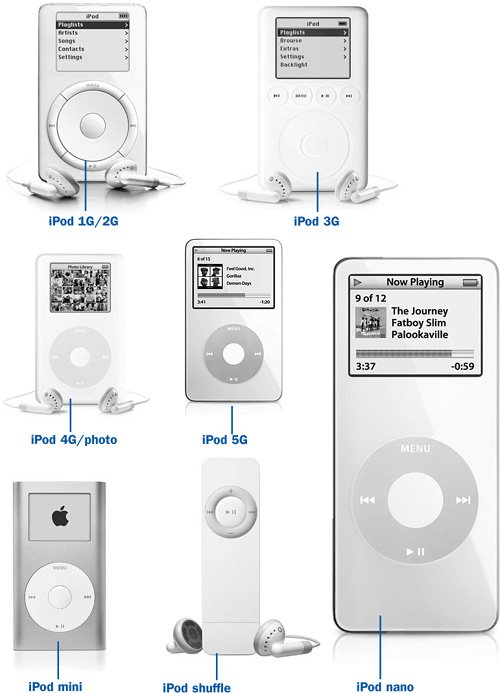 Key Terms
Windows Media Audio (WMA) As the Microsoft competitor format to AAC, WMA files are similarly higher quality than MP3s and can contain any of several kinds of DRM.
Advanced Audio Coding (AAC) A digital audio format codeveloped by Apple as part of the MPEG-4 definition; AAC has better quality than MP3, and it has an optional built-in DRM.
Regardless of the specific model, each iPod has the same basic mission at heart: to synchronize seamlessly with your iTunes Library, copy your music to its internal storage medium, and let you take your music collection wherever you go with the same ease of navigation and playback you enjoy in iTunes itself. The iPod is as much a part of the iTunes experience as the iTunes Music Store is; without an iPod, you're only getting half the benefit of your digital music collection. Besides, without those telltale white earbud cords trailing into your clothes, how else will you show off to everyone on the street that you're on the cutting edge of the digital music revolution?
Comparison of analogous screens of the monochrome and color iPod.