The first step in understanding the Drag and Drop Manager is to learn the terminology surrounding it. The terminology is summarized in the following table.
| Term | Definition |
| --- | --- |
| Drag initiator | Component or item from a component being dragged from |
| Drag source | Data being dragged |
| Format | Property of the DragSource that allows an object to be dropped, or not, on another object; the data in the DragSource is also associated with the format; the data type of the formats are simple strings |
| Drag proxy | Image displayed during the dragging process |
| Drop target | Component the drag proxy is over |
The following figure gives you a visual representation of the terminology: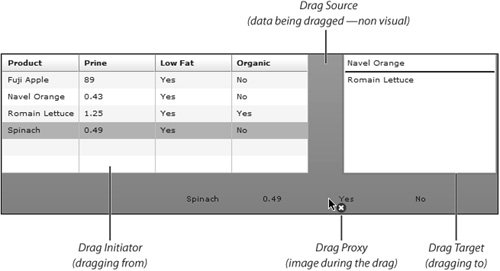 There are three phases to a drag-and-drop operation:
Initiating: A user clicks a Flex component or an item in a Flex component and then begins to move the component or item while holding down the mouse. The component or item is the drag initiator.

Dragging: While holding down the mouse button, the user moves the mouse around the screen. Flex displays an image called a drag proxy, and the associated nonvisual object called the drag source holds the data associated with the component or item being dragged.

Dropping: When the user moves over another component that will allow it, the item can be dropped onto a drop target. The data is then inserted into the new component in some way.
Flex components fall into two groups when it comes to drag-and-drop support, those with enhanced drag-and-drop functionality and those without it. The following list-based controls have enhanced support for drag and drop:
DataGrid

PrintDataGrid

Tree

Menu

List

HorizontalList

TileList
What this means to you as a developer is that your life will be a little bit easier when implementing drag and drop with those controls that have enhanced support. In fact, in many cases it might be no more than setting a single property value for each of the controls involved in the drag-and-drop operation.