In addition to saving your images, you can export them. Exporting your images requires the use of export filters. Exporting a file is similar to saving a file. The main difference is that exporting a file enables you to use certain export filters or plug-ins. Export filters or plug-ins allow third-party programmers to extend the built-in capabilities of a program such as Paint Shop Pro.
Paint Shop Pro comes with several built-in export filters. In fact, exporting is how you create tubes (at least in part).
In addition to the built-in export filters, many third-party filters are available. For example, you can get filters that hide a copyright number in your image to help you keep track of your digital artwork. One of my favorite export filters is SmartSaver from Ulead (see Figure 33.5).
Figure 33.5. Ulead's SmartSaver image export filter.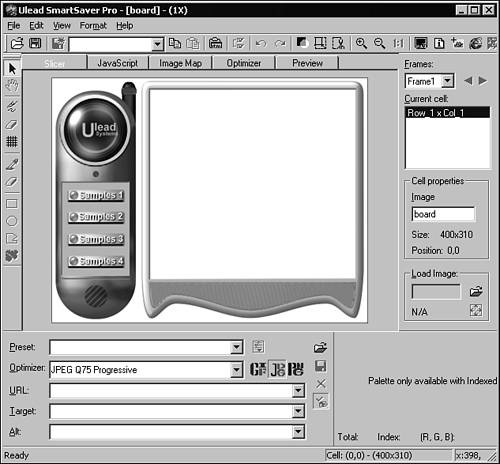 SmartSaver saves images in JPG, GIF, and PNG and is a Web-based image export filter. If you have to save Web-ready images on a regular basis, I highly recommend this filter. In addition to being a timesaver, SmartSaver offers real-time color resolution changes and transparency blends for GIF files. It offers 100 levels of JPG compression and more. You can get a free demo version of this wonderful plug-in from at http://www.ulead.com.