You can open or import a PDF document into Photoshop the same way you can with the other compatible file formats I mention in this chapterby dragging the document to Photoshop or by choosing File > Open or File > Place (in Photoshop). You can open or import only one page at a time, because Photoshop doesn't have multiple-page capability.
When you open a PDF document, the Import PDF dialog box appears (Figure 21.4). In this dialog box, you convert a PDF document into pixels in Photoshop. Many of the options are similar to those you use to set up a new Photoshop document, but concentrate your attention on three options:
Figure 21.4. The Import PDF dialog box appears when you open a PDF document in Photoshop.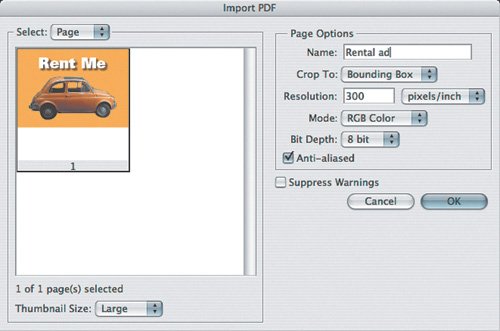 Select Page/Image lets you decide whether you want to import entire pages from the PDF document, or individual images. Whichever one you choose, click which page or image you want to import.

Crop To fine-tunes the image area that's converted. For example, because PDF documents often come from page-layout programs, you might receive a PDF that's a small ad sitting on a much larger US Letter paper size, which means there's a lot of empty space all around the ad. When you import the PDF document, you may want to choose Bounding Box instead of Media Box from the Crop To pop-up menu, because the Media Box includes the entire paper size indicated in the PDF document. The way programs use the Crop To sizes can vary, so it's usually best to try out all of the options in the Crop To pop-up menu to make sure you're getting what you want, keeping an eye on the preview thumbnails.

Resolution is the pixels per inch at which the document is rasterized, based on its print dimensions in the PDF document. If you want a US Letter-sized PDF document to reproduce at US Letter size at 300 pixels per inch, enter 300. If you plan to resize the document later, make sure you enter a value large enough to accommodate later resizing. For example, if you plan to use Photoshop to later double the height and width of the above example and still print it at 300 pixels per inch, enter 600 pixels per inch so that the final resolution is 300 pixels per inch after a 200% enlargement.
When you place a PDF document into an existing Photoshop document, the Place PDF dialog box appears instead. The Place PDF dialog box is the same as the Import PDF dialog but with far fewer options, because the PDF imports as a smart object and so rasterization is deferred until final output.
Going in the other direction, from Photoshop to PDF, Photoshop provides ways for converting one Photoshop document or several. When you choose File > Save As, you can choose Photoshop PDF from the Format pop-up menu in the Save As dialog box. Also, you can convert multiple Photoshop documents into a multiple-page PDF document or presentation (slide show); choose File > Automate > PDF Presentation. Whenever you create a PDF, you need to select a PDF export preset so that the PDF is optimized for its final output or distribution; I describe each PDF preset in Chapter 4.