29. Understanding the Blogger Template Structure and Editor
BEFORE YOU BEGIN
4 Logging In to Blogger and Navigating the Dashboard
SEE ALSO
30 Identifying Elements in the Blogger Template Source
All changes to your Blogger template occur through the Blogger template editor. Such changes range from simple style sheet modifications to full template replacements. To begin, log in to Blogger and click the Change Settings icon in the Blogs section of the Blogger Dashboard. Click the Template tab to display navigational items; Edit Current is the default landing page and, in this instance, is where you should be.
29. Understanding the Blogger Template Structure and Editor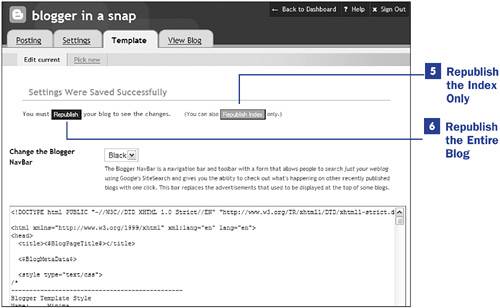 1.

Type in the Template Textarea

The template textarea contains your current template. Within this template are HTML tags, style sheet entries, and Blogger template code. As you can see in this example, the structure of a Blogger template is no different from a standard HTML document: It begins with a document type declaration and opening <html> tag, followed by a <head></head> area including style sheet entries, includes a <body></body> area in which the actual blog content resides, and finishes with the closing </html> tag.



2.

Preview the Template Changes

At any point in the template editing process, you can click the Preview button to launch a new browser window and display a representation of your blog main page with the new template applied. If you modify style sheet entries applicable to posts, previewing your template will show these new styles in action. Similarly, any modifications you make to your sidebar will also be shown in their proposed new state.

If you click through to a permalink or archive page from this preview version of your template, be aware that you will be viewing the current live version of your template, so your changes will not be reflected. Although you should preview changes to your template before republishing your blog, you have to rely on faith with regard to previewing changes applicable to archive or post pages.



3.

Clear the Template Changes

Click the Clear Edits button to revert your template to its previous saved state. For instance, if you make several text and style sheet modifications but have not saved them, clicking the Clear Edits button will remove these changes. The only instance in which the Clear Edits functionality does not work as you might expect is when you go through the Pick New process and replace your existing Blogger template with a new Blogger template. In that case, the Clear Edits button does not revert your new template back to the former template.



TIP

It is a good idea to keep a backup file of your current template at all times. Simply highlight and copy the contents of your template textarea, and paste them into a text file that is saved on your hard drive. If something goes wrong during the editing process of your template, you always have a clean backup version ready to paste in the textarea.

4.

Save the Template Changes

Click the Save Template Changes button to save the changes you have just made to your template. After you click the Save Template Changes button, the Clear Edits button becomes moot because there will be no pending changes in the queue and nothing can be undone.



5.

Republish the Index Only

If you make only cosmetic changes to items that appear on the main page of your blog, you can publish this index page simply by clicking the Republish Index button. Republishing only the index avoids having to republish your entire blogwhich might take a few minutes if your blog is largebut be sure that the changes you make are applicable only to main page items.



6.

Republish the Entire Blog

If you make style sheet modifications, which tend to be applicable to all pages within your blog, or if you make other structural modifications to the content area or your sidebar, click the Republish Entire Blog button. All the pages of your blog will be refreshed with the new template in place.


NOTE
After republishing your index or entire blog, you might have to clear your browser cache or force-reload the pages to see your changes.