We believe successful sales managers must posses a carefully balanced blend of technical and soft skills. While a strong foundation of technical skills—for example, forecasting, competitive analysis, and quota setting—is required of all sales managers, sales leaders achieve results through people, not machines or software alone, and hence the importance of the people skills required of this critical role.
Again, in addition to our personal interviews with sales organizations around the world, we also conducted a critical incident study with 500 sales professionals across 10 countries. All told, we found specific competencies that define success in sales management. In turn, we grouped these competencies into three specific roles—Stategist, Coach, and Communicator. Depending on the situation at hand, some roles may play a more important part than others; however, experience in all three roles is required for success.
In the final analysis, the competencies for successful sales management identified in our research are significantly different from those found in other independent studies for frontline sales professionals. For instance, sales managers must make decisions that advance their organization's market strategy whereas individual salespeople make decisions aligned with particular account strategies. Further, just as it is important for sales managers to maintain a keen focus on team performance, salespeople on the other hand are solely responsible for their own performance. Consider also, sales managers have a responsibility to educate their salespeople to close a deal versus executing the final deal each time themselves.
Overall, our findings for successful sales management, when compared to those for successful salespeople, support the commonly understood fact that the best salespeople don't always make the best sales managers. Next, we examine in-depth the roles of Strategist, Coach, and Communicator.
The Strategist
The Strategist role is generally viewed as the toughest for a sales manager. This role requires an individual who can concurrently see the "bigger picture" and keep a sharp eye on the smaller details. A balanced thinker—who is mindful of strategic objectives while managing actual performance—contributes heavily to establishing direction and building team confidence. The Strategist must be skilled at communicating the vision, developing a market strategy, managing resources, and maintaining a current knowledge base.
The role of the Strategist is to:
Communicate a vision.

Develop a market strategy.

Manage resources.

Maintain a current knowledge base.
Communicating the vision.
This ability is essential for both efficiency and effectiveness. In Leadership Is an Art, Max DePree declares that "the first responsibility of a leader is to define reality." It's true, sales managers who can successfully bring their sales teams across the finish line are often those who can define a vision for it.
Within the strategic role, the sales manager often will act as a final decision maker; tasked with making decisions that advance organizational objectives. For example, they must determine how and where to allocate resources, which business opportunities to pursue and likewise which to abandon, and which sales terms to accept and which to decline. Simultaneously, they support and enforce company policies and develop and communicate the organization's mission and vision.
Sometimes that vision may be as simple as a clear "stretch goal"—that is, an objective everyone can rally around. One sales manager shared with us that she was able to beat her quota using such a unifying objective. She said, "I established a stretch goal for us and at every monthly meeting the very first topic was the stretch goal. I made it clear how each individual would be impacted if we reached the goal. I think the team internalized the stretch goal and realized we could make steady progress. We didn't hit the stretch goal but we clearly overachieved our target goal."
So why is it so important to be constantly creating, communicating, and executing the vision? As stated many times throughout this book, all sales organizations are in a constant state of flux. Today this involves redefining customer segments, reassigning territories, and revisiting sales processes; all the more reason why steady communication of the common objective is so crucial to keeping the team focused. Additionally, it also supports the sales team's ability to deliver a consistent message to market.
Developing a market strategy.
This next competency involves analyzing the marketplace—for example, determining its size and potential, assessing the competition, and uncovering trends. This competency also includes developing business development plans, such as advertisements, direct mail campaigns, and marketing events.
Not too long ago, sales managers had discretionary budgets for local marketing initiatives. In today's world of tightened budgets this practice is becoming more infrequent. Perhaps more than ever before, local territories are completely dependant on centralized corporate marketing initiatives that may be based in another state—or even in another continent. While this may appear ironic, often the sales organization has not been able to show a hard return on these initiatives and in current business conditions cannot simply justify this type of investment on the basis of "we've always done it that way."
The lesson here: Sales managers must align themselves closer with the marketing function instead of working around it. As one sales manager put it, "I could not tolerate having a discussion with marketing people—they didn't understand the business, they dealt with fluff, they thought they knew everything. But I also realized that we needed help in our local market. Now, I work with them at presenting to local business groups— they help craft our proposals, and they even help sales reps with their presentations."
Managing resources.
Managing resources effectively, another critical activity by virtue of the nature of business itself, may be the most time-consuming competency as it involves the following:
Securing resources, including people, money, and supplies

Managing staff or headcount based on performance data and budgetary controls

Managing multiple distribution channels to maximize market penetration

Selecting and recruiting the right talent
Possibly most challenging of all is taking responsibility for the team's contribution to the organization's bottom line. Sales managers are accountable for managing budgets and expenditures, as well as ensuring that sales contracts are constructed to meet organizational goals, mine client opportunities, and ensure organizational parameters are being met.
Talent management can be a full-time responsibility in its own right. A sales manager's most precious resource is the individuals who comprise the sales team. Mismanaging voluntary or involuntary attrition can have devastating consequences for the team's overall success. Sales managers must be skilled at retaining top talent during good and bad times and likewise capable of making balanced staffing decisions as downsizing initiatives require. Organizations that fail to have clearly defined career paths and development plans can thwart a sales manager's success.
While each channel to market helps an organization extend its presence, it also can serve as a source of many headaches for sales managers. As the number of distribution channels increases, especially those with self-serve options, such as the Internet and the telephone, so too can the propensity for more discord with other channels, such as direct sales forces and account teams, among others. To effectively manage conflicts, the organization needs to make channel distinctions crystal clear and up front.
Earlier in the chapter we noted that sales managers are often in the middle. Sales force compensation is one of those issues where being in the center may consume a lot of time because sales managers are frequently called upon to interpret ever-changing commission structures. Cichelli (2003) reports that "95 percent of all companies expect to change their sales compensation plans for 2004." While there is no magic formula for creating the perfect plan, you can minimize stress by developing a plan that is aligned with the organization's strategy, defines desired salesperson behaviors and results, and determines what can actually be measured and thus rewarded before cascading the plan down the organization.
Maintaining a current knowledge base.
This final competency rounds out the Strategist requirements. It involves keeping product, market, and competitive knowledge current. When a salesperson is promoted to a management position, they often become consumed by administrative functions and hence rest on the laurels of previously acquired market, product, and competitive information. Unfortunately, such information becomes outdated quickly.
In the sports world, an "agent" gets the business; however, it's the "team manager" who knows the sport, the individual athletes, and the overall game plan. We find that given the time and delivery pressures placed on sales managers, they tend to migrate toward the agent model. They know the logistics of accessing resources and product training, but they don't fully know the products, the marketplace, or the current selling environment. Most unfortunately, they sometimes don't really know their own team members' specific strengths and weaknesses.
One sales manager we spoke with had a clever way of keeping his competitive information up-to-date. He would hold monthly role-play sessions with his sales team and have them pretend to sell for and against the competition. Not only did this help their selling skills but it also helped him keep in touch with team member talents and what was happening competitively in the marketplace. It cannot be overemphasized that listening to salespeople in the field is one of the best ways to keep market knowledge current.
Potential Pitfalls in the Strategist Role
A common profile is of a sales manager who is almost exclusively a Strategist. This person excels at planning and is often referred to as a visionary. While such sales managers possess a clear understanding of their market and their product's current and future place in it, they sometimes find themselves disappointed in their team's inability to make this vision a reality. In fact, more often than not, the sales team doesn't even understand what the vision is and is prone to view this manager as "sitting in an ivory tower"—disconnected from the salesperson's reality and hard to approach.
The Coach
The Coach role is about cultivating high-performance behaviors and processes within the sales force—from advice on specific situations to the development of long-term career plans. The traditional image of a sales manager often conjures the likeness of a coach, and sales managers, just like coaches, yield great influence with their teams—both positive and negative—through their attitude and actions.
While this role is typically deemed the most important by sales professionals, it is often neglected, especially in times when sales are slow, budgets are limited, and increasing administrative responsibilities consume the day's agenda. This is a real concern. According to a 2002 Sales & Marketing Management/Equation Research (2002) survey, over a third of the sales executives reported that their sales managers spent less than five hours per week coaching their field associates. (See Figure 7.1.)

Figure 7.1: Weekly Hours Sales Managers Spend Coaching
Responsibilities of a Coach include building cohesive teams, assisting with sales activities, developing professional skills, and motivating individuals. These activities are discussed below in more detail.
The role of the coach is to:
Build cohesive teams.

Assist with sales activities.

Develop professional skills and careers.

Motivate individuals.
Building a cohesive team.
To build a cohesive team requires the sales manager to bring diverse personalities together, in some collaborative and cooperative way, to deliver hard results. Whether a team is built from scratch or inherited, chances are high it will be comprised of individuals with a range of talents, experiences, tenure, and geographic posts. This is further complicated by the continuous restructuring that occurs in sales organizations today.
Just like any other workplace team, a sales team too must be stronger than the sum of its parts. This may be demonstrated through the team's ability to rally around critical projects and share information among its members. The sales manager needs to create an environment with equitable treatment, respect, and robust team spirit conducive to constructive conflict resolution and decision making.
Effective sales managers may achieve tangible results by recruiting the best, setting performance standards through instruction and constructive feedback, and by recognizing and capitalizing on those with the greatest potential for success.
Assisting with sales activities.
This is one of the trickiest skills to master. While it's critical to coaching and helps a manager gain respect from the sales team, there is always the danger that the manager will become too involved in the sales process, in effect, becoming a salesperson again. Usually, however, time-constrained managers will err on the side of too little involvement. In fact, a recent Sales & Marketing Management/ Equation Research survey (2002) of 455 sales managers found that nearly 42 percent had not been on a sales call in the past month. (See Figure 7.2.)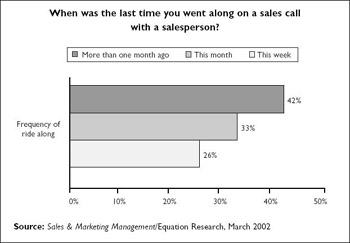 Figure 7.2: Frequency of Sales Managers Going on Ride Alongs
When the ride along does occur, the real challenge for sales managers is to maintain their focus on coaching—assisting in the actual call and resisting the temptation to completely take over and become a salesperson again. They simply don't have the time to take on that role and, moreover, it contradicts their overall objective: to enhance their salesperson's credibility in the eyes of customers and prospects and coach them for better individual performance.
Successful sales managers support activities throughout the sales cycle by using their network of contacts to identify prospects; leveraging their understanding of the bigger picture; drawing on their depth of experience to strategize account plans; and, ultimately, helping to close business.
Effective sales managers also will skillfully intervene in contentious customer interactions, targeting conflict resolution in a way that satisfies the customer and preserves the salesperson's account relationship.
At the end of the day, team members need to trust their sales manager to participate at the appropriate level and help develop their capabilities. One sales manager shared, "Every salesperson knows that clients need to trust them. If a salesperson cannot build trust, they will not succeed. I feel the same way with my relationship with my salespeople: If they can't trust me, I will not succeed."
Developing professional skills and careers.
Assisting salespeople in developing their professional skills and careers is probably the best investment managers can make with their time.
Effective sales managers recognize that teams are comprised of individuals. To maximize efforts, the performance of all members—not just the lesser performers—must be improved. This can be done through behavioral observation, skills assessment, and targeted coaching and training, such as skill- and knowledge- based instruction. The sales manager's goal is to build future capabilities.
This is similar to the old story about the value of teaching a man to fish, as he will be better equipped to survive long term than by merely giving him the fish so he can make it through one meal. As we engage with sales organizations around the world, we find that many are still trying to implement a consistent consultative selling approach. We see that one of their biggest hurdles is ensuring that taught skills are reinforced and modeled by sales managers. A great illustration of this was shared by a top-tier salesperson who said, "The most successful and motivating thing I have experienced is the genuine desire and support of a sales manager to help a rep be the best sales professional he or she can be. I had a sales manager that once told me, 'Whether you stay or leave this company, I can't control that, but I do want you to be the best salesperson you can regardless.'"
The sales organization may yield better results from fewer opportunities when it provides support training and guidance to field associates and has sales managers who observe sales calls, model skills, mentor, and regularly review performance. The presence and use of formal performance and development tools (e.g., job profiles, competency assessments, coaching evaluations checklists, as well as applications and reinforcement job aids) also helps.
Motivating individuals.
This is the final key to being a good Coach. In addition to developing sales professionals, effective sales managers motivate performance in ways that extend far beyond incentive programs and quota plans. They use motivational methods, such as verbal recognition, performance management, and communication, to encourage the team and evoke enthusiasm. However, each person is different and is motivated by different factors. What appeals to a recent college graduate may not work with experienced sales professionals. Sales managers need to work a bit differently with each person; it's much less about the manager's style and more about the salesperson's style.
It is this kind of coaching behavior that is most easily recalled by sales superstars and most often attributed to good managers. But motivating individuals is hard to do, especially if the sales manager is not being motivated by his or her own superiors. We spoke with a salesperson who recalled the words of a previous sales manager, spoken some ten years earlier yet still true today, who said, "Great years are made up of great quarters. Great quarters are made up of great months. Great months are made up of great weeks. Great weeks are made up of great days. Great days are made up of great hours. Great hours are made up of great moments. Is what you're doing right now creating or preparing you for a great moment?"
Walking the Talk at Of fice Depot
To combat increasing competitive threats, Office Depot's Business Services Group (BSG) decided to revamp the selling skills of their account executives through a comprehensive training and development curriculum. However, they didn't start training the sales teams right away. They knew that success had to start not with the field, but first with the sales managers. If the sales managers weren't properly skilled and weren't modeling and reinforcing the training back on the job, the organization would never succeed at achieving any behavior change.
Therefore, before any training was rolled out to the field, all sales managers (and for that matter, directors and VPs too) went through selling skills courses and coaching programs. The goal was to make sure that managers not only could model the selling skills expected of their teams but that they would also be able to coach to those behaviors.
In addition to training, managers also were supplied with a variety of tools that could be used back on the job. They received coaching forms that helped them document coaching observations, prepare for coaching conversations, and give feedback in writing. They also were provided with toolkits that helped them facilitate brief selling skills practices with their salespeople. Sales managers then used these tools to integrate development activity into regular sales meetings.
Potential Pitfalls in the Coach Role
Sales managers who devote their time to coaching but do not fulfill the other roles can be successful, but they may not unleash the full potential of their staff. They are generally well liked, consistently model the selling skills needed by their employees, and are diligent about developing individuals and teams through training.
While such sales managers may be able to manage a mature market, they are likely to experience difficulties expanding their region beyond organic growth and are frequently out of touch with corporate objectives.
The Communicator
The last role is that of the Communicator, which may be considered the foundation for the Coach and Strategist roles. Two of the most important roles a sales manager performs are 1) acting as a liaison between top management and the sales staff, and 2) creating a culture of information sharing.
This role describes the characteristics that ensure the flow of information throughout the sales organization is timely and accurate. A good communicator will not accept missed opportunities due to misunderstandings and the lack of infrastructure and technology. The Communicator role includes, of course, being able to communicate across the organization, but more specifically, keeping the field informed; soliciting and valuing feedback; and facilitating information sharing both up and down the organization.
The role of the Communicator is to:
Communicate across the organization.

Keep the field informed.

Solicit and value feedback.

Facilitate information sharing.
Communicating information across the organization.
Communicating information helps ensure that field and market information can be shared across the entire organization—beyond just the sales department. One of the biggest time demands for today's sales managers is to act as the liaison between the field and headquarters and between the sales organization and other parts of the enterprise. Effective sales managers are able to work closely with all parts of the organization to ensure team success. They are diligent about providing progress report details and communicating the factors—positive and negative—that impact the team's ability to meet and exceed expectations.
In today's business climate, accurate forecasting, for example, is more critical than ever as this information is receiving much higher visibility. Furthermore, not hitting predictions has greater ramifications today than, say, five years ago. Because forecasts, even for individual accounts, are moving much further up in the organization ranks, sales managers must spend considerable efforts scrubbing these reports—at the expense of consuming limited and valuable time.
In addition, sales managers are often responsible for documenting all sales activities to show superiors what their team is doing, for justifying resource allocations, and for making the organization's external activities visible to others—still more tasks that take considerable time to complete. According to a Sales & Marketing Management/Equation Research (2002) survey, 47 percent of sales managers reported that they spend more time on paperwork today than they did two years ago. This same survey found that for the most part, sales managers are feeling the pressures of administrative functions. Consider Figure 7.3.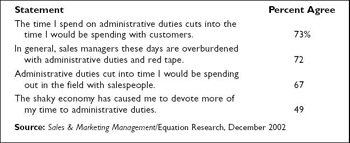 Figure 7.3: Managerial Administrative Duties
Successful sales managers also have the responsibility to pave the way for interdepartmental cooperation, acting as advocates for the field. One sales manager offered, "I make sure I join any internal committee or task force that is looking for new product ideas. It not only allows me to influence future products, but I make new contacts and learn about new strategies or campaigns before they happen."
Without question, today's sales managers are spending too much time on communication via reporting. The challenge for successful sales management is not the completion of the tasks or the accounts themselves, but rather, the amount of time these managers are investing to perform this function. In the end, it is ultimately limiting their involvement with more crucial field responsibilities, such as coaching salespeople and visiting with customers. To overcome the challenge, sales managers must employ a time management technique, including effective delegating, that will allow them to accomplish these tasks as efficiently as possible.
From an organizational perspective, and to further refine what information is truly needed, the sales manager should assess the amount and quality of data collected and satisfactorily answer four key questions:
Is there consistency in what we are measuring? For example, are all parties utilizing the same forecasting methodology?

Are there systems currently available that could make data retrieval and reporting less time-intensive?

What are end users doing with the data that is reported?

How often do end users really need this information?
Keeping the field informed is the flip side of the coin. Managers as information conduits ensure that the field is receiving the information they need to do their jobs in a way that supports the strategy. Nothing is more counterproductive than organizations acting at cross-purposes. For example, the marketing department has invested in a campaign to push a particular product, while the sales team is sending out direct mail pieces promoting another product all together. Successful sales managers prevent this situation from happening by ensuring that the staff is communicated to and understands the corporate market and product strategies.
Keeping the field informed is a competency about sustaining open lines of communication with the sales team and continuously communicating organizational changes and corporate strategies. Without this open and continuous communication, high levels of employee dissatisfaction can result, leading to reduced productivity and high turnover. One organization we spoke with had recently laid off thousands. They felt the key to keeping retained staff motivated was continuous and open communication. Their president held periodic telecasts where he outlined the state of the business and short- and long-term plans to make sure employees felt like they were in the loop.
Many times it's not just the message that gets delivered to salespeople, but it's also the manner it's delivered. The best managers, sales and nonsales, act as "filters" not "amplifiers." So many times sales managers receive the brunt of senior management's frustrations and then carry the same message, but louder, back to their salespeople. Instead, managers need to filter that message into something that is useful to the sales team and actionable. Independent of communication style, the key is to make sure the sharing of information occurs because silence or complete avoidance is a problem that can ratchet up employee dissatisfaction and attrition.
Soliciting and valuing feedback.
This step helps complete the communication loop. Effective sales managers create an environment where the sales team perceives that input and feedback is valued. Communication should not be a one-way street from the manager to the team. Sales representatives know better than anyone what their customers are saying and what they want. In fact, they are usually closer to the customer than any other person in the organization.
Sales managers should regularly encourage salespeople to express opinions and participate in policy development. They should also incorporate their team's input when making decisions. The presence of remote field associates makes it all the more important that sales managers make their team members feel valued and included in decisions that impact their operations. Sales representatives who feel isolated can have disastrous consequences on team performance.
A good practice for any manager to follow, sales-related or not, is to ask for opinions and suggestions on how to handle different situations. This can be a valuable tactic for getting both a fresh perspective on an issue and field buy-in to a new policy or initiative. But be careful to not ask salespeople for feedback if you are not going to use it or be able to address it. Doing nothing has a more negative effect than not asking for it at all.
A Commitment to Coaching at BellSouth
BellSouth Corporation, based in Atlanta, Georgia, is a Fortune 100 communication services company. The company and its partners serve more than 45 million local, long distance, Internet, and wireless customers in the United States and 13 other countries.
The company's small business services division, which targets businesses spending $3,000 or less per month on telecommunication services, offers local, long distance, wireless, high-speed Internet access, and multisite fiber connections to small businesses across a nine-state region in the Southeastern United States.
In response to a number of marketplace developments, the small business services division restructured its sales organization. Today the division is segmented into an inbound customer retention sales group and an out bound/premise channel responsible for developing new business and reacquiring lost customers.
As part of the strategy to improve sales effectiveness, the company instituted a series of hard (sales process standards) and soft (selling training and reinforcement) tools. Other processes involving metrics, scorecards, daily measures of call volume, and proposals, along with new performance management standards, were also implemented.
These strategies were further promoted and supported through the creation of the complex applications specialists (CAS) team and sales effectiveness coaches (SEC). The CAS team supports the outbound reacquisition group and reactively supports inbound sales relationship and retention managers. They also assist with customers that have complex telecommunication needs by offering wider technological solutions and with proposals involving more sophisticated technologies requiring the services of other BellSouth operating divisions.
The SEC has evolved into "a regional SWAT team" staffed with one coach per center. The coaches deliver workshops, support sales development through active coaching, and work with account representatives "to act as a change agent."
Facilitating information sharing.
Facilitating information sharing across the team leads to a more collaborative environment and helps the organization learn from its experiences. Successful sales managers not only communicate effectively with their teams and upper management, they also actively promote open and honest communication among and between sales teams. Because sales professionals spend so much time in the field, often working remotely too, they sometimes require formal practices and structures to promote both professional and personal communication with their colleagues.
Managers can actively encourage the sharing of information, problems, or concerns among the sales team by providing opportunities to network, holding cross-team meetings, requiring collaboration for certain activities, and creating mentoring programs.
Making information sharing a standard operating procedure is largely the responsibility of the sales manager, and it can be a difficult one at best. This involves not simply selecting and implementing a mechanism for doing it but also creating the culture in which it is supported. There are two potential obstacles to establishing such an arrangement. First, SFA and CRM systems traditionally have been used for managerial purposes rather than to facilitate information sharing among salespeople. To that end, it is not uncommon to encounter salespeople who will question the value of complying with data entry requests only to "get beaten up by my manager with the data I enter." Our research has found, at least anecdotally, the fears of "big brother" are alive and well in many sales organizations.
Another concern in creating an information-sharing culture is more technical as backfilling Intranet portals with large amounts of information can become problematic and hard to navigate in the absence of an overall knowledge management strategy.
No one can deny technology's potential to support the sales process, as we know many of the key activities and measurements we've discussed could be enabled through a technical solution. Unfortunately, though, most technological tools continue to be primarily used for management and reporting purposes at high levels and for little else.
Potential Pitfalls in the Communicator Role
A manager totally devoted to fulfilling the Communicator role is fully focused on collecting and sharing information. This person is diligent about completing progress reports and consistently uses contact reporting and tracking systems.
Unfortunately, this manager is viewed as an administrator and is often unable to move their territory beyond status quo. According to one research participant, this kind of person "can be great with details but misses the big picture."