---
This section showcases Galaxia's ePCM, [1] which enables an On Demand Workplace for the Automotive, Aerospace, and Transportation industries. We first provide an overview of the challenges faced by these industries and a discussion of the key processes, and then proceed with an explanation of how the solution architecture has been conceived. We study the business and IT drivers to crystallize a general set of requirements and map it to "the best practices" (patterns). Once the patterns are identified, we map the appropriate products necessary to build the solution. Finally, we illustrate a scenario that uses this solution and provide more detail on the features and benefits of ePCM.
5.1

Galaxia solutions for the industrial sector

Galaxia is a solutions provider with proven expertise in industrial service sectors, including aerospace, automotive, and transportation. Our work with IBM has helped us to be at the cutting edge of technology in the areas in which we operate and to think of ways in which the processes of our customers can be improved, specifically through the use of portal-based solutions.
5.1.1

Galaxia and ePCM

Galaxia's core competencies include Business Process Modeling and Integration for companies in the Aerospace, Automotive, and Transportation sectors.

ePCM is a set of comprehensive process-centric solutions for an "Enterprise Workflow" that allows you to better manage and monitor business processes. It provides companies the benefit of having a collaborative enterprise-wide application without having to expend the long implementation time, high costs, and inflexibility of other BPA systems. [2]

Galaxia ePCM solutions are Web-based and allow for easy collaboration between various locations in the company and suppliers, thus extending the enterprise. Galaxia can easily map and model enterprise processes for BPA using ePCM, with templates for various business processes. ePCM - Portal version takes advantage of the portal infrastructure to provide additional "out-of-the-box" functionality and advantages as shown later in this chapter.
5.1.2

Industry overview
Automotive, aerospace, and transportation
Automotive companies are the pioneers of modern manufacturing techniques. Ford and others championed the assembly-line concept to enable mass production. In the past, customers didn't have much choice. Market growth was unlimited and customers were easily satisfied.
Today, manufacturers compete globally, and the trend toward make-to-order manufacturing [3] has put new demands on manufacturers and dealers. Customers want what they want when they want it. Today's market is highly fragmented, and manufacturers have to deal with myriads of product configurations and models. In response to new demands, new models and designs are added, thus increasing the complexity of the designing and manufacturing processes.
With the onslaught of globalization and intense competition, the manufacturing process has become distributed and follows economies of scale. Parts and components are designed and built at multiple locations by the same manufacturer. In order to remain competitive, manufacturers are now outsourcing both the design and assembly of cars. Digital manufacturing and designing techniques along with efficiencies that e-business can offer will become increasingly important at all points along the value chain.
Competitive advantage depends on speed—in product development, assembly, and delivery to dealers and customers. Manufacturers must closely manage manufacturing processes to ensure that the correct parts and components are delivered when and where they are needed. Collaboration among all the industry players (suppliers, OEMs, dealers, and customers) is thus essential.
In the Automotive, Aerospace, and Transportation industries, major challenges include:
Changing customer needs

New competition on the horizon

Unviable cost structure

Dwindling revenues and increasing costs

Excess capacity

Government regulations

Ineffective processes/workflows and decision support systems
It is imperative that these industries identify and improve some of their inherent inefficiencies in order to respond effectively and sustain a viable operation. Most companies have processes and methodology to manufacture a vehicle. The manufacturing process is no longer isolated from the external world. Hence, the competitive edge is how well these processes are defined and fine-tuned to respond to changes externally and internally.
The manufacturing process should interact with other enterprise processes to provide seamless integration and collaboration of different internal and external organizations. When we look at some of the key processes in vehicle development, we see that it requires a concerted effort from all involved as well as an efficient environment to manage the development cycle.
5.1.3

Vehicle development process

Let's look at a typical vehicle development process and outline various phases required to get a better understanding.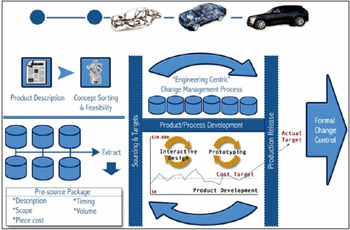 Figure 5-1: Vehicle development process
Product description
This activity defines targets for vehicle design. The characteristics of the design target are defined based on the marketing plan of the company and the market segment to which the vehicle appeals, defining targets such as performance, styling, and cost at a high level.
Concept sorting and feasibility analysis
The next step is to break down the high level first into sub-systems and then down to the individual components. This effort eventually leads us to a tree-like product structure called BOM. [4] The targets for each component are defined in such a way as to achieve the overall design goals.
Development
Once the targets have been defined, designers using CAD/CAM systems design them. These tools also do simulation to virtually test individual designs so that they meet the targets. The development activity is no longer a single location or in-house activity. Companies are outsourcing some design and development activities to key partners and suppliers. The development activity involves individual component-level testing of each component and system-level testing to ensure that the results are within acceptable limits. Digital mock-ups of the assembly and individual component testing often leads to rework and redesign. Hence, design and development is a highly iterative process requiring constant collaboration with those involved in this process.
Prototyping
Once the initial design is validated and prototype parts become available, actual testing of individual parts and assembly will confirm the virtual test results. The physical testing phase is also an iterative process and may lead to additional changes to conform to the targets defined. Design costs can be quite high, since some degree of commitment to tooling and manufacturing can occur at this stage. Thus, identifying probable design snags at an earlier stage can significantly reduce product development costs. Separate testing teams for validating the Production Release Design usually do physical product testing and validation. Testing and validation requires intense collaboration with designers and the various testing teams. Adding to this complexity is outsourcing design of certain parts to key partners and suppliers.
Production release
The design is eventually validated and ready to be released for production. Commitments to tooling and manufacturing are made at this stage and production commences, meaning that any further design changes can have severe time-to-market and final cost repercussions. Since considerable cost is locked in at the design stage of Product Development, the key is to keep actual costs close to target costs.
Change management
The company's PCM [5]process is thus critical to the design and development phase. Design is usually an iterative process validated by different people. Design changes and even redesign are not uncommon. They can be time-consuming and commonly escalate schedules. Therefore, rigorous monitoring and tight controls are required to govern the development cycle. The data collected during a design change is quite valuable and may even prove to constitute business intelligence. Such information helps the design team share its experiences with other teams and avoid future rework. Most companies have some form of processes in place to deal with such change requests, but many of these are paper-based, have long cycle times, and are not rigorously tracked, controlled, or integrated with other processes.
Following are brief descriptions of some of the more common PCM processes:
RFC (Request for Change)
The Request for Change is a key process that addresses engineering and non-engineering related change management issues. The RFC may or may not result in an ECR.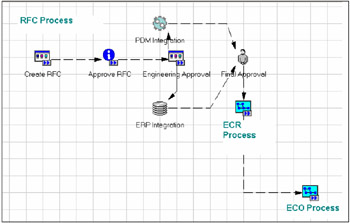 Figure 5-2: Change management processes
ECR (Engineering Change Request)
This is a either subset of the RFC or a completely separate process that addresses issues regarding a particular engineering change. The process usually begins with the creation of an ECR, and as it advances through the process integrates data from other applications to enable better decision-making. An approved ECR usually results in an ECO.
ECO (Engineering Change Order)
An ECO is the result of an ECR approval. This process involves sharing the new design with the concerned departments and then finalizing the change.
Conclusion
The vehicle development process aims at designing and producing quality products within a short timeline and with minimal cost. Achieving this somewhat utopian goal requires that the business be responsive, variable, focused, and resilient. To attain these on demand characteristics, companies must institute an operational environment that is integrated, open, virtualized, and autonomic. [6]
Users spanning various departments within and outside the enterprise need secure access to information and tools that support decision-making in order to work effectively and collaborate. Since information exists in disparate systems, users must employ multiple systems to finish a logical unit of work. [7] They need simple tools that hide the complexity of these disparate systems and at the same time are flexible enough to allow them to personalize content—an operational environment/workplace that is well-integrated, flexible enough both to utilize existing applications and to add new ones, and that conforms to open as well as defined standards.
Investment in existing infrastructure must be harnessed using a business process integration framework, thus helping companies manage various computing resources as a single shared virtual computer. To conform to an on demand environment, companies must use a framework that is open and that conforms to defined standards, thereby promoting interoperability and future system enhancements. Such an environment/workplace will share computing resources that already exist and can be easily managed using a business process integration framework.
5.1.4

Key business drivers

Some of the major challenges posed to the Automotive, Aerospace, and Transportation industries are:
Reduce time to market
With changing customer needs and growing competition, companies have to find ways to shrink "time to market." There is pressure to reduce the cycle time all the way from the product development stage to market. Since cost for a product is usually locked in at the concept or design stage, it is imperative to "get it right" at the design stage and thereby avoid design slack time. Design being a collaborative process involving the design team, partners, suppliers, and customers, this requires a robust collaborative platform in order to respond efficiently to design change requests.
Lower costs through operational efficiency
Increased competition and dwindling orders have led companies to focus on improving operational efficiencies, harnessing more mileage out of existing infrastructure, and eliminating non-essential tasks in order to better focus on the core business.
Outsource and collaborate throughout the extended enterprise
Company facilities may be in multiple locations, with some of the core/non-core business activities outsourced to reduce cost and improve efficiency. Alliances with partners in other locations (and perhaps even in different countries) require collaboration and a transparent business process.
Improve global process visibility
Most businesses have some kind of process mapping but are predominantly managed with few if any controls. Many of these systems rely on paper-based activities leading to increased cycle times and with insufficient audit trails constituting lost knowledge.
Especially in the automotive industry where product development is the key focus, a complex process like engineering change cannot be managed manually or incompletely done within a system having limited visibility. Even when engineering or product data is managed through PDM systems, it may still lack the ability to manage the change effectively or to share data at an enterprise level. The complexity increases if there are multiple PDM systems in different physical locations.
Processes may not be clearly defined, leading to ad hoc management for every product change request. Impediments in some cases involve the inability to decide which system will federate the process.
Eliminate slack time in business process by being process/workforce-centric
Product development involves designing, multiple levels of testing, and validation spanning different departments. This is an iterative process that follows certain business rules, government regulations, etc. To shorten product development cycle time, users must have the proper visibility to make early decisions. This includes a unified visibility of product information, specifications, and other enterprise-level data.
For example, managers or design team leaders need detailed information about the design from other enterprise-wide applications in order to approve a design or design change. Unavailability of pertinent information at the right time and place may well delay the process and increase cycle time.
Tasks done by each individual is an activity belonging to a process. Each task deals with decisions based on information residing in disparate applications or with other users. There is a strong need for an end-to-end workplace so that businesses can optimize every employee's effectiveness.
Eliminate paper-based communication
Engineering Change Requests are usually paper-based. This can lead to pitfalls such as missing information, ineffective capture of the change request, or long cycle times resulting from paper-based approvals.
5.1.5

Key infrastructure and IT drivers

Companies have invested heavily in recent decades on disparate IT technologies and systems catering individually to specific needs.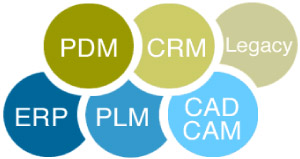 Figure 5-3: Typical IT infrastructure
In the engineering realm, some of these systems include:
CAD/CAM systems [8]
These products are used to design, analyze, and visualize product parts and assembly.
PDM systems [9]
These systems manage design data and product configurations, predominantly engineering data warehouses and repositories that manage product structures and configurations in order to improve Engineering Department productivity. Data warehouses have information about information (also called metadata). The actual engineering drawing or document is stored in the system where it was originally created. PDM products have engineering-related workflows to manage engineering changes, but these are usually limited to the Engineering Department and do not scale to enterprise-wide workflows.
PLM systems [10]
These systems aim toward managing products from concept to retirement. They also manage concurrent design and engineering efforts.
ERP systems [11]
These systems manage enterprise-level data and span other departments within the company.
Legacy or home-grown applications
These systems are company-specific applications catering to express needs. The platforms and the vendors supplying them are many. While each of these individual applications possesses niche capabilities, as a whole they are severely restricted when it comes to "scaling up" to evolving enterprise requirements.
Limitations/gaps in IT context
Multiple functional systems— Many companies have to deal with multi-CAD, multi-PDM systems within the same organization, where the platforms or formats they support may not be the same.

Lack of open standards and scalability— Some of these systems don't support existing open standards or scale very well to support enterprise-wide integration, meaning they may not support the future needs of the business.

Information islands— Here data is isolated and available only in the native product. Data migration and the portability of existing data is thus a huge and expensive task, and companies may not want to port to a new system due to the considerable effort involved in changing the skill set of its workforce.

Lack of federator or process orchestration— Most PDM and PLM systems have standalone workflows internal to these applications, whereas business processes have workflows that span multiple applications and users.

Lack of collaborative tools— One of the business drivers is to support collaborative environment in order to facilitate collaboration-intensive tasks. Some companies have invested in tools that enable them to do just that, yet that are not integrated or automated to the tasks they perform. These usually exist within an independent IT infrastructure.

Lack of enterprise-wide security framework— Most applications have some level of security, usually through a user ID/password. This leads to proliferation of user IDs and passwords for each individual system. Rarely do we find an enterprise-level security model that supports single sign-on, role-based authentication, and access control. There is a strong need for control and consolidation of access rights.
Redundant data— Businesses often have identical data managed in overlapping systems (especially legacy systems) that cater to different business processes. Usually these systems are manually updated and hence prone to errors and inaccuracies. These can be automated using process-to-process communication to avoid manual synchronization.

Lack of EAI framework— Integration efforts if any are isolated and point-to-point integrations. Lack of a standard EAI framework to support present and future needs can lead to poor maintainability.
[1]Enterprise-wide Process Change Management
[2]Business Process Automation
[3]Filling individual customer requirements rather than make-to-stock
[4]Bill of Materials
[5]Production Change Management
[6]See 2.3.1, "What is an e-business on demand?" on page 58 and 2.3.2, "Building the on demand operating environment" on page 59.
[7]See Chapter 2, "Portal solutions" on page 39.
[8]Computer Aided Design/Computer Aided Manufacturing
[9]Product Data Management
[10]Product Lifecycle Management
[11]Enterprise-wide Resource Planning
---