For this application, we're using a SQL Server database to store the user, resume, and job-related information. To keep the application simple, we've used only three tables: Job, Resumes, and Users. The Job table has six columns (see Figure 17-2).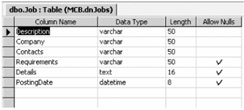 Figure 17-2: Schema of the Job table
Figure 17-3 shows the Resumes table schema, which has 10 columns. These columns store the information about a candidate including a detailed resume.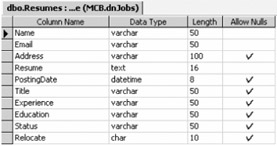 Figure 17-3: Schema of the Resumes table
Figure 17-4 shows the Users table schema, which has only three columns to store the user ID, password, and email address.

Figure 17-4: Schema of the Users table