After you've imported user profiles and SharePoint has crawled and indexed those user profiles, search is enabled on those user profiles and you can search on people. In other words, it is not necessary for users to have created My Sites to have People search enabled. But the search results on people where a My Site has not been created by a user will include minimal results. A basic My Site is generated as part of the user profile creation process, which includes user information added at the time of profile creation. This includes user information imported from Active Directory such as user name, title, e-mail, and hierarchical organizational structure. Incremental search crawls index any subsequent My Sites created by users, along with new content added to those My Sites, to enhance the people search results to include more user-specific information such as skills and interests. Incremental search crawls also index any updates to user profiles, following user profile imports, including any mapped properties in user profiles.
When you search on people, the default search result value is to Sort Results By Social Distance. This means that the results will include people with the least social distance in your My Colleagues list in the foremost section of the results, followed by related colleagues, My Colleagues, and then Everyone Else-that is, users not connected with you, the user performing the search. This arrangement lets you see where each person in the search results fits into your social space and reveals any relationships other people have to people included in your My Colleagues list. The names of people other than those in your My Colleagues list include an additional link named Add To My Colleagues. If you click the Add To My Colleagues link in search results, that user will be added to the Colleagues Tracker Web Part in your My Site. Figure 8-36 shows the search results for George, who is already in the user's My Colleagues, denoted by the My Colleagues heading and the absence of the Add To My Colleagues link.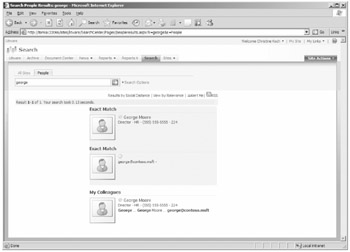 Figure 8-36: People search result by social distance and showing My Colleagues
You can also choose to use the People Search Options to search on specific areas such as Department, Title, Responsibilities, Skills, and Memberships. You can choose to add more profile properties to the Search Options to help locate people-for example, adding a SharePoint-specific profile property or an additional property you have mapped from your Active Directory. Figure 8-37 shows the default People Search Options.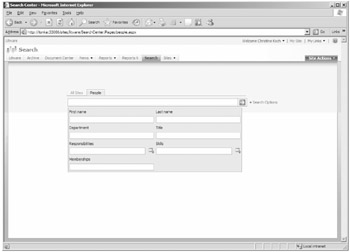 Figure 8-37: People Search Options using profile properties
| | | |
| --- | --- | --- |
| | Note | User Details privacy controls determine what user information is returned in people search results for a given user. For example, if User A has selected to have only the profile property Past Projects as shown to only that user (that is, Only Me), any information added into Past Projects will not be returned in search results for the generic audience. If a user changes privacy controls for any user details, those changes will not be effective until the next incremental search crawl has updated the SharePoint indexes. In other words, even though User A has changed the privacy value from Everyone to Only Me, Everyone will continue to see the details of the changed property in search results until an incremental crawl has successfully completed. |
Users can also search against their own or another user's details directly from within their My Sites. For example, if User A has Architect listed and shown as a Responsibility, the word Architect is formatted as a hyperlink under the Details section on the user's My Profile page. When the user clicks on the word Architect, Architect is passed as a parameter to the People search (such as Responsibilities:"Architect") and a search using that parameter is dynamically initiated. Any other people with the word Architect included and exposed as part of their profile are shown in the People search results.