The following are the names and summaries of all the Web Parts that are included in SharePoint Server 2007. Web Part groups we will reference include Libraries, Communications, Tracking, Content Rollup, Dashboard, Filters, Miscellaneous, Outlook Web Access, and Site Directory. Within each group, two or more Web Parts are briefly discussed.
This is not an exhaustive list or discussion of each Web Part. Instead, the goal here is to generally inform you of the more common Web Parts that are included in Office SharePoint Server 2007. Web Parts that are discussed extensively in other parts of this book are not listed here, such as the Business Data Web Parts.
Libraries
All the Library Web Parts are List View Web Parts.
Document Library
A document library is a collection of files and folders for team members to collaborate on. Document libraries are an excellent replacement for network shared folders, and even Microsoft Exchange public folders.
| | | |
| --- | --- | --- |
| | More Info | For more details on document libraries, see Chapter 9, "Document Management." |
Form Library
A form library is a collection of XML-based business forms, such as status reports or purchase orders. This type of library requires Microsoft Office InfoPath. Form libraries should be created for each separate form your organization uses that needs to be filled out and submitted.
Wiki Page Library
A wiki page library is a collection of interconnected wiki pages. Wiki pages themselves support text, pictures, tables, hyperlinks, and wiki linking.
Real World Wiki Help
When a wiki library is created, wiki help information is automatically included in the library. This information includes details about the use, editing, and management of wiki pages. To create a new wiki, click View All Pages on the left side of the screen, and then click the New button.
Picture Library
Picture libraries are similar to document libraries, but they are written to host graphics and images. Picture libraries can be displayed and used in several ways. The pictures can be viewed as thumbnails or a slide show, and there are options to edit or download the pictures.
Data Connection Library
The purpose of a data connection library is to store, share, and manage data connection files. Connection files have an .odc extension. The .odc files contain parameters about where the data is stored, such as the database server and table name.
| | | |
| --- | --- | --- |
| | More Info | For more details on data connection libraries, see Chapter 12 "Administrating Data Connections." |
Translation Management Library
The purpose of the translation management library is to manage the translation of documents in several languages. The Translation Management Library feature must be enabled for a site in order to create this type of library. To learn more about Translation Management Library settings and administration, please consult Chapter 4, "Multilanguage Planning, Deployment, and Maintenance."
Slide Library
Slide libraries allow for sharing and collaboration on individual Microsoft Office PowerPoint slides. The Slide Library feature must be enabled for the site in order to create this type of library. At the top right of the site, click Site Settings and then Site Features. Next to Slide Library, click Activate.
Reports Library
The reports library allows the creation, management, and delivery of Web pages, documents, and key performance indicators. Report libraries communicate metrics, goals, and business intelligence information.
Communications
All the communications Web Parts are List View Web Parts.
Announcements
Announcements are usually placed at the top of Web sites. They are used to share news, project status, and other short bits of information. If announcements are time-sensitive, they can be set to expire on a certain date.
Contacts
A contacts list contains information about people who your team works with, such as vendors, customers, or partners. The data in a contact list is similar to what you see in Microsoft Outlook contacts lists, and they can be synchronized with Microsoft Outlook. This information can be collaborated on with teammates.
Discussion Board
The purpose of discussion boards is to conduct newsgroup-style discussions. These discussions can be viewed as a threaded list, and each individual post contains a photo of the user who last modified it. (This is, of course, if the users have set up their My Site and uploaded photos of themselves.)
Tracking
All the tracking Web Parts are List View Web Parts.
Links
The links list is simply a collection of Web site URLs that your team members will find helpful or interesting.
Calendar
The Calendar Web Part can be displayed as a list of events or as an actual calendar view. This appearance is similar to your Outlook calendar. Events and meetings can be shared with teammates, and they can also be synchronized with Microsoft Outlook.
Tasks
This Web Part displays a tasks list, similar to the tasks in Outlook. Tasks can be assigned to users, and they can also be synchronized with Outlook.
Project Tasks
A project tasks list allows the graphical viewing of a group of work items that you or your team needs to complete. The graphics view is actually a Gantt Chart, which displays the duration of project timelines in a calendar-based chart. This type of list can be synchronized with Outlook.
Issue Tracking
An issue tracking list is used to manage a set of issues or problems. You can assign issues to users, prioritize them, and even link issues that are related to each other.
Survey
Surveys are created to poll people, and they can be quickly created. They have also been enhanced in SharePoint Server 2007. The survey creator can now be very specific as to what questions are asked to certain users and how users' answers determine what questions are to be asked next. This advanced feature is called branching logic.
iView Web Part
This Web Part displays iViews from SAP portal servers. An iView is SAP's version of a Web Part because it is an encapsulated bit of functionality that was created for SAP's Web environment.
WSRP Consumer
WSRP stands for Web Services for Remote Portlets. This Web Part enables integration with other WSRP-compliant portal solutions. To use this Web Part, you need to modify some files on the server. This is a task you should pass on to the company's development or database team because it involves the creation of an XML file.
Content Rollup
Most of the Content Rollup Web Parts are available on My Sites only. Site Aggregator is the only content rollup Web Part that is available on other pages.
Colleague Tracker
The Colleague Tracker Web Part, shown in Figure 29-6, displays your list of colleagues and recent changes to their profiles or memberships.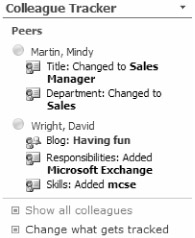 Figure 29-6: The Colleague Tracker Web Part
Alert settings for this list of colleagues can be customized. Colleague Tracker can be configured to show a visible alert according to the configuration in the Web Part tool pane.
Colleagues
The Colleagues Web Part displays a list of people in your own list of My Colleagues. It automatically tracks and suggests colleagues to add to your My Colleagues list, based on the frequency of e-mail interactions and common distribution list memberships. The online status of each colleague is displayed, and there is an option to create custom groups for them. Click the Manage Colleagues button for more advanced options. This Web Part differs from the Colleague Tracker in that the latter simply alerts you to changes in the profiles of colleagues in your Colleagues list.
In Common Between Us
When accessing another user's My Site page, this Web Part displays as "In Common With Your Name." The colleagues listed here are people who you and the user whose site you are visiting have both added to your My Colleagues lists.
Memberships
This Web Part displays your own distribution list memberships, along with a list of SharePoint Server 2007 sites that you have permissions to access.
My Links
The My Links Web Part displays your own My Links list. This is a list of favorite links that you create and manage. This list is also accessible at the top of the site, next to My Site.
SharePoint Documents
This Web Part allows you to look at a list of your own recent documents and tasks. This list contains documents and pictures that you've uploaded or edited and tasks that are assigned to you. There are tabs that contain your documents, pictures, and tasks for each respective site-across multiple document libraries and lists within each site.
| | | |
| --- | --- | --- |
| | Note | This Web Part is security-trimmed and won't show links to items that you do not have access to. In addition, if you are logged into the site as the System Account, no information will display in this Web Part. This is by design. |
My Workspaces
The My Workspaces Web Part displays sites created under your My Site. Contrary to the name of the Web Part, this is not limited to just workspaces. It displays any type of templated site that you created.
Recent Blog Posts
This Web Part displays recent posts to your blog. It is a Data View Web Part that obtains data from an Xsl file.
| | | |
| --- | --- | --- |
| | More Info | For more information about My Sites, see Chapter 8, "Administrating Personalization and Portal Taxonomies." |
Site Aggregator
Using this Web Part, users can easily and instantly go to each site in a set of Web sites of interest. Figure 29-7 shows the toolbar, where the sites name tabs are in a horizontal row. The Web Part itself can be likened to a window through which to view the Web sites, and the tabs at the top of the Web Part allow fast switching between them.


Figure 29-7: Site Aggregator Web Part
Dashboard
The dashboard Web Parts are used to display an overall view of business health. These are glimpses at critical enterprise data, with warnings and statuses displayed prominently.
Key Performance Indicators
The Key Performance Indicators (KPI) Web Part has a prerequisite. When adding this Web Part to a site, the Indicator List field in the Web Part tool pane requires the path to an existing KPI List. Figure 29-8 shows an example of this Web Part in edit mode.


Figure 29-8: Key Performance Indicators Web Part
This Web Part displays the list of specified indicators, along with the goal value, actual value, and an icon displaying the status. For example, a green icon means that the indicator has met or exceeded its goal.
| | | |
| --- | --- | --- |
| | More Info | For more information about key performance indicators, see Chapter 20, "Excel Services and Building Business Intelligence Solutions." |
KPI Details
The KPI Details Web Part is similar to the KPI Web Part in that it must be configured to connect to an existing KPI list. This Web Part displays granular details about only one indicator, such as status numbers, the description, and comments.
Filters
Filter Web Parts are new to SharePoint Server 2007 and are a valuable asset when business-intelligence data is involved. Filter Web Parts are used to connect to data sources and are configured to display a dynamic filtered set of data. Some of these Web Parts can obtain their filter criteria from user input, and some can automatically filter data according to characteristics of the logged-in user, date, or other properties. This section will cover all the filter Web Parts and how they work. It also includes Table 29-5, which compares these Web Parts and their functions.
Filter Web Parts are designed to work with Microsoft SQL Server 2005 Analysis Services data, Microsoft Office SharePoint Server 2007 SharePoint lists, the Business Data Catalog, and data in a Microsoft Office Excel Web Access Web Part workbook.
Choice Filter
The Choice Filter Web Part is the most simple of the filter Web Parts. The page author simply types the list of values in, and there is no connection to any external source of data. Once this filter has been connected to other Web Parts, the values cannot be edited. Remove the connection to make changes.
Current User Filter
The Current User Filter Web Part automatically filters contents of Web Parts according to properties of the logged-in user. Any profile property can be used as the criteria for filtering data, such as the user's login name, city, or department.
Date Filter
The Date Filter Web Part allows you to filter data either by allowing users to choose a date or by filtering on a specific date that is configured by the page author. Figure 29-9 shows that, in edit mode, the Date Filter Web Part displays information on the name of the Web Part that it is connected to. This is a common feature among the Filter Web Parts.


Figure 29-9: Date Filter Web Part
Filter Actions
This Web Part basically contains a button that acts as a Submit button when changes are made to any filter on the page. When there are connected Web Parts involved, this button is a useful addition to the page.
Page Field Filter
The Page Field Filter Web Part is for use on a Web Part page and not on a site. This filter uses a field from the properties of the page itself. The page field filter sends this data as criteria when connected to another Web Part on the page, and it filters the information in the Web Part according to that field.
Query String (URL) Filter
The Query String Filter allows filters to be added to a URL. This is useful when adding a link to a different page to a field in the dashboard KPI list. This filter passes a fixed value (or values) that is configured in the Web Part tool pane. Variables in the URL come from the linked Web Part.
SharePoint List Filter
The SharePoint List Filter Web Part is configured by the page author to obtain data from a specific SharePoint list.
SQL Server 2005 Analysis Services Filter
This filter allows the selection of a data connection from a Web Part on the current page, from a SharePoint data connection library, or from an Office data connection library.
Text Filter
The Text Filter Web Part can be configured to either require input from site users or provide a default value.
Filter Connections
The filter Web Parts functionality relies on Web Part connections. Each filter Web Part inherently needs to be connected to another Web Part. Otherwise, a yellow warning icon appears, indicating that the filter is not connected. The following are the data types for filter Web Parts:
Automatic These data types are applied to Web Parts on a page automatically without any manual input from users viewing the page, and they are hidden unless in edit mode. For example, one of the automatic filters retrieves data from properties of the logged-in user's profile.

User These data types rely on user-supplied values for data.

List Data sources are configured by the site owner. List filters enable site users to select values from a list.
Not every type of Web Part can be connected to a filter. To view the list of Web Parts on the page that it can connect to, select the Web Part menu in edit mode, point to Connections, and then choose Send Filter Values To. The supported data types and Web Parts are listed in Table 29-5.
Table 29-4:

Data Types
Open table as spreadsheet

| Data type | Selection format | Web part |
| --- | --- | --- |
| Text | User | Text Filter Web Part |
| Number | User | Number Filter Web Part |
| Date | User | Date Filter Web Part |
| SharePoint list | List | SharePoint List Web Part |
| Business Data Catalog | List | Business Data Catalog Filter Web Part |
| SQL Server 2005 Analysis Services | List | Analysis Services Filter Web Part |
| Manually entered list | List | Any filter Web Part that uses a manually entered list in Web Part properties |
| Values based on targeted Web Parts | List | Any targeted Web Part |
| Current User | Automatic | Current User Filter Web Part |
| Query string parameter | Automatic | Query String (URL) Filter Web Part |
| Fixed value | Automatic | Choice Filter Web Part |
| Page field value | Automatic | Page Field Filter Web Part |
Miscellaneous
This section of Web Parts are grouped together because of their unique functions that don't fit neatly into the other groups we created. What follows is a brief discussion of each Web Part.
Content Query
In the past, the idea of propagating a list, such as contacts, from a main site down to subsites was not possible without performing custom coding. The Content Query Web Part allows you to display list information from other sites in the site collection. The data can even be filtered and grouped.
RSS Viewer
Really Simple Syndication (RSS) is a method of receiving various types of data from assorted types of data sources, but all in a standard, easily digestible format. Examples of RSS data sources are news headlines from a Web site, or blogs.
Summary Link
This Web Part is shown in edit mode in Figure 29-10. The Summary Link Web Part is used to display a set of URLs. The presentation of the list can be customized using grouping or styling. Items can be placed in a particular order by using the cursor to drag and drop them.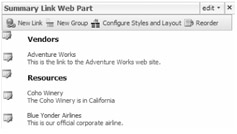 Figure 29-10: Summary Link Web Part
Table of Contents
The Table of Contents Web Part is a way to exhibit the navigational hierarchy of a Web site. This Web Part automatically produces a site map, beginning at the root level of the site collection, or at any other site level of your choosing.
Contact Details
This Web Part is used to display information about the contact person for a page or site.
| | | |
| --- | --- | --- |
| | Important | Although this person might be designated as the contact for this particular site, this Web Part is in no way connected to the actual permissions for the site. Therefore, the contact for a site doesn't necessarily have administrator privileges (or any particular privileges at all) on the site. |
Choose a user to be the contact person for this Web site, and their display name from Active Directory is shown in this Web Part. If that user has uploaded a photo to his My Site, this Web Part can also be configured to include it.
Content Editor
The Content Editor Web Part is a free-form editor. Text, tables, images, hyperlinks, and custom-formatted text can be included in this type of Web Part. Content can be edited using the Rich Text Editor that looks similar to Microsoft Word, as shown in Figure 29-11. The HTML source code can also be edited directly.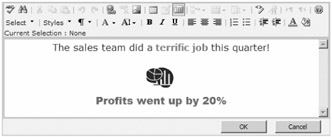 Figure 29-11: Content Editor Web Part
Form
The Form Web Part contains simple form controls. It is used in connections with other Web Parts to query or filter data. The default is one text box and a Go button.
Image Web Part
The Image Web Part is used to display a single image on a site. This is not to be confused with an Image Library, which is a collection of images.
| | | |
| --- | --- | --- |
| | Important | Unlike the image in the Contact Details Web Part, if the original size of the image is too large, changing the size of the Web Part will not shrink the image down. The image must be manually edited to reduce the size as needed. |
Page Viewer
The Page Viewer Web Part displays a window-like view to linked content, such as a Web page, folder, or file. When a file is displayed, it is shown correctly only if it is a certain kind of file. Microsoft documents and spreadsheets, forms, and .pdf files will not display at all. Images and text files do display correctly in the Web Part.
Relevant Documents
This Web Part displays documents that are applicable to the logged-in user. Query terms are defined in the Web Part tool pane in the Data section. Some options are "documents last modified by me" and "documents created by me."
Site Users
This Web Part shows a list of the site groups or users and their online status. This applies to users who have been assigned explicit permissions on the site, not those who are in groups that have been assigned permissions on the site. In SharePoint Server 2003, this was referred to as the Members Web Part.
User Tasks
This Web Part shows tasks assigned to the logged-in user. The User Tasks Web Part is very useful because now users can see a list of their tasks from anywhere in an entire site collection!
XML
The XML (Extensible Markup Language) Web Part allows you to display XML data. Use the XML and XSL Editors in the tool pane of this Web Part to create or modify XML and XSL source code.
| | | |
| --- | --- | --- |
| | Important | The HTML FORM element cannot be included in an XML Web Part. The Form Web Part or the Page Viewer Web Part would be better suited for that element. |
Outlook Web Access
The Outlook Web Access Web Part tool pane is shown in Figure 29-12. All of these Web Parts are compatible with Microsoft Exchange Server 2003 and newer. The tool pane for each of these Web Parts has a Mail Configuration section so that you can type the URL to Outlook Web Access (OWA), such as http://mail.contoso.msft/exchange. The Mailbox field requires the e-mail address prefix. For example, if Mindy Martin has an e-mail address of Mindy.Martin@contoso.msft, she would put "Mindy.Martin" in this field. Table 29-5 lists the OWA Web Parts and their descriptions.
Table 29-5:

OWA Web Parts
Open table as spreadsheet

| Web Part | Description |
| --- | --- |
| My Calendar | Displays Outlook calendar |
| My Contacts | Displays Outlook contacts |
| My Inbox | Displays Outlook e-mail inbox |
| My Mail Folder | Displays a specific folder in Outlook |
| My Tasks | Displays Outlook tasks |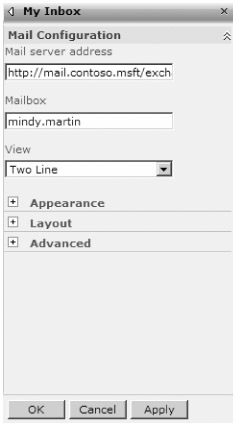 Figure 29-12: OWA Web Parts
| | | |
| --- | --- | --- |
| | Note | When the "Outlook Web Access URL" user profile field is populated, users see a new My OWA link at the top of their screen. On the My Site page, the navigation at the top shows My OWA instead of My Site. Users who do not have this profile property populated will not see My OWA. Go to the User Profiles And Properties section in Shared Services to edit profile properties |
The information in My Mail Folder and My Inbox looks exactly the same by default. Here is the difference between the two Web Parts:
My Inbox This Web Part lists the contents of your inbox, and the Web Part tool pane allows for the selection of a view. These view selections are the same ones that exist in mail folders in Outlook.

My Mail Folder This Web Part displays contents of a specific mail folder. For example, if there is a mail folder called SharePoint under the inbox, the Exchange Folder Name would be entered as Inbox\SharePoint.
Site Directory
The Sites Directory is a catalog of sites that can be grouped into categories. When a new site collection is created using the Collaboration Portal template, a site directory page is automatically included. Alternately, a site directory can be created with an existing site collection using the Site Directory template.
Categories
This Web Part displays categories from the site collection's Site Directory. When this Web Part is used properly, you can build a taxonomy of URL-addressable locations to where your users most often browse. You can modify both the categories and the choices within each category in this Web Part. The following options are available when the Web Part is in edit mode.
Create New Category The user is prompted to select what type of information the column will contain, such as text, currency, date, and so on.

Edit Sites and Categories This is a shortcut to the Sites list. Click Settings, and choose List Settings to edit and add categories (columns) and views.
Sites in Category
This Web Part displays the list of sites obtained from the site collection's Site Directory. This Web Part displays results after a category has been selected in the Categories Web Part.
Top Sites
This Web Part is simply a filter that shows only sites indicated as "Top Sites." The Top Sites field exists in the Sites List.
| | | |
| --- | --- | --- |
| | Note | There is also a Site Map section on the Site Directory screen. This is similar to the Table Of Contents Web Part. |