ISPCompany began offering Internet data center (IDC) services in the first quarter of fiscal 2000 by retooling a portion of its state-of-the-art mainframe outsourcing data center into an IDC. Hosting Internet systems demands many of the same skills, procedures, and physical requirements as for mainframe and midrange environments.
The company's IDC features state-of-the-art physical and network infrastructure, including:
Multi-layered security with 24x7 guard station, video surveillance, and restricted physical (secure equipment cages) and network access

Redundant power systems with two tiers of backup (two UPSs and two diesel power generators) to ensure continuous operation in the event of a power outage

Leading edge fire suppression as well as smoke and fire detection systems, and sprinklers

Redundant climate control systems in a raised floor environment

Four high bandwidth, network access points with physically diverse connections into the IDC
A.3.1 Physical environment of Pancake City site
The 67,000 square feet (6700 sqm) building at the Pancake City site has two floors. The first floor (shown in Figure A-2) houses the data center, a conference room with one-way windows out to the secured equipment area and into the control room, and the building entrance with a security guard. The second floor houses the offices.
Figure A-2. Floor plan of Pancake City site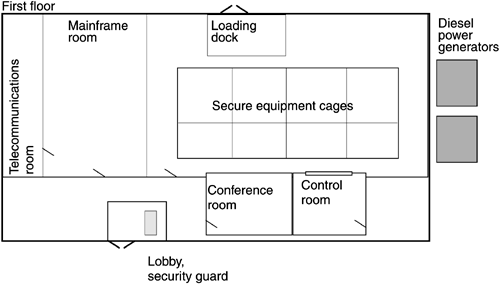 A.3.2 Logical setup of Pancake City site
ISPCompany's logical setup is shown in Figure A-3, and consists of:
Customer cages containing equipment owned by customers of ISPCompany

A zSeries box for server consolidation, connected to disk and tape storage

A private LAN connecting all machines with the control center (remember the HMC of zSeries)

Entire setup connected through an Internet backbone with fiber (multiple connections)
Figure A-3. Hardware and software logical setup of ISPCompany
ISPCompany handles many different platforms. The company uses IBM Tivoli as a systems management platform.
At the rate that the SAN management technology is improving, ISPCompany's New Jersey site is looking at deploying a shared SAN for a subset of its outsourcing clients in late 2003. The first sets of clients moved to SAN will be those with over 100 GB of data who need their own dedicated channel path.
IBM Tivoli Storage Manager server is running in a Linux image on z900. This is used to back up customer data on tape.