---
This is an application that was designed for GNOME. However, if you installed both GNOME and KDE, as was suggested in Chapter 2 "Installing Linux," you will have access to it in KDE as well. Many people these days use personal digital assistants (PDAs), and GNOME Pilot is a neat little application that will help you synchronize your PDA with your PC, allowing the transfer of data between the two. Of course this application will not be of much use to you if you do not have a PDA, and you might consider skipping this part. If you are continuing, it will be important that you have your PDA connected before launching this wizard.
When you launch GNOME Pilot for the first time, a wizard will walk you through the process of setting up your PDA-Linux connection. The first screen of this wizard is shown in Figure 14.4.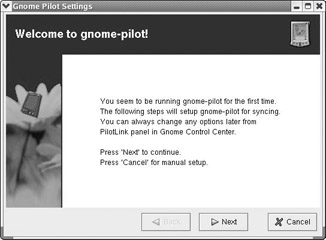 Figure 14.4: The GNOME Pilot Wizard, screen one.
The second screen of the wizard, shown in Figure 14.5, begins gathering important information about your PDA and its cradle. In case you are not aware, cradle is the term for the stand you mount your PDA in. This screen will ask you what you want to name that cradle, what type of connection you have, and what speed you connect at.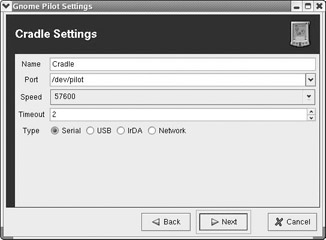 Figure 14.5: The GNOME Pilot Wizard Cradle Settings.
The next two screens inquire as to whether or not you have ever used the sync software to synchronize your PDA with GNOME and then starts the process of querying your PDA, via the connection you have defined. This is why it is critical to have your PDA connected when you run this wizard.
Once you are done you will be taken to the main screen for GNOME Pilot, shown in Figure 14.6. This screen displays the various PDAs you have set up and their current status. You can set up GNOME Pilot to handle more than one PDA. You also can add new PDAs and edit existing ones from this screen without using the wizard. The wizard will launch only the first time you start GNOME Pilot.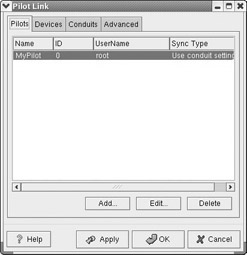 Figure 14.6: The GNOME Pilot screen.
---