43. Check WiFi Adapter Status

BEFORE YOU BEGIN

Open Connection Properties and Enable Clients, Protocols, and Services

Add a Network Client or Service

Configure TCP/IP Settings
Now that you have configured your computer for network access and TCP/IP settings, you might want to check the status of your WiFi network adapter in the Wireless Network Connection Status dialog box. Not only does this dialog box allow you to check the connection duration and signal strength, it also allows you to view the IP address that has was assigned to the adapter by your WiFi router.
Being able to view the status allows you to tell whether the adapter is working correctly. Although the duration of the connection isn't all that important a setting (unless you are experiencing signal dropouts and are losing the connection), knowing whether the WiFi router has assigned an IP address to the adapter is important. And being able to quickly view the signal strength of the connection lets you determine how well the PC can receive the radio signals from the WiFi router.
Tip
Alternatively, you can right-click the WiFi connection icon in the Notification area at the right end of the Task bar and select Status from the context menu to view the status of your WiFi adapter. If you are using a configuration utility that came with your WiFi adapter, choosing the Status option might open that utility, which can also be used to view the status and IP settings of your WiFi adapter.
Check WiFi Adapter Status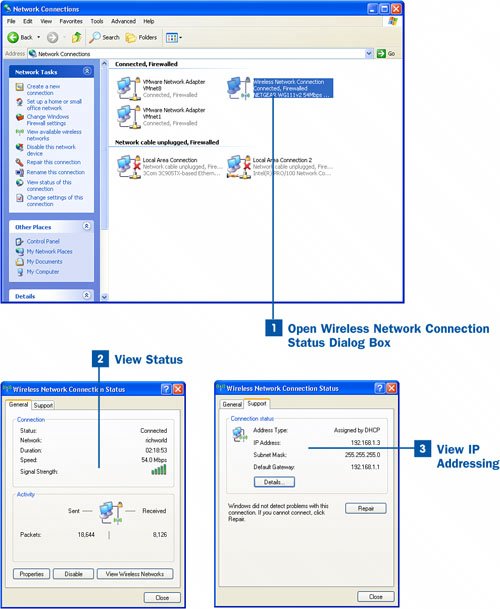 Open Wireless Network Connection Status Dialog Box

In the Network Connections window (opened from the Control Panel), double-click the icon for your WiFi network connection. The Wireless Network Connection Status dialog box opens.

View Status

The General tab of the dialog box provides the current status of the WiFi adapter's connection as well as the duration of the connection and the current signal strength for the connection. The duration of the connection can be used to determine whether there has been a recent problem with the actual connection; the signal strength allows you to gauge how well the computer's WiFi adapter is connecting to the WiFi router's access point.

Click the Support tab to open the second page of the dialog box.

View IP Addressing

The Support tab of the Wireless Network Connection Status dialog box shows the IP address and subnet mask assigned to the adapter by the WiFi router. It also shows the IP address of the default gateway, also known as your WiFi router (it is the gateway between your private WiFi network and the public network, the Internet). Click Close to close the dialog box.
Key Terms
Gateway A device that serves as an intermediary between two different types of networks. In our case, we are looking at the deviceour WiFi routerthat connects our private workgroup network with the public Internet. The WiFi router is the gateway.