6. View the Windows Security Center
BEFORE YOU BEGIN

SEE ALSO

Use the Control Panel

About Firewalls

Install and Use Antivirus Software
With incredible advances in computer connectivity and computer capabilities (such as Internet connectivity and wireless networking) have also come a number of security risks and problems. New computer viruses seem to pop up on a daily basis and crackers (bad hackers) find new way to exploit computers faster than software companies such as Microsoft can block the attacks.
Microsoft's Service Pack 2 (SP2) update to Windows XP added the Windows Security Center to the operating system, providing an easy way for you to monitor security essentials such as Windows updates, virus protection software, and the Windows Firewall.
Note
It is important that you take advantage of at least basic protection for your computer, such as up-to-date virus-scanning software and the Windows Firewall. A number of other security measures are possible, such as the use of wireless router firewalls and WiFi network security strategies (see

Configure Router Firewall Settings for firewall information and

About 802.11 Security Strategies for information on securing WiFi networks). You can also take advantage of software that block spyware and web browser pop-ups and that also protects your email software from virus infection. For example, products such as Zone Alarm, Norton SystemWorks, and others supply different software strategies for dealing with viruses and other invasive "bugs" such as spyware. The amount and type of security software you install on your computer is really up to you, but a virus-infected computer is certainly not a very reliable productivity or entertainment tool.
View the Windows Security Center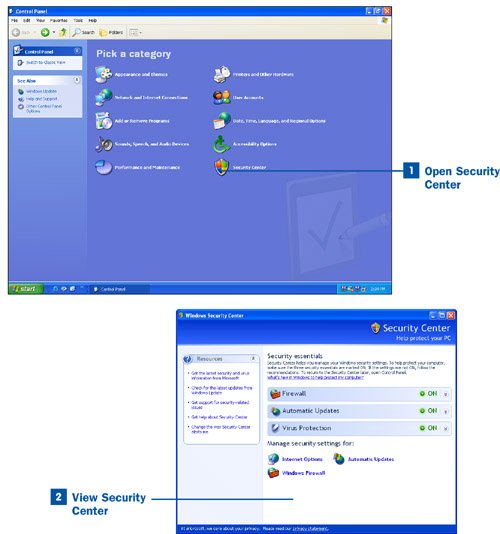 Open Security Center

From the Control Panel, select the Security Center link (or in the Classic view, double-click the Security Center icon).

View Security Center

The Security Center provides the current status of your firewall, automatic updates, and virus protection. You can view more information about the status of an item by clicking the toggle button on the far right of the item.

The Security Center also provides links in the left pane to security and virus news from Microsoft and to Windows automatic updates. Icons at the bottom of the Security Center window provide access to applets such as the Internet Options and Windows Firewall. When you have finished viewing the Security Center, close the window.