Firefox provides you with the ability to open websites in tabbed windows. This means that you can have several websites open at the same time and switch between the sites using the various tabs. This makes browsing multiple sites much easier than the alternative of having to open a new window for each site.
Before You Begin
67 About Mozilla Firefox
68 Browse Web Pages

Open New Tab Window
In the Firefox window select File, New Tab from the menu. A new tab window (Untitled) opens.
Tip
You can also quickly open an new tab window by pressing Ctrl+T on the keyboard.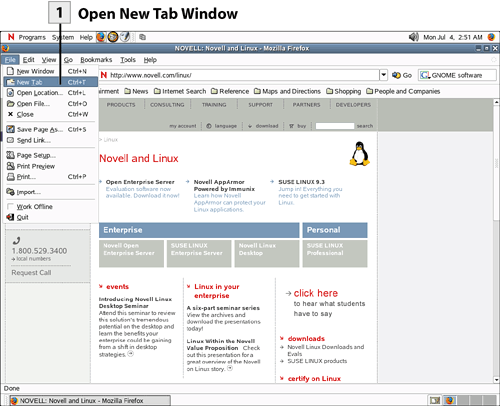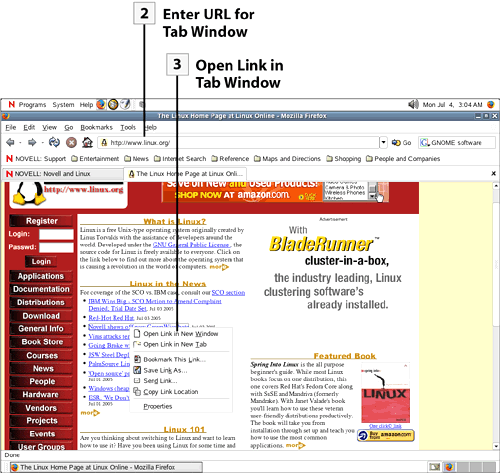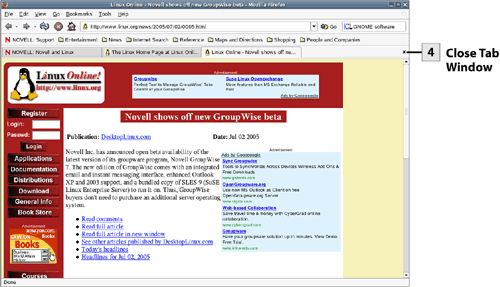 Enter URL for Tab Window
Enter a URL for the new tab window in the address box (and then press Enter), or use the Go button to select a site from your list of recently visited sites. You can also select a site from your Bookmarks list. The selected site opens in the tab window.
Tip
To open your history list and select a site from the history (to open in the tab window), press Ctrl+H (or select History on the Go list). The History pane appears on the left side of the browser window. Click a site in the history to open that site.

Open Link in Tab Window
To open a web link in a new tab window, right-click the link and select Open Link in New Tab from the shortcut menu.
Tip
You can also open a link in a new tab window by holding down the Ctrl key and then clicking on the link or by pressing the middle button on a three-button mouse.

Close Tab Window
To close the currently selected tab window, click the Close button to the far right of the tab. To close all the other current tab windows (precluding the one that you right-click), right-click on a tab and select Close Other Tabs. A Confirm Close dialog box opens. Select Close Tabs to close the other tabs in the Firefox window.